There are many countries that observe 'Thanksgiving' as a national holiday but on distinct dates. United States, Brazil, and Canada celebrate the day with much zeal and enthusiasm. Saint Lucia, Liberia, and Grenada, further extend the list of the nations. Various land territories as Norfolk Islands, Leiden, and also the inhabited parts of the UK observe the festival.Wishing everyone a very HAPPY THANKSGIVING DAY 2020.
The inception of a happy Thanksgiving festival happened as the day to offer thankfulness for the gift of the harvest followed by the New Year.
Many nations celebrate 'Thanksgiving' but in different forms. For example, Japan and Germany observe an entirely different celebration but with the same name. Canada celebrates the day in mid-October. In the USA, and usually the other parts of the world, is celebrated on the fourth Thursday of November.
Despite the fact that Thanksgiving is celebrated with its cultural and religious importance, it is observed as a secular holiday.
Thanksgiving in USA
The United States celebrates Thanksgiving as one of its federal holidays. Also, known as American Thanksgiving, the occasion is majorly about the happy Thanksgiving turkey dinner. People consider the day as the mark of the beginning of the fall-winter vacation period. The period proceeds with Christmas and later, New Year.
Thanksgiving is not about a day. It is a celebration of one's bond with another. The activities as buying gifts and preparing dinner for the loved ones increase the merriment around. For some people, the celebration is incomplete until they go out shopping on Black Friday. The Internet is loaded with such 'Thanksgiving memes.'
As per the beliefs of USA culture, the Pilgrims observed the 'First Thanksgiving' in October 1621 after their first harvest in the New World.
Suggestion Blogs:
Importance of Thanksgiving
In such difficult times as of today, we all need blessings and love and support from each other. Hence, Thanksgiving Day 2020 is rather more awaited. It is a festival which brings joy to countrymen along with a chance to be with another. It lets the people and culture unite in a festive bond.
Thanksgiving comes as a cue to appreciate the loved ones in life which we generally take for granted. It is also the time to applause the blessings of your life like your health, wealth, and values. People organize meals at their places. The festive dinners and gift-giving make this occasion even merrier and bring your beloved closer to you.
The message – HAPPY THANKSGIVING DAY 2020
The festival brings a gentle and naïve message to us. The celebrations of 'Thanksgiving' are as merry and simple that a person from any culture, tradition, heritage, or religion can embrace it. It is secular and universal in its appeal.
It unites the people in the color of festivity and love around rather than the sections of ethnicity, religion, and race.
The festivity brings togetherness and warmth to every home in America. It brings the jolly season to America when every family gets with each other to eat dinner, get along, party, and go shopping. It makes the families and the communities grow stronger.
People get together at one dinner table and forget about their ongoing problems. This gives a message to rather look up at life for what you have than regretting what you do not.
It proves a break from the hectic routine and complicated events. It is a gush of fresh air for being so simple in form yet very relaxing.
With modern times the Thanksgiving songs and prayers are accompanied with Thanksgiving memes. These memes on the Internet depict the cute things done in the community on the day. They are worth giving a check on.
Thanksgiving songs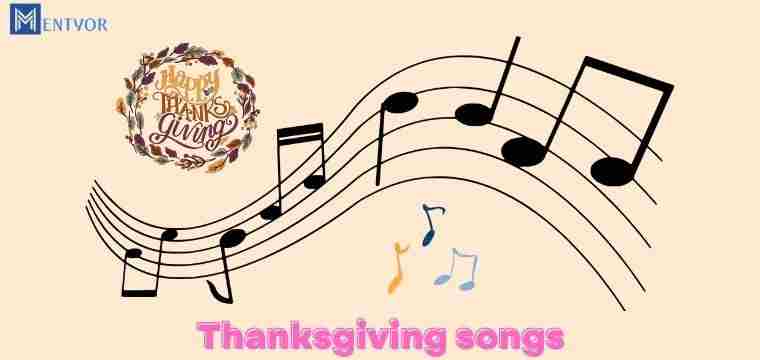 This year, on Thanksgiving Day 2020, enjoy these tunes for a perfectly blended playlist of Thanksgiving songs:
Harvest Moon by Neil Young · 1992
Ode To My Family by The Cranberries · 1993
I Want to Thank You by Otis Redding · 1965
Wild Honey Pie by The Beatles · 1968
Thank You by Dido · 1998
Home by Phillip Phillips · 2012
Thursday Girl by Mitski · 2016
Thanksgiving by Thanksgiving Music · 2012
We Are Family by Sister Sledge · 1979
Do the Mashed Potatoes by James Brown · 1959
Thanksgiving Song by Mary Chapin Carpenter · 2008
Cooking Up Something Good by Mac DeMarco · 2012
Song of Thanksgiving by Thanksgiving Music · 2012
Young Pilgrims by The Shins · 2003
Autumn In New York by Billie Holiday
(There's No Place Like) Home For The Holidays by Carpenters · 1978
Thank You Friends by Big Star · 1978
But for the Grace of God by Keith Urban · 1999
Alice's Restaurant Massacree by Arlo Guthrie · 1967
A Turkey Dance by The Learning Station · 2014
Thank God I'm a Country Boy by John Denver · 1974
Give Thanks and Praises by Bob Marley and the Wailers · 1983
Almost Thanksgiving Day by Graham Parker · 2004
I Could Not Ask for More by Sara Evans · 2000
Thanksgiving Theme by Vince Guaraldi
Apples, Peaches, Pumpkin Pie by Jay · 1966
Five Little Turkeys by The Learning Station · 2011
Home by Edward Sharpe and the Magnetic Zeros · 2009
And some more for you..
Suggested Blogs:
Thanksgiving Prayers – HAPPY THANKSGIVING DAY 2020
Here, are the two all-time most liked Thanksgiving prayers to make your Thanksgiving Day 2020 rather special:
O Lord, with humble hearts we pray Thy blessing this happy Thanksgiving Day and ask that at a table place, where grateful folk say words of grace, that Thou will come to share the yield Thy bounty given to farm and field. We pray Thy love will bless, O Lord, each hearth, each home, each festive board; and that Thy peace will come to stay where candles glow, Thanksgiving Day.
— Brian F. King
We thank you, Lord, for food and friends, and for all of the joy this holiday lends. It's Thanksgiving Day and we can see the blessings you've provided our family. Thanks to you, Lord, for another good year; when you watch over us, there's nothing to fear.
— Karl Fuchs
Offer awaiting you – HAPPY THANKSGIVING DAY 2020
At Mentyor, we love to share the joy of Thanksgiving. We are here with this gift to the students to take away 20 credit points. You can use these points to avail our assignment help. You are free to use these points without any code till 15th of December. Hurry! With this offer Mentyor wishes HAPPY THANKSGIVING DAY 2020.