With an increasing number of people going online and a larger number of businesses operating online, it is becoming a sprawling space for digital hackers to loot and engage in unscrupulous activities which might result in huge financial losses for these establishments. Hence more and more institutions and individuals have started engaging in securing computer systems, devices and networks from such hackers and crackers, which is also known as Cybersecurity.
With the development of complex networks, computer systems and devices that are flocking up on the internet, more and more students look forward to engaging in Cybersecurity as a profession and take up the mantle of the next cyber warriors who will make the digital space safe for other users.
In order to enter this stream, you need to have a form of certificate proving you worthy enough to enter the world of cybersecurity or some form of formal education. For this multiple colleges and institutions offer many good courses that upon clearing you can get accepted in their cybersecurity programs.
Why consider a degree in Cybersecurity? | Cybersecurity Career
As more and more demands for a more secure digital space are taking place, a larger avenue of jobs are opening up for cybersecurity degree holders, with no shortage of work in the foreseeable future in public as well as private sector. Since it is a highly technical field hence you should expect a higher salary and higher job security.
Your main job will be that of a white hat hacker. The term "white hat" refers to a computer hacker who uses their skills for good and not evil. White hat hackers are also called security professionals or ethical hackers. They use their skills to protect computer systems from being hacked by black hats, or bad guys. .
Many cybersecurity jobs are remote positions. If you like the idea of remote work, being able to live anywhere you want, this might be a good career choice for you.
Read about Cryptography, A key to Secure Communications: Cryptography – A key to Secure Communications
Cyberattacks are becoming more sophisticated and frequent in the digital era. They can be carried out by any individual with a computer and an internet connection. This means that there are cyberattacks every minute of every day.
It is vital for individuals to learn about cybersecurity in order to protect themselves from these attacks. By becoming skilled in cybersecurity, you will help protect individuals' personal information, as well as the information of their company or organization.
What to do to Select a Good Cybersecurity Bachelor's Degree Program ?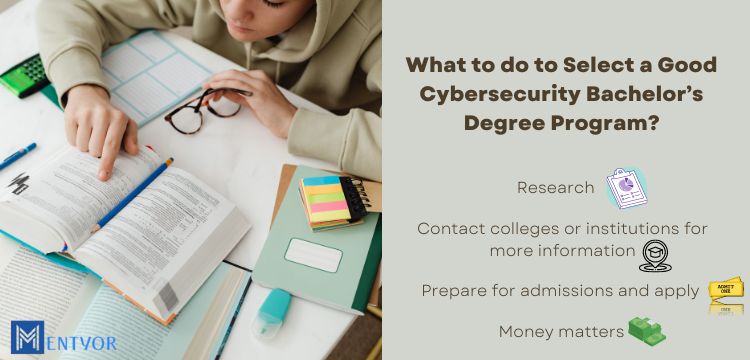 Research
To select the best fit for a bachelor's degree in cybersecurity, you must first thoroughly investigate all of your possibilities. The options open to students wishing to acquire the knowledge and expertise required to begin a career in a high-demand industry are expanding and maturing along with the cybersecurity field. There are a number of cybersecurity bachelor degree programmes accessible online in addition to conventional campus-based academic programmes that are worthwhile considering .
Contact colleges or institutions for more information
Each academic programme has varied course options, degree requirements, career services, financial aid options, and other important elements. Understanding the genuine expenses and benefits of a programme can be done by calling or visiting individual schools, where you can speak with professors, students, and support personnel. Additionally, speaking with actual individuals associated directly with the institutions will reveal important details that are not included in the institution or university's promotional materials, which is a good thing.
Read about Top Universities:-
Prepare for admissions and apply
Explore the admissions standards and learn what kind of preparation is needed in advance after creating a list of desired institutions and programmes. Examine the necessary test scores, pre-requisites, required experience, and other elements that can be planned in advance. Build trusting relationships with educators and other potential references. Understanding precise timetables and deadlines in advance might help the application process feel a little more manageable. Applying to a college or university programme can be a frightening experience. Keep track of scholarship opportunities and submission dates, as well as programmes and institutions that use common applications.
Money matters
Making a sustainable budget is one of the major obstacles to earning a bachelor's degree. One important stage is to comprehend the overall cost of the degree. Always keep track of the different student financing choices that are offered by the institutions, plus it never hurts to try for scholarship exams.
What do I need to know to study cybersecurity ?
Just like before running you are expected to run, similarly you cannot be an absolute newbie to the world of computers before joining your cybersecurity degree.
You do not necessarily need to know everything before the degree, however there are a few things which will ease out your academic process.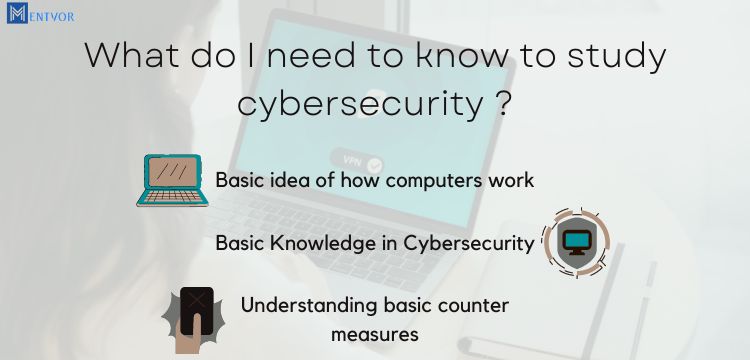 Basic idea of how computers work
If you are going to pursue a degree involving computers, you should be at least well versed in operating the computer and navigating through it. Since cybersecurity relies heavily on computers, mastering the fundamentals of programming and computing infrastructure may help exhibit the abilities and skills needed to be a good cybersecurity student and professional.
Basic Knowledge in Cybersecurity
Cybersecurity is an ever-changing field. Understanding what is going on around you can help you stay safe online. Reading about cybersecurity topics, including sites like CNET, The Verge, and Ars Technica, can help you get started. The more you familiarize yourself with this information, the easier it will become to understand when you study the topic later.
Familiarize yourself with simple cybersecurity terms like phishing, ransomware, virus and understand their significance and how they affect systems.
Understanding basic counter measures
Although you'll examine more complex cybersecurity principles in school, there are lots you could examine with minimum research. For example, analyzing distinct varieties of cybersecurity certifications can help you give an idea of what usually happens in cybersecurity jobs, and the varieties of capabilities required. In studying certification, you would possibly additionally examine the kind of assignments you'll be given as a cybersecurity specialist, or key phrases that you'll come across, hopefully helping you learn cyber security basics.
What will I study in my cybersecurity degree?
Universities and colleges are currently deciding which strategy is ideal for their degrees because IT Security is still a relatively new field. There are various study plans and curricula for cyber security.
Some could put more of an emphasis on programming, whereas others would prioritize digital forensics, security guidelines, or other general facets of cyber security. The 2014 Academic Criteria for the NSA state that courses in IT security degrees should cover:
Basic Data Analysis
Basic Scripting or Introductory Programming
Cyber Defense
Cyber Threats
Fundamental Security Design Principles
Information Assurance Fundamentals
Intro to Cryptography
IT Systems Components
Networking Concepts
Policy, Legal, Ethics, and Compliance
System Administration
You can specialize in difficult subjects like forensic accounting, cloud computing, cryptography, etc. by taking more advanced modules, especially those at the Master's degree level.
You should pay attention to each program's curriculum while comparing degrees in cyber security. Choose the courses that include practical learning experience, which is vital to you and to potential employers, and make sure that they include programming courses.
While degrees in cyber security are an excellent place to start, they do not provide all the information you want. Maintain a clear perspective and build on your expertise outside of the classroom as well.
There are numerous methods to specialize in cybersecurity in addition to the various technical aspects (such as knowing about network security as opposed to how to prevent social engineering attacks).
Students interested in management and cybersecurity can pursue a bachelor's degree at Colorado Technical University, for instance. For someone who is interested in understanding the technical aspects of cybersecurity all the while getting ready to manage teams and function within the hierarchical framework of an organization or firm, this kind of curriculum would be appropriate.
What Do I Need to Get an Admission in a Cybersecurity Degree Course?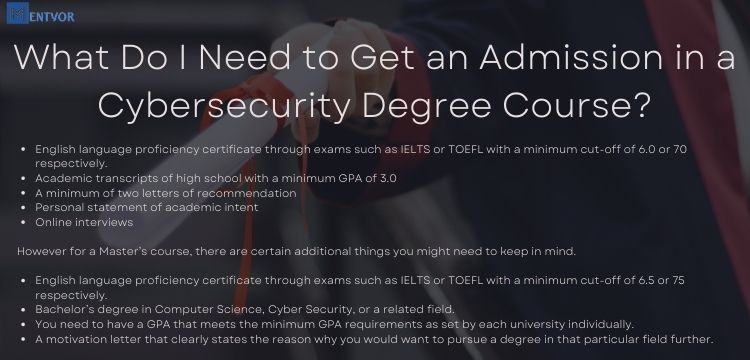 Different colleges have different requirements when it comes to degree program requirements. While some colleges might accept through Entrance tests of their own colleges, some colleges might have special requirements for their own colleges. It all boils down to your research about that particular college. However here is a list of most common requirements for admission in most colleges for their cybersecurity course ;
English language proficiency certificate through exams such as IELTS or TOEFL with a minimum cut-off of 6.0 or 70 respectively.
Academic transcripts of high school with a minimum GPA of 3.0
A minimum of two letters of recommendation
Personal statement of academic intent
Online interviews
However for a Master's course, there are certain additional things you might need to keep in mind.
English language proficiency certificate through exams such as IELTS or TOEFL with a minimum cut-off of 6.5 or 75 respectively.
Bachelor's degree in Computer Science, Cyber Security, or a related field.
You need to have a GPA that meets the minimum GPA requirements as set by each university individually.
A motivation letter that clearly states the reason why you would want to pursue a degree in that particular field further.
Read how to be Data Scientist: How To Become A Data Scientist In 2022: A Complete Guide To Data Science
How much is the Tuition for a Cybersecurity Bachelor's Program?
Bachelor's degree programs in cybersecurity can have a wide range of tuition costs, depending on a number of variables.
A bachelor's degree in cybersecurity, like most undergraduate degrees, will need between 120 and 126 hours of education, including technical classes and electives.
According to research by the U.S. News and World Report, tuition based on credit hour can range anywhere between $300 and $500 per credit, meaning total tuition for a cybersecurity bachelor's degree can range anywhere between $23,000 and $61,000.
Tuition for master's programmes in cyber security ranges from 1,500 to 40,000 Euros each academic year.
To receive a solid education in this area, you do not necessarily need to spend a lot of money. There are several nations where top colleges provide excellent Bachelor's and Master's degrees in IT Security for cheap or even no tuition.
Scholarships in Cybersecurity.
You can always look and apply for proper scholarships incase of a lack of financial capability, which at the same time also help boost your resume for the future.
There are numerous cybersecurity-specific scholarships available for undergraduate students because qualified professions with a background in and understanding of computer and network security are in such great demand. Companies seeking to increase their cybersecurity workforce or governmental agencies and groups in need of qualified candidates for key cybersecurity-related positions sponsor many of the scholarship opportunities in this field.
This award provides a stipend, full tuition, and other benefits. It is intended for students who are interested in working full-time for the Department of Defense (DOD) after graduation for a predetermined amount of time after working for the DOD during the summer while enrolled in an undergraduate degree.
Numerous undergraduate and graduate scholarships are available from the Center for Cyber Safety and Education, which is a division of the International Information Systems Security Certifications Consortium, Inc. Some of the scholarships are intended expressly to aid female cybersecurity students. Both regular on-campus degrees and online cybersecurity degrees are eligible for the scholarships.
The Stokes Educational Scholarship Program
This grant is open to high school students who intend to join in a bachelor's programme in cybersecurity. The programme, which is administered by the National Security Agency (NSA), grants up to $30,000 a year in addition to other benefits and stipend opportunities. Students who enroll in this programme are obligated to work for the NSA for 1.5 times as long as the scholarship supported after graduation.
Are Cyber Security Degrees Worth Doing Online?
Prospective students who also have other responsibilities, such as a part-time or full-time employment, should consider earning their Cyber Security degree online. You are able to do this just about anywhere in the world and learn at your own pace.
Additionally, you can watch courses as many times as necessary and communicate with other students through message boards or social media groups. Although there will usually be some flexibility, there will still be set deadlines for tests and projects, and you must meet them.
The opportunity to test out an online short course in IT security before choosing whether you're prepared to enroll in undergraduate or graduate courses is a huge benefit. Cyber Security short courses are widely available in universities, colleges, and online platforms, with prices starting at 100 EUR. They give you a taste of online learning and typically last 1-3 months.
You can lower your study fees by earning an online cyber security degree. You won't have to pay for travel, housing, or living expenses when studying abroad because tuition costs are reduced, starting at 300 EUR/academic year. However, given the technical nature of degrees in cyber security, you might need to spend money on the hardware or software utilized in your classes or online laboratories.
Before enrolling in an online Bachelor's or Master's programme in IT Security, make sure the programme is accredited. You don't want to spend your money and effort on a bogus diploma, even if the majority of online degrees are valid.
Conclusion
At the end of the day, be it online or through college, a degree course in an exploding and possibly important future field will necessarily get you a great job irrespective of your mode of accreditation.
Holders of a cybersecurity bachelor's degree can find satisfying and well-paying positions in a variety of industries and sectors, including top-secret government, military, and intelligence work, stuffy office jobs with Fortune 500 companies, and early start-ups developing the newest technologies.
A cybersecurity degree should offer a strong return on the original investment from a financial or employment standpoint. The typical salary for an entry-level information security worker with a bachelor's degree in cybersecurity is $95,510, according to the Bureau of Labor Statistics (BLS).
Numerous undergraduate degree programmes in cybersecurity put a strong emphasis on combining computer science with information and network security. A cybersecurity undergraduate degree provides background and expertise that are excellent training for the certification process.
FAQs
What subjects do I need to study for a career in cyber security?
One of the following degree fields will aid you on your professional path if you're interested in a career in cyber security:
IT.
Internet safety.
Science of computers.
Computer forensics.
Engineering of networks.
Security and networks.
Physics, Math, and other STEM subjects.
Is there any entrance exam for cyber security?
Different colleges have different requirements when it comes to degree program requirements. While some colleges might accept through Entrance tests of their own colleges, some colleges might have special requirements for their own colleges. It all boils down to your research about that particular college. There are some common requirements that every college requires which can be found here.
How Many Years Does it Take for a Cyber Security Course?
Most countries require 3 or 4 years to complete a bachelor's degree in cyber security.
It takes one to two years to finish a master's programme in cyber security.
A cyber security PhD programme lasts three to five years. Although they are less frequent, some only take 1 or 2 years.
Does cyber security pay well?
A cybersecurity degree should offer a strong return on the original investment from a financial or employment standpoint. The typical salary for an entry-level information security worker with a bachelor's degree in cybersecurity is $95,510, according to the Bureau of Labor Statistics (BLS).
What skills are needed for a career in cyber security?
As a student of Cybersecurity you are expected to have basic problem-solving skills, a knack for technical aptitude, a basic knowledge of security across various platforms and fundamental forensic skills.