Are you looking for the best universities in Pennsylvania? Well, this U.S. state houses hundreds of 4-year degree-granting universities and colleges. They include several specialty schools, small liberal arts schools, midsize colleges, and large research universities. Among the specialty academies in Pennsylvania are health sciences, seminaries, and art schools.
Many universities and colleges in Pennsylvania are based in the bustling cities of Philadelphia and Pittsburgh, the latter one being the fifth-largest city in the U.S. Dozens of universities and colleges in Pennsylvania are publicly financed yet offering top-notch overseas education. So, let's learn about these best colleges and top universities in Pennsylvania here.
Suggested Blogs:
Top 50 Universities in Pennsylvania | Best Universities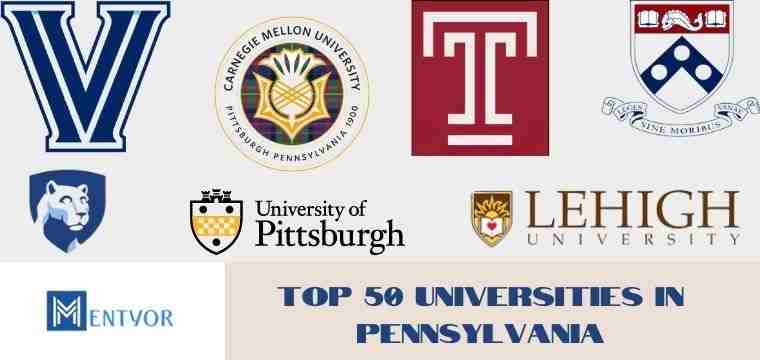 University of Pennsylvania
Carnegie Mellon University
Lehigh University
Villanova University
University of Pittsburgh–Pittsburgh Campus
Pennsylvania State University–University Park
Drexel University
Temple University
Duquesne University
Thomas Jefferson University
Chatham University
Robert Morris University
Misericordia University
Widener University
Wilkes University
Gannon University
Immaculata University
Swarthmore College
Haverford College
Bryn Mawr College
Bucknell University
Lafayette College
Franklin & Marshall College
Dickinson College
Gettysburg College
Muhlenberg College
Juniata College
Allegheny College
Ursinus College
Washington and Jefferson College
Grove City College
Elizabethtown College
Susquehanna University
Westminster College (P.A.)
Lycoming College
Moravian University
Saint Vincent College
University of Scranton
Saint Joseph's University
Pennsylvania College of Technology
Thiel College
The University of Pittsburgh at Bradford
Messiah University
St. Francis University
University of Valley Forge
Keystone College
University of Pittsburgh–Johnstown
Seton Hill University
Mount Aloysius College
La Salle University
Suggested Blogs
---
Top 10 Universities and Colleges in Pennsylvania | Best Universities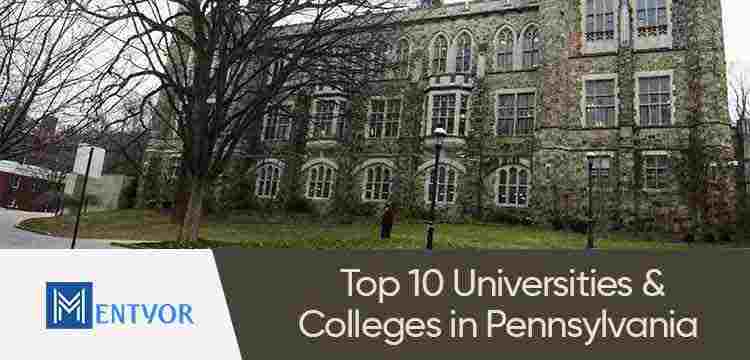 So, as you know the names of the best universities in P.A., now let's go through the detailed descriptions of the top 10 of them.
Read more here Best Colleges in Pennsylvania
---
University of Pennsylvania – 50 Best Universities in Pennsylvania
The University of Pennsylvania is a non-governmental Ivy League research university situated in the town of Philadelphia. Benjamin Franklin established the university in 1740. As of fall 2017, the university had 21,599 learners, split equally between graduate and undergraduate courses.
Being one of the best universities in the world, this institute focuses on interdisciplinary research and learning, providing academic flexibility, unique majors, and double degree programs. Thus, it means that the race to study in this university is fierce, especially at the undergraduate level.
Besides, the institute also focuses on recreation and sports, with learners participating in athletics, ice hockey, and enlisting themselves in various recreational, instructional, and competitive sports clubs.
With top-notch sciences and arts programs and broadened job prospects for its learners among the brightest, there is no suspicion about the University of Pennsylvania earning its Ivy League reputation and status. [Universities in Pennsylvania ]
Carnegie Mellon University
It is a non-governmental research university situated in Pittsburgh, Pennsylvania. Carnegie Mellon University was established in 1900. The university is a unification of the Mellon Institute of Industrial Research and the Carnegie Institute of Technology.
Founded as the Carnegie Technical Schools by Andrew Carnegie, it became the Carnegie Institute of Technology and started providing four-year degrees. The Carnegie Institute of Technology integrated with Mellon Institute of Industrial Research in 1967. Since then, it has been running as a single organization.
The university operates seven independent colleges and schools, including the School of Computer Science, Mellon College of Science, Heinz College of Information Systems and Public Policy, Dietrich College of Humanities and Social Sciences, College of Fine Arts, and College of Engineering.
It has its primary campus situated 3 miles from Downtown Pittsburgh and has more than a dozen degree-granting locations in 6 mainlands, including degree-granting campuses in Silicon Valley and Qatar. [ Universities in Pennsylvania Universities in Pennsylvania ]
Lehigh University | Best Universities in Pennsylvania
This non-governmental institution was established in 1865. As of 2020, Lehigh University has a total undergraduate registration of 5,203. It is situated in Bethlehem, 50 miles north of Philadelphia.
One-third of the learners of this institute are involved in sororities and fraternities. All freshers are needed to reside on campus, and sophomores have to live on campus in a Greek housing or residence hall. The main campus of this university is situated on the wooded hillside of South Mountain.
It owns four colleges, with several graduate and undergraduate majors. The well-reckoned graduate programs of this university include the P.C. Rossin College of Engineering and Applied Science and the College of Education.
Lehigh tradition says that the brown and white school colors originated when a female, wearing white and brown stockings, passed by some men talking about school hues. Nevertheless, the significant alumni of Lehigh University include Charles Marshall, Howard McClintic, and Jesse W. Reno.
Villanova University
This non-governmental, co-educational, Catholic, research-based higher education university is operated in Villanova, Pennsylvania, by order of Saint Augustine. It was established in 1842 by the Augustinians and named after Saint Thomas of Villanova. It is the oldest Catholic institute in Pennsylvania. The institute traces its origins to the old Saint Augustine's Church, Philadelphia.
It has two schools and four colleges that provide 14 doctorate programs, 58 postgraduate, and 61 undergraduate programs across various domains of professional studies, law, nursing, engineering, sciences, business, and liberal arts. Villanova university also facilitates a wide array of joint degrees and certificate courses.
Currently, nearly 10,848 learners from 48 provinces of the U.S. and 41 foreign nations are continuing their degrees at this university. In addition, 53% of the total registration comprises female learners, while 47% are men. With an average class size of 23 students, the student-faculty volume at this university is 11:1. And this is what makes it one of the top universities in Pennsylvania USA
Suggested blogs:
University of Pittsburgh – Pittsburgh Campus
This governmental university was established in 1787. Situated in the Oakland neighborhood, the campus of this university is a 3-mile trip from the bustling Downtown Pittsburgh. The town is residence to powerhouse professional athletics teams, such as Penguins and Steelers, and dozens of extraordinary cultural hubs, like the Phipps Conservatory, Botanical Gardens, and Andy Warhol Museum.
So, Pitt students get free entry to these and other chosen museums throughout their academic year. Besides, as Pittsburgh university is edged by three rivers, fishing, sailing, and kayaking opportunities are plentiful here.
Now, talking about the academics, learners in Sciences and Arts majors can attain hands-on values in teaching, research, and internships with the assistance of the university's Office of Undergraduate Creative, Scholarship, and Research Activity.
The university has received many national awards for its highly ranked Swanson School of Engineering, School of Education, and School of Medicine. Besides, the university is also famous for its dedication to going green. Every learner and staff member of this institute work towards environmental-friendly neighborhood solutions at the university's Mascaro Center for Sustainable Innovation. [ Best Colleges ]
Pennsylvania State University – University Park
Established in 1855, Pennsylvania State University is a premier, non-governmental research university in the USA. Well-recognized as Penn State, this university has more than 20 campuses, comprising over 22,000 acres. The University Park campus is a hub for qualitative education across all disciplines.
The educational colleges at the University Park campus include the College of Information Sciences & Technology, College of Arts & Architecture, College of Education, College of Nursing, College of the Liberal Arts, Eberly College of Science, and College of Agricultural Sciences.
The faculty members at the University Park campus of Pennsylvania State University encompass highly qualified, industry-leading professionals. The institution is also equipped with hi-tech computer centers, libraries, art studios, and laboratories to implement the best-in-class learning strategy.
The university offers an elective 2+2 study program for learners. It provides enhanced flexibility to all learners so that they can get education for the first two years of their undergraduate level in one campus and shift to another campus for the remaining 2 years. And this makes Pennsylvania State University one of the best universities in the world.
Drexel University | Best Universities in Pennsylvania
This non-governmental university, established in 1891, facilitates its students with a combination of extensive on-job experience and in-class education. In addition, Drexel runs a cooperative teaching program, delivering learners to over 1,600 employers globally for 6 months at a time.
Most co-ops are reimbursed, and the average earnings a Drexel learner takes home is over $16,000. Learners who finish three co-ops commonly graduate in 5 years. On the contrary, learners who take part in no co-op experience or single co-op experience can complete their graduation in four years.
Drexel provides well-regarded courses through the College of Engineering. Besides, the university also has a law and medical school facilitating top-notch education. Some of the prominent alumni of Drexel University include Earle I. Mack, a former ambassador to Finland, and Michael Anderson, a former professional basketball player.
Temple University – 50 Best Universities in Pennsylvania
It is a public state-related research university based in Philadelphia, Pennsylvania. Temple University was established by the Baptist minister Russell Conwell in 1884. However, it was re-dubbed the Temple College of Philadelphia in 1888. By 1907, the university reformed its institutional significance and registered itself as a research university.
In 2019, nearly 40,000 professional students, graduates, and undergraduates were registered in the university. It is one of the best universities in the world, facilitating professional teaching and preparing the biggest body of experienced practitioners in Pennsylvania.
The academy operates a variety of institutes and research centers, including the Center for Asian Health, the Center for Sustainable Communities, and the Innovation & Entrepreneurship Institute. In addition, it is home to the James E. Beasley School of Law, the Richard J. Fox School of Business and Management, and schools of education, engineering, and medicine. Graduate learners can also attain degrees in podiatric medicine, pharmacy, and dentistry here. [ Universities in Pennsylvania ]
Duquesne University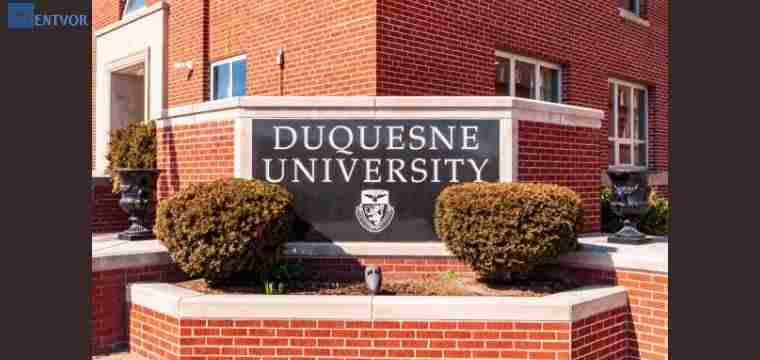 Founded by Spiritans in 1878, it is one of the most reputable Catholic universities in the USA. It was established as Pittsburgh Catholic College. This distinguished institute is the only Spiritan university of higher education in the USA.
The Pittsburgh Catholic College encompassed only 40 learners and six faculties. But in 2008, the institute founded a new building, which encompassed banquet facilities, a restaurant, a bookstore, retail shops, and a fitness center for their students and faculty members.
This reputable university is situated in the U.S. town of Pittsburgh, and it boasts a safe and vibrant environment. It is also one of the most comfortable towns in the region and has a plethora of music venues, green spaces, restaurants, and coffee shops. And Duquesne University provides a beautiful view of this city and its 3 rivers.
Boasting 9 academies, the university caters to nearly 9500 learners. The university also houses various institutes and centers, which provide many research programs, instructional support, and cross-discipline learning.
Thomas Jefferson University | Best Universities in Pennsylvania
Now, the final one on our list of top universities is Thomas Jefferson University. This private university was inaugurated in 1824. It is linked to the CACC and NCAA Division. Besides, Thomas Jefferson University is also recognized to be an integral part of Philadelphia University.
In 1942, it started to provide undergraduate courses and degrees. By 1978, various subjects of business administration, science, and arts were added to the curriculum.
The university campus encompasses over 50 buildings, an exhibition gallery, hi-tech laboratories, a famous library with more than thousands of books, and digital classrooms. It also facilitates housing facilities for faculty members and students. The accommodation facilities are well-maintained and fulfill all fundamental requirements of learners.
The campus is close to departmental stores, restaurants, cafes, and many other shops where learners can easily avail themselves of services and goods. Also, some distinguished hubs are situated within the university campus, namely The SEED Center, Innovative DEC Centre, Gold Centre for Sustainability, and the Recreation and Convocation Centre. These hubs give learners a chance to acquire knowledge about the research programs, along with skilled faculties. [ Top universities ]
End thoughts | Best Universities in Pennsylvania
All the best colleges and Top universities of Pennsylvania offer at least 4-year undergraduate degrees and postgraduate degrees. In addition, these institutes tend to deliver multiple courses in a non-distance, face-to-face, and traditional educational format. Hence, with top-notch education quality and skilled faculty, Pennsylvania has become one of the best educational hubs for overseas as well as domestic students.