Oklahoma is home to a mix of private and public small liberal art schools, midsize colleges, and large research universities. Due to the evolving demands of its oil industry, almost every college and university in Oklahoma City offers a wide range of innovative engineering, geography, and cartography degree courses.
So, if you are interested in pursuing your career in the oil or energy industry, Oklahoma will be the best destination for you. However, if you do not aspire to a career in the said domain, you can still opt for other courses facilitated by some of the best colleges in Oklahoma.
As per reports, Oklahoma City has kept the tuition fee for higher education quite reasonable for all types of students. Also, the institutes of this city facilitate many scholarship schemes for overseas students.
So now, without much ado, let's dive into the 23 best universities in Oklahoma City.
Suggested Blogs:
Top 23 universities in Oklahoma City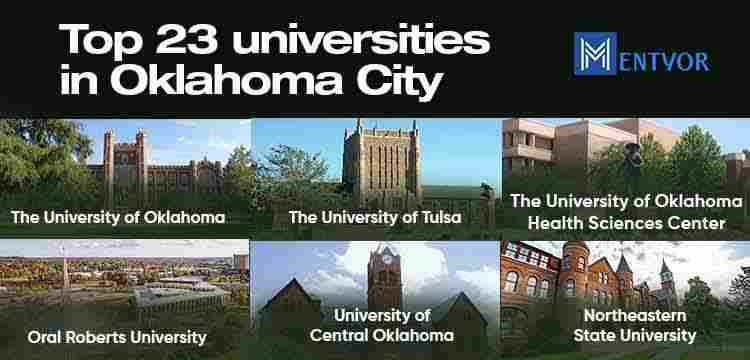 The University of Oklahoma
The University of Tulsa
The University of Oklahoma Health Sciences Center
Oral Roberts University
University of Central Oklahoma
Northeastern State University
Oklahoma City University
Cameron University
Rogers State University
Oklahoma Christian University
Southeastern Oklahoma State University
Southwestern Oklahoma State University
Southern Nazarene University
East Central University
Oklahoma Baptist University
Oklahoma Wesleyan University
University of Science and Arts of Oklahoma
Langston University
Oklahoma Panhandle State University
Northwestern Oklahoma State University
Mid-America Christian University
Bacone College
Southwestern Christian University
10 Best Universities and Colleges in Oklahoma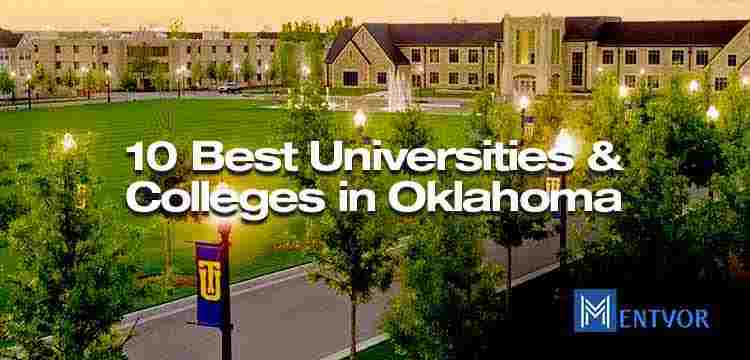 If you are thinking of pursuing your education in Oklahoma, you must have a deep insight into all the best universities and colleges in the city. So, here check them out.
University of Oklahoma
Founded in 1890, this is a non-profit public state higher-education university. Its primary campus is situated in the suburban location of the small city of Norman, Oklahoma. However, the university also has department campuses in Tulsa and Oklahoma City.
Officially acknowledged by the Higher Learning Commission, it is one of the biggest co-educational higher education and research Universities in Oklahoma. It offers programs and courses with accredited higher education grades such as doctorate degrees, master's degrees, bachelor's degrees in various areas of study.
This 130-year-old university in Oklahoma City has a streamlined admission policy based on students' past academic records and entrance examinations. The admission ratio range is 70-80%, making this university a fairly demanding institution.
International students are always welcome for admission. University of Oklahoma also offers various non-academic and academic services and facilities to learners. It includes online courses, sports facilities, housing, and a library.
University of Tulsa – Best University in Oklahoma City for 2022
In the list of top colleges and universities in Oklahoma, the University of Tulsa is always a renowned one. This private university shares a famous association with the Presbyterian Church. The architectural model of the university campus is primarily Collegiate Gothic.
It provides many programs across several domains to impart quality tuition to its learners. At this institute, there are 6 colleges, departments, and programs. The academies are Division of Continuing Education, College of Law, Oxley College of Health Sciences, and Henry Kendall College of Arts & Sciences.
The university follows a semester-based academic system. Therefore, it helps students learn within a restricted time. Besides, every student studying here is trained to have a strong background in curricular activities.
The university campus offers many facilities and activities to provide students with a conducive learning environment. In addition, recreational activities and sports are arranged from time to time. Here, students can also become members of any of the 200 student organizations and clubs.
University of Oklahoma Health Sciences Center
University of Oklahoma Health Sciences Center is one of the best universities in the USA to offer patient care, conduct superior research, and impart quality education. The framework of the institute comprises an academically strong faculty, new technology, and state-of-the-art amenities.
It is one of the 4 extensive academic health hubs in the country with 7 professional schools. In addition, the OU Health Sciences Center educates nearly 4,000 learners on the Tulsa and Oklahoma City campuses.
This institute also serves as the province's training center for pharmacists, dentists, nurses, biomedical scientists, physicians, and a broad range of public health and allied health professionals.
Situated in the State Capitol, the university is the bedrock of Oklahoma Health Center, a complex of 19 private and public health care organizations.
Hence, students obtain medical training at different on-site establishments. It includes Veterans Affairs Medical Center, Children's Hospital of Oklahoma, University Hospital, Presbyterian Hospital, Oklahoma Medical Research Foundation, and other affiliated clinics and hospitals in Oklahoma City.
Oral Roberts University – University in Oklahoma City
Oral Roberts University is a private co-ed higher education institution in Tulsa, Oklahoma. It is an interdenominational Protestant institute. Hence, the university promotes fundamental Christian values in its course curricula.
In terms of academics, it facilitates many undergraduate courses leading to a bachelor's degree in Education, Business, Arts, and Sciences. Besides, you can also earn a Master's or Doctorate degree from this university in theology, education, and business programs. The total registered students count to nearly 5,300.
Evangelist Oral Roberts founded this university in 1963 and started admitting learners in 1965. The campus of this top university in Oklahoma City encompasses a 200-foot high praying room, a multipurpose sports facility, and Kenneth H. Cooper Aerobics Center.
Established to educate all students' spirit, body, and mind, Oral Roberts University guarantees enhanced learning in the context of a robust Christ-centered community. It is an institute for creating life-long connections in an active campus community, facilitating intellectual discovery, and escalating knowledge base.
Suggested Blogs:
University of Central Oklahoma
This public co-educational university in Oklahoma City was established in 1890 in Edmond, Oklahoma. It is the third-largest university in Oklahoma.
A prestigious name in the US education hub, this university is also one of the first established institutes in the country's southwest province. It provides about 100 different programs at graduate and undergraduate levels to all international students.
University of Central Oklahoma excels in Business Studies, Liberal Arts, Education, Professional Studies, and Fine Arts & Design. Admissions at this institute are facilitated on a rolling basis for undergraduate programs. In the case of graduate courses, the university enrolls students during the spring and fall semesters.
As per the reports of fall 2020, the total number of undergraduate students in the university was 12,661. Besides, it uses a semester-based academic calendar for its students of all courses and programs.
Northeastern State University
Being established in 1846, it is one of the oldest and best universities in Oklahoma, with its primary campus located in Tahlequah. It is also the oldest higher education university in the west of the Mississippi River.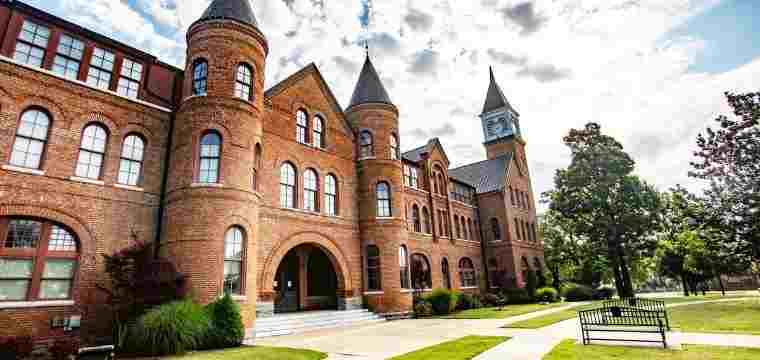 Northeastern State University also has two other campuses in Broken Arrow and Muskogee. However, it even facilitates online distance learning. Currently, it has an undergraduate enrollment of 5,990 students. Besides, Northeastern also offers programs in a semester-based academic system.
The institute offers several courses based on Native American linguistics and provides Cherokee language Education as a major. The faculty teaches in Cherokee for some classes comprising first language speakers. On the contrary, in some classes, Cherokee is taught as the second language.
Oklahoma City University – Best Universities
It is a co-educational private university in Oklahoma City. This institute was founded in the early 1900s by a regional developer as Epworth University. Having the United Methodist Church affiliation, the university welcomes learners worldwide.
It provides them with several degree programs in business, science, fine arts, and liberal arts. Oklahoma City University offers more than 70 undergraduate majors and 20 graduate degrees. It also offers a doctoral degree in nursing.
The campus of this institute renders an enriching learning experience to all its learners. In addition, the university also offers ample opportunities for cultural enrichment and entertainment. Such socio-cultural events include seminars, sporting events, operas, concerts, films, and play performances hosted by business leaders and prominent speakers from all around the globe.
Also, the institute is home to about 60 student bodies with domains ranging from political to ethnic and spiritual to other particular kinds of interests.
Cameron University – Best University in Oklahoma City for 2022
Cameron University is a co-educational public university in Oklahoma. It was inaugurated in 1908 after Oklahoma was acknowledged as a province. Hence, it is one of the 6 agricultural high schools established just after statehood.
The very first classes were started in 1909. In 1927, the school formed its junior college and became a State Agricultural College. Then, it was dubbed as a junior college as high school courses were dropped because of World War II. It eventually earned the status of a college, further leading to being approved as Cameron University in 1974.
Situated in Lawton, Oklahoma, the institute is home to over 5,500 learners, with approximately 300 postgraduates and 5,200 undergraduates. In addition, the institute serves students from all over the globe. Thus, it has risen to become one of the best universities in Oklahoma, much high in demand amongst international students.
It offers nearly 50 degrees through graduate, 4-year, and 2-year programs. The university renders excellent academic facilities in professional studies, science and technology, and liberal arts. It also allows pupils to opt for free learning in laboratories on-campus to offer them better educational opportunities and academic exposure.
Rogers State University
The main campus of this public institute is located in Claremore, Oklahoma. However, it also has other campuses in Pryor Creek and Bartlesville. It is a 4-year public university in Oklahoma City.
This institute is well-acknowledged for its high-tech learning environment, distance learning options, nurturing scholastic atmosphere, and high-quality academic programs. It offers an MBA, bachelor's, and associate degrees in a wide range of disciplines to help learners attain their professional and personal goals.
In addition, Rogers State University offers learners with active student organizations and vibrant campus life to facilitate their growth both outside and inside the classrooms. As a result, the university is a sought-after name in the US education system. It upholds the motto of "Tradition, Innovation, Excellence" in its academic curriculum.
Thus, established as Eastern University Preparatory School in 1909, the institute has grown into a dynamic and progressive university in Oklahoma.
Oklahoma Christian University – Universities in Oklahoma
Now, our list of best colleges and universities would remain incomplete without mentioning Oklahoma Christian University. It is a non-governmental university in Oklahoma established in 1950. As of fall 2020, the institute has 1,698 undergraduate students.
The university follows a semester-based system. All bachelor's grades at this university need the completion of 126 semester hours. Students must not earn less than 30 hours in any of the courses.
Bachelor's degrees need completion of a core curriculum of 60 semester hours, including a 3-hour senior philosophy seminar, 27-hours Basic Perspectives, 16-hours Bible, and 14-hours Basic Skills.
Besides, the institute also provides an honors program for skilled and highly motivated learners. Honors program students have to have an excellent academic record, impeccable writing skills and be chosen by interviews.
The university provides semester-long study projects in Europe through the Office of International Studies, situated in its Das Millicanhaus in Vienna, Austria. The institute also facilitates shorter study abroad choices in Honduras and Asia, with extra options through CCCU or the Council for Christian Colleges and Universities.
Read more here Best Colleges in Oklahoma
Suggested Blogs:
Bottom line – Best University in Oklahoma City for 2022
Oklahoma is a fantastic city for students to broaden their horizons through overseas studies. So, if you wish to pursue a higher education degree from Oklahoma, you can opt for any of the universities and colleges mentioned above. In addition, every university in Oklahoma offers a wide range of career options to flourish your personal and professional lives.
So, start preparing yourself for the entrance exams at the top colleges and universities in Oklahoma, crack them, and get the opportunity to study your dream abroad course.