Young students these days prefer a fairly cheap location that houses some of the best universities in the world. And Korea has all of these. Having one of the fundamental values, .i.e., the concept of education as the primary factor to achievements in life, along with a literacy ratio of nearly 100%, Korea is an incredible place for overseas studies. As an international student in Korea, you will get the advantage of lower living costs, nominal tuition expenses, and higher chances for scholarship programs.
You'll find some top universities in Korea that are reckoned as the best ones in the world. These institutions and colleges are prominent worldwide, garnering a high ranking and broad reputation alongside other prestigious organizations. Furthermore, Korea's top engineering schools, medical schools, business schools, and law schools offer the finest courses, facilitating you to get impeccable education in the best Graduate, Master's, and Ph.D. programs worldwide.
Suggested Blogs
So, here are some of the best colleges and universities in Korea.
50 Best Universities and Colleges in Korea | Best Universities in Korea
Seoul National University
KAIST
Sogang University
Pusan National University
Korea University
Yonsei University
Ewha Womans University
Hanyang University
Kyungpook National University
Sungkyunkwan University
Kyung Hee University
Pohang University of Science and Technology
Chung-Ang University
Pukyong National University
Konkuk University
Myongji University
Inha University
Hankuk University of Foreign Studies
Ajou University
Jeonbuk National University
Seoul National University of Science and Technology
Ulsan National Institute of Science and Technology
Yeungnam University
Dankook University
Sookmyung Women's University
Chungbuk National University
Handong Global University
Dong-A University
Gachon University
Soongsil University
The Catholic University of Korea
Woosong University
Sejong University
Jeju National University
Kookmin University
Kangwon National University
Dongguk University
Changwon National University
University of Incheon
Hallym University
University of Seoul
Kyungnam University
Kyungsung University
Hongik University
University of Ulsan
Chungnam National University
Hannam University
Korea Maritime and Ocean University
Inje University
Keimyung University
Top 10 Universities in Korea | Best Universities in Korea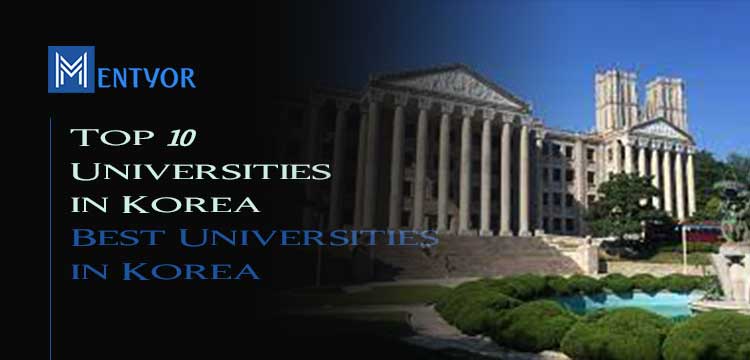 Now that you are well-acquainted with the names of the best universities in Korea, check out the elaborate descriptions of the top 10 below.
Seoul National University
Created in 1946, this college is a non-profit, governmental higher-education university situated in the metropolitan location of the big city of Seoul. This college also has a department campus in Suwon. Acknowledged by the Ministry of Education of Korea, this university is a large co-ed higher education institution of South Korea. It provides a wide array of programs and courses directed to officially acknowledged higher education degrees such as doctorate degrees, master's degrees, bachelor's degrees, pre-bachelor degrees in several domains of study.
This 74-year-old higher education college in South Korea has a particular admission system based on entrance exams and learners' past educational grades and records. As a result, the admission ratio expanse lies between 10-20%, making this college a most demanding institution.
International learners are competent to apply for registration to this university. SNU also offers many non-academic and academic services and facilities to learners, including administrative services, exchange, study abroad programs, financial aid and scholarships, sports facilities, housing, and library.
KAIST | Top Universities
Established in 1971, this is a non-profit, governmental higher-education university situated in the urban side of the city of Daejeon. KAIST provides programs and courses leading to officially acknowledged higher education grades, such as graduate degrees in many areas of education.
KAIST also offers several non-academic and academic facilities and assistance to learners, including administrative services and a library. KAIST is deemed to be one of the top universities in the country. It has been globally accredited in business education and hosts the Secretariat of AAPBS.
It has 10,504 full-time students and 1,342 staff researchers as of 2019. Besides, the university had an overall budget of US$765 million as of 2013, of which US$459 million came from research contracts.
As of 2007, KAIST teamed up with global institutions and accepted dual degree proposals for its learners. Its partner organizations include the Technical University of Munich, Technical University of Berlin, Carnegie Mellon University, Technical University of Denmark, and Georgia Institute of Technology. [ Best Colleges ]
Sogang University
This private higher-education institute, based in the metropolitan location of the large city of Seoul, was established in 1960. Sogang University is a big co-educational higher education institution in South Korea formally associated with the Christian-Catholic belief. Sogang University provides programs and courses leading to officially acknowledged higher education grades such as master's degrees, bachelor's degrees, and doctorate degrees in various areas of study.
This 60-year-old university has a particular admission policy depending on entrance exams. Sogang University also offers services to students, including study abroad programs, sports facilities, housing, library, and administrative assistance.
This college aims to educate a human individual on the basic foundations of faith and love, motivating all its members to have the intent of learning in a serious quest for reality, settling to practice justice, and appreciating the worth of every individual. Furthermore, through this education, they try to cultivate talent in individuals who will dedicate their lives to the growth of the humanistic culture.
Pusan National University | Top Universities
Pusan National University is one of the best universities in the world. This institution was founded in Pusan, Korea, in 1945 by the national government. Inaugurating with only two departments, the Faculty of Fishery and the Faculty of Humanities, PNU has become a reputable college positioned abreast with world-famous colleges.
PNU presently comprises 12 colleges, a standard graduate college, and 6 professional graduate colleges and takes part in the country's evolution by developing talented leaders and prominent experts.
Global applicants are competent to apply for registration. As 2019 marks the 73rd anniversary of the institute, Pusan National University concentrates on enhancing its educational and research capabilities as the best national college in Korea. It intends to become an international research-oriented college with this overarching conception.
With four different specialized campuses with significant education and research infrastructure, this college has four multi-campuses situated in the southeast province of the Korean peninsula. [ Best Colleges ]
Suggested Blogs:
Korea University
It was the country's first university administered and funded entirely by Koreans. Lee Young-Ik established the university in 1905. His vision and idea were that Korea could effortlessly secure its independence and prosper as a nation by educating the newer generations. For 100 years now, this university has continued to maintain the courage of its creator. Today, the institute tries to teach its learners to become helpful citizens, highly eligible in their preferred careers, who will commit themselves to serving the country and world to the best of their skills.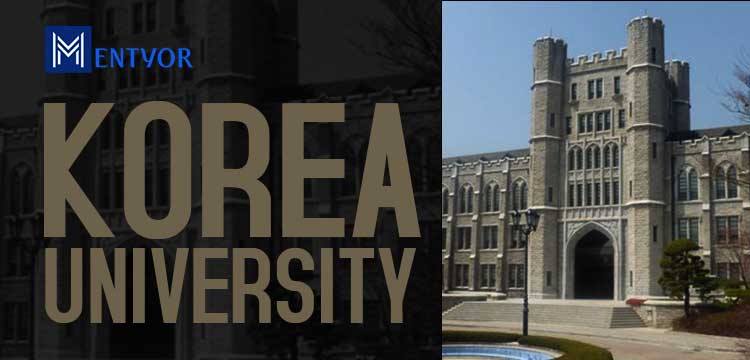 It is home to more than 33,000 learners from different parts of the country and every corner of the world. Learners at the university are enrolled in 18 divisions and colleges and 18 graduate colleges, varying from the Korean Cultural Research Center, the East Asiatic Research Center, and Humanities to Engineering and Science.
Korea university also has highly respected proficient colleges of Business Administration, Engineering, Medicine, and Law. Also, the institute maintains an excellent teaching hospital, named Korea University Hospital, which offers excellent medical attention to its patients, and trains nurses and medical students who will serve the world and the country in the future. [ Best Universities ]
Yonsei University | Top Universities
This institute was founded as Korea's first Western institution of learning in 1885. This reputed university is situated in the middle of Seoul. This institute aims to teach leaders who will contribute to humanity in the essence of "freedom and truth" and facilitate social contribution, medical care, research, and education in the international community. Thus, such a vision makes it one of the best universities in the world.
Presently, this university offers comprehensive graduate and undergraduate courses, along with medical facilities and extensive research, enlisting more than 38,000 learners across 4 campuses.
Yonsei University makes substantial contributions to all major educational research sectors, including neuroscience, chemistry, material science, engineering, human health, biochemistry, medicine, social sciences, and humanities. In addition, the university's 153 research institutes and centers perform policy-relevant, interdisciplinary research and foster creative, globally-minded leaders of intersection study.
This university has become the center of international attention for its latest initiatives to facilitate sustainable growth and energetically engage in crucial global problems such as inequality, poverty, and climate change.
Ewha Womans University
This university was founded in 1886 when American missionary Mary F. Scranton started tuitions for females in Seoul, Korea. Since its initial class, the pioneering efforts of this college have made it the first academic university for females and the first public four-year university in Korea.
Ewha has developed into one of the most reputable schools in Korea and the globe's biggest women's university with almost 25,000 students and 987 staff within 11 colleges, 66 research institutes, and 15 graduate schools.
It also became the primary Korean university to approve a university-industry affiliation partnership with the global chemical company Solvay in 2011 for a gross purchase of 21.5 million dollars. The international office of Solvay's R&D hub has been created at Ewha to inaugurate the combined research infrastructure and develop new skills to direct the future of science. The university hopes to serve the females of the world in understanding their ambitions and exploring new opportunities. [Best Universities ]
Hanyang University
Lyun-Joon Kim founded this university in 1939. He wished greatly for the development of the nation through technology education. In 1948, Hanyang University was the first non-governmental university created by the engineering division, and in 1959, it broadened into various ranges.
Also, in 1979, it formed its next campus in Ansan, which is one of the largest industrial buildings in Korea. In 2011, the university had 2 campuses with learners in all from both graduate school and college.
It is also administering a clinic that has a big scale of having nearly 1,400 sickbeds. After the institute was founded, for 72 years, it has been focusing its activities on the concept of nurturing talented learners by following the idea of attempting to become an institute that can be of assistance to the entire nation through logical methods of research.
As an outcome, between the 70s and the 80s, it was recognized for releasing excellent students who have made immense contributions to the nation's incredible change in the modern age and industrial areas.
Kyungpook National University | Top Universities
This university is dedicated to becoming a leading, international institute dependent on its lasting traditions of pride, service, and truth. Since its foundation in 1946 as an extensive national university symbolizing the province of Gyeongbuk and Daegu, KNU has been trying to direct Korea's international and national evolution by facilitating talented students who can serve as global community leaders. The institute is evolving through communication, impression, and innovation.
Kyungpook National University started as a local education center established with the aid of citizens and rapidly attained a strong stature as one of the best universities in Seoul. It became famous for generating the top Korean laureates of the time.
Their objective is to reaffirm the reputation long-held by the university, bringing the spirit and a change of innovation in the world. It is a knowledge-driven, globally-oriented university. It is now an international competitor. So, they are currently focused on facilitating research facilities that can play against international standards and develop talent that will lead the entire world. [ Best Universities ]
Suggested Blogs:
Sungkyunkwan University
It has been a world-class organization of higher education for over six centuries. Since its establishment in 1398 as a royal Confucian academy at the beginning of the Joseon Dynasty, the university has indicated strong educational leadership.
Modern SKKU has adopted globalization and developed as a prominent university in Asia and the globe. The institute actively facilitates global partnership through students and faculty exchange programs and the evolution of educational programs and cutting-edge research facilities with its international partners.
The name of this university is synonymous with both innovation and tradition. The actual meaning is, "An organization for creating a balanced society of educated human beings." The philosophy of Sungkyunkwan was required before just as much as it is necessary for today's technologically developed society.
The institute's full-time staff of over 1,400 is dedicated to quality research and teaching, providing learners a challenging ambiance for personal and intellectual growth. [ Best Universities ]
Bottom line – Best Universities in Korea
So, these are the 50 best colleges and universitiesin Korea. These institutes have been numerically categorized depending on their positions in the overall Best Global Universities Rankings. They were further assessed based on their ratings and research performance by the educational community members around the globe and within Asia.
Thus, if you are interested in pursuing your overseas education in Korea, you can easily apply for admission to any of these 50 institutes, depending on your requirements and preferences. [ Best Universities ]