St. Louis, Missouri, is a town that's well-recognized for providing its residents the chance to live a higher quality of life. It is relatively inexpensive to live in St. Louis than any other area of the U.S. The wide range of available attractions and ample study and work opportunities this city offers to make it one of the most preferred educational destinations. The St. Louis metro region is home to about ⅓rd. of Missouri's best colleges and universities. Here is the List of Top Washington University in St. Louis
Washington University in St. Louis is one of the famous universities in the region. Owing to its outstanding teaching and learning procedures, Washington University consistently ranks in the top universities in USA. The robust academic faculty of the university strives to offer the best education to students that will not only aid them to build their professional careers but also help them pass through every hurdle of their lives.
Nevertheless, apart from Washington University, there are many famous universities and colleges in St. Louis, which adds to the academic excellence of the city. So, here is the list of the best universities and colleges in the St. Louis metro region.
You may also like to read :
30 Best Universities in St. Louis | Top Washington University in St. Louis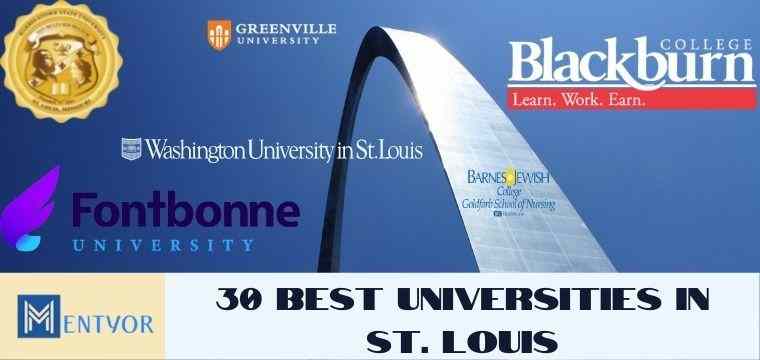 Washington University in St. Louis
Blackburn College
Fontbonne University
Goldfarb School of Nursing at Barnes-Jewish College
Greenville University
Harris-Stowe State University
Lindenwood University
Logan University
Maryville University of St. Louis
McKendree University
Missouri Baptist University
Principia College
Ranken Technical College
Saint Louis University
Southern Illinois University Edwardsville
University of Health Sciences & Pharmacy in St. Louis
University of Missouri–St. Louis
Webster University
Midwest Institute
Chamberlain University College of Nursing
SWIC Southwestern Illinois College
McKendree University
St. Charles Community College
Goldfarb School of Nursing at Barnes-Jewish College
St. Louis College of Health Careers
St. Louis Christian College
Stevens – The Institute of Business & Arts
St. Louis Community College – Forest Park
University of Health Sciences and Pharmacy in St. Louis
Harris-Stowe State University
Top 8 Universities and Colleges in St. Louis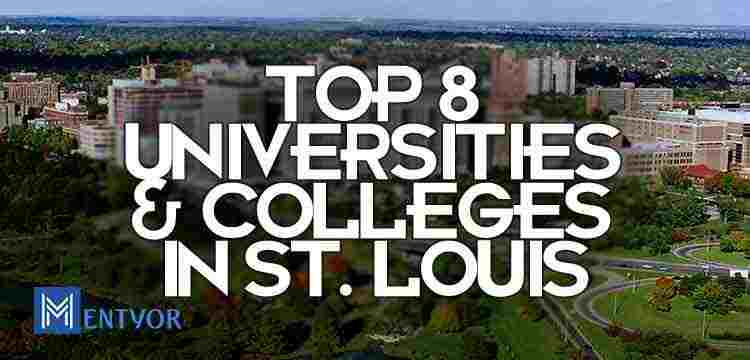 If you wish to pursue your education in St. Louis, then you must be well-acquainted with the names of the top universities in the region. So, let's have a look at the best 8 universities and colleges in St. Louis, which can be your upcoming destination.
Washington University
Popularly known as WashU or WUSTL, Washington University is one of the best universities in the world. It is a non-governmental university named after the United States' first president, established in 1853.
With its prime location in St. Louis city and the size of the campus being 169 acres, the university has an exact undergraduate registration of 7,653 (as of fall 2020). It uses a semester-based academic calendar to offer a time-bound, easy-to-manage education system.
It is situated in a city that facilitates professional sports like hockey and baseball, in addition to a broad expanse of choices for entertainment and dining. Hence, most students of the university are indulged in sports activities.
Besides, freshmen are always needed to stay on campus in one of the residential homes. After freshman year, learners can select to stay in suite-style housing, off-campus homes or apartments, fraternity houses, and on-campus apartments. Nearly 35 percent of learners are associated with Greek life at WashU.
WashU comprises 4 schools that assist graduate and undergraduate learners. Among WashU's graduate courses, the most ranked ones are George Warren Brown School of Social Work, the top-ranked Olin Business School, School of Engineering and Applied Science, Sam Fox School of Design and Visual Arts, School of Law, and a graduate course in education.
The Mildred Lane Kemper Art Museum on WashU's campus has one of the most prominent university assortments in the nation, including works from Jackson Pollock and Pablo Picasso. Besides, the enriched alumni of the institute, including Tennessee Williams, the famous playwright; Peter Sarsgaard, the renowned actor; and many more, makes it one of the top universities in USA. [ Washington University ]
You may also like to read :
Blackburn College
Now, after WashU, Blackburn College stands to be one of the best colleges in St. Louis. Blackburn College has been functioning for more than 125 years, and it is one of the most successful and prominent colleges in the nation with the Ofsted award of Grade One, Outstanding in all regions.
Since the establishment of the University Centre in 2009, they have been courageous, proactively connecting with industries to grow many of their degree and vocational level courses. And this engagement facilitates the college to fulfill international, national, regional, and local requirements at a time of constant development and change.
Thus, Blackburn College is significant for producing graduates and learners that are much in demand by employers. Presently, the college provides courses from entry-level up to master's level to 16,000 full and part-time learners worldwide.
Fontbonne University
Founded in 1923, it is one of the top universities in USA for higher education in liberal arts. It was initially established as a women's college in the Carondelet neighborhood of South St. Louis. However, the institute changed its campus to its current premise in Clayton in 1925. After that, it became a co-ed establishment in 1970.
Finally, in the year 2002, the college earned the status of a university. It has an association with the Roman Catholic Church. Also, the university earned accreditations from the Higher Learning Commission (HLC) and the North Central Association (NCA).
Located in the residential area of Clayton, Missouri, the 16-acre campus is a great addition to the region. It boasts superb learning facilities and avant-garde teaching that include practice rooms, workshop centers, conference rooms, and spacious classrooms equipped with projection equipment, smart boards, and a stable super-fast internet connection.
Jack C. Taylor Library of the university carries an assortment of unique and rare printed and online resources associated with different topics of interest and study. And this vast collection of study materials makes it one of the best universities in the world.
Goldfarb School of Nursing at Barnes-Jewish College
With its inception in 1902, Goldfarb School of Nursing at Barnes-Jewish College has a robust framework of teaching health care experts in St. Louis. Presently, Goldfarb offers doctoral, master's, and bachelor's degrees in nursing.
Through coalitions with many significant leaders of the country in the healthcare domain and other community-based agencies, Goldfarb retains the most developed resources for facilitating enhanced knowledge to its students and possesses a team of committed academic faculties who guides learners to attain their fullest potential. Such a unique learning mechanism makes it one of the best colleges in the nursing and healthcare sector.
Besides, Goldfarb has nationally acknowledged educational amenities with revolutionary Clinical Simulation Institute labs, lecture halls, and futuristic classrooms with exam rooms and patient simulation mannequins that render advanced and high-tech nursing care experiences.
Nevertheless, Goldfarb School of Nursing is authorized by the Commission on Collegiate Nursing Education, Higher Learning Commission, and is endorsed by the Missouri State Board of Nursing.
Greenville University | Top Washington University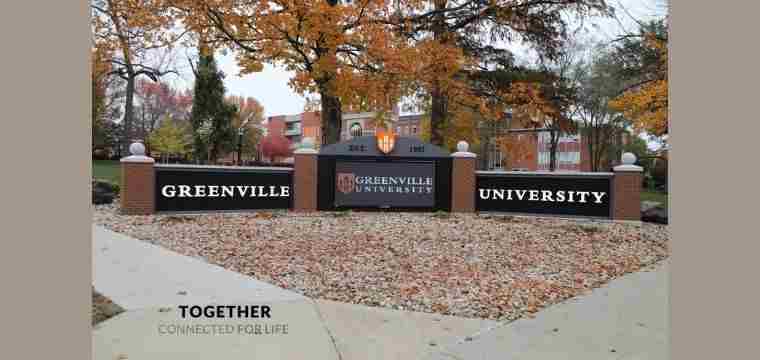 Greenville University was established as Greenville College in 1892 in Illinois. However, it earned university status in 2017 and was renamed Greenville University. It is affiliated with the Free Methodist Church.
The institute was founded to teach young women and men and was reincorporated as an individual organization in 1893. The first batch of graduates completed their course and got their degrees in 1898. Since then, it has evolved and expanded its educational offerings, establishing itself as one of the best universities in the world.
Presently, the university provides more than 50 undergraduate majors divided across 18 subject domains to learners. Besides, it also offers adult and graduate courses while still striving to secure its core founding values.
The faculty members of this university are highly dedicated to their Christian faith, and the integration of learning and faith is the primary objective to fulfil Greenville's goals. On the contrary, the learners need to adhere to the strict guidelines of the institute while honoring the Christian values followed by the university. [ Top Washington University ]
Harris-Stowe State University
It is a historically black public university situated in St. Louis, Missouri. The institute facilitates 50 minors, majors, and certificate courses in arts & sciences, business, and education domains. Besides, Harris-Stowe State University is also a Thurgood Marshall College Fund member.
The university provides 14-degree courses in Urban Affairs, Secondary Education, Professional Interdisciplinary Studies, Educational Studies, Middle School Education, Mathematics, Information Sciences, and Computer Technology, Health Care Management, Biology, Business Administration, and Accounting. As of 2019, the university registered 1,630 students.
Besides, the university campus houses the William L. Clay, Sr. Early Childhood Development/Parenting Education Center, an education center for early skill development in children. Harris-Stowe university invested $11 million into training early learning professionals, offering parenting education, and providing high-quality daycare for kids. And this dedication and effort of the institute for the early development of children make it one of the best universities in the USA.
The institute was also given an FY09 ARCHS or Area Resources for Community and Human Services start-up and growth grant to buy advanced equipment and materials to establish the center's new toddler or infant rooms.
Lindenwood University | Top Washington University
Since its establishment in 1827, this institute has been known as one of the top universities for offering easily accessible and affordable education. This independent non-governmental university follows Judeo-Christian values and shares an old connection with the Presbyterian Church.
It provides admissions in various educational courses that prepare learners for ample international job and academic opportunities. In addition, learners are provided with insightful knowledge and in-hand experience through integrated and collaborative academic, sporting, and co-curricular programs.
It provides over 125 graduate and undergraduate programs and more than 50 athletic programs. Almost 10,000 part-time and full-time learners attend lessons here. Learners get to experience a broad range of co-curricular activities, which in turn, enhance their knowledge.
Besides, Lindenwood brings its alumni together by hosting homecomings and social events. In addition, it does many local and campus events to acknowledge the achievements of its alumnus through the Lindenwood magazine.
Maryville University
Last but not least, our list of top universities in USA includes Maryville University. Founded in 1872, this institute began as a simple school. It was eventually transformed into a junior college, which later earned the status of a deemed college in 1923 and was named Maryville College of the Sacred Heart.
The institute was thereafter leveraged to a co-educational establishment in 1968. Then, in 1991, Maryville was finally awarded the status of a university that could provide higher education to its learners. The Higher Learning Commission officially accredited the university.
It has a total registration of nearly 10,200 learners. In addition, the university comprises 6 schools and colleges, facilitating a wide range of doctorate, graduate, and undergraduate programs.
Statistically, it provides quality education through 90+ degrees to students from around 58 countries and 50 states. Besides, it also offers over 30 online undergraduate and graduate programs. Notably, 90% of the teaching faculty at the university carries a Ph.D. or other terminal degrees. Thus, Maryville's excellent teaching and learning facilities make it one of the best universities in the country.
You may also like to read :
Final Verdict
St. Louis extends over only 66 square miles but has many academic choices. If you plan to study in the USA, seeking admission to any of the best colleges or universities in St. Louis can be a good decision. So, buckle up your preparation for the entrances in these deemed institutes and get enrolled in your dream institute at minimal education costs and living expenses.
Source : https://www.forbes.com/colleges/washington-university-in-st-louis/?sh=20b8ede24b44