With a mixture of beachfront and city, downtown Tampa has a progressive social environment, whereas the nearby coasts of St. Petersburg and its clear water facilitate water sports and other coastal activities. So, Tampa also plays host to some of the best universities, educating more than 75,000 part-time and full-time students.
Tampa's metro region has several organizations to select from, including liberal arts colleges and public institutions. So, if you are thinking of studying in Tampa, it is crucial to find a perfect university for you.
Below is a list of the best colleges and universities in Tampa, USA. Do have a look!
Suggested Read:
Top 40 Universities in Tampa, USA | Best Universities in Tampa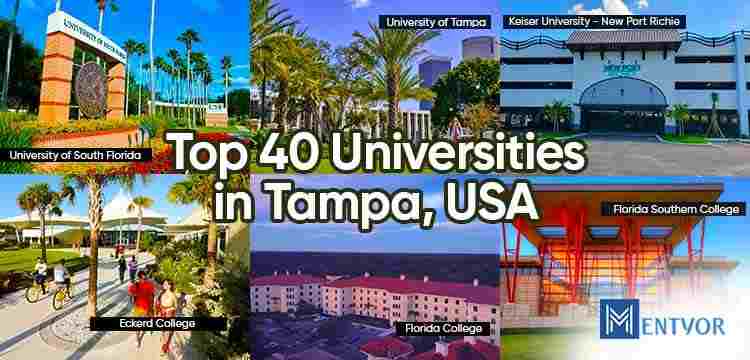 1. University of South Florida
2. University of Tampa
3. Keiser University – New Port Richie
4. Eckerd College
5. Florida College
6. Florida Southern College
7. Southeastern University
8. Saint Leo University
9. Gallen College of Nursing – Tampa Bay
10. St. Petersburg College
11. Pasco-Hernando State College
12. Strayer University – Florida
13. South University – Tampa
14. Medical Prep Institution of Tampa Bay
15. Trinity College of Florida
16. Schiller International University
17. Everglades University – Tampa
18. Keiser University – Tampa
19. Rasmussen College – Tampa/Brandon
20. Hillsborough Community College
21. University of Phoenix
22. The Art Institute of Tampa
23. Southern Technical College
24. Pasco Hernando State College Wire Grass Campus
25. Florida Technical College – Tampa
26. Center for Advanced Medical Learning & Simulation – CAMLS
27. Concorde Career Institute – Tampa
28. Hillsborough Community College Driver Education
29. Pasco-Hernando State College
30. USF Health, Morsani College of Medicine
31. Springfield College
32. Strayer University
33. Florida Metropolitan University
34. Stetson University College of Law
35. Grace College
36. Skyes Chapel
37. Altierus Career College – Tampa
38. USF College of Public Health
39. Embry-Riddle Aeronautical University
40. University of Sarasota
Top 10 Universities in Tampa, USA
Now that you are well-familiar with the best colleges and universities in Tampa, USA, go through the descriptions given below.
University of South Florida
The University of South Florida is one of the best universities in the world. This public university was established in 1956. It has an undergraduate enrollment of 38,579. Its location is urban, and the campus size of this university is 1,646 acres. The University of South Florida is a research-based organization with many campuses throughout the province.
This public university is situated in Tampa and has local campuses in St. Petersburg and Sarasota. First-year learners are mandated to stay on campus unless the students commute from one of the various available counties, are married, or are older than 21.
For learners who do not stay on-premise, the university arranges a Commuter Student Network and provides bus transportation for those who drive to the campus. In addition, there are over 400 student bodies to check out and a big Greek community. For graduate learners, the university provides degree projects through the USF College of Medicine. [ Universities in Tampa ]
University of Tampa | Best Universities
This private university was introduced in 1931. The University of Tampa has a total undergraduate registration of 8,697. Its location is metropolitan, and the size of the campus is 110 acres. They utilize a semester-based educational system. The West Coast University ranking of this university in the 2022 edition of best colleges is 13.
The university has a variety of chances for students to enhance their leadership skills. It utilizes its setting to provide programs such as Leadership and Swimming and Leadership and Sailing with the Manatees. For other activities to get involved, learners have over 150 student organizations and clubs to consider and nearly 20 sororities and fraternities.
Undergraduate students can get involved in research programs through the university's associations, including the Naimoli Institute for Business Strategy. In addition, the University of Tampa regulates the John H. Sykes College of Business, which provides nursing school and graduate degree programs.
Keiser University – New Port Richie | Best Universities in Tampa
This university provides career-focused tuition in interdisciplinary studies, psychology, nursing, legal studies, information technology, health care, general studies, education, criminal justice, and business fields. You can attain an associate, graduate, or bachelor's degree with them.
Conveniently situated on Highway 19 near Main Street, their campus features learning resources, comfortable classrooms, and hands-on training facilities that enable you to get the assistance you require to attain your degree.
At Keiser University, their helpful and friendly admissions and financial and academic aid faculty can deal with any student's concerns or questions. In addition, learners have access to career and student services that can enable them to prepare for the interview procedure and seek out a fresh livelihood in their field. [ Best Universities ]
Eckerd College
Now, the next one in our West Coast university ranking is Eckerd College. This private organization was established in 1958. Situated in the town of St. Petersburg, Florida, the campus of this university faces Boca Ciega Bay. Eckerd College provides nearly 40 undergraduate majors. But it does not offer master's degree courses.
Through the program for Experienced Learners, working grown-ups can attain bachelor's degrees by opting for classes online. The program also enables adult students to take whole courses in just 8 weeks by joining 1 day per week for 5 hours on weekends or in the evening.
Learners at Eckerd can stay occupied outside of the classroom by exploring various art exhibitions, International Cinema Series, attending guest lectures, participating in writing workshops, poetry slams, and theater performances. Much of the recreational life at this college is based on its waterfront setting. Learners can also engage in the EC-SAR or Eckerd College Search and Rescue Team, which operates with the U.S. Coast Guard.
Florida College
This Christian college is located in Temple Terrace, Florida. It provides bachelors and related degrees. Established as a junior university in 1946, this university presently draws its majority of students, faculty, and staff from non-institutional holy places of Christ.
The institute is distinguished among these holy places and the neighborhood as a training hub for ministers while also offering accredited courses in many high-demand domains of study. Thus, this college has some different traits as compared to other spiritual universities and colleges.
Florida college approves no monetary donations from any organized religious bodies or congregation, and its committee members serve as individuals rather than as authorized representatives of any such entity. These differences enable the institute to stay an autonomous academic entity not accountable to any corporate religious organization.
This college's high priority on its Christian origins is conveyed in its conventional chapel assistance on weekdays during the educational calendar year. All members of the committee of directors and staff are active members in a church of Christ as specified by the university charter. All students take biblical lessons as it is a part of their liberal arts undergraduate curriculum. [ Universities in Tampa ]
Florida Southern College | Best Universities in Tampa
This college was formed in 1883. It is situated between Orlando and Tampa in Lakeland, Florida, where students relish a normal of 330 sunny days per year. Learners who joined Florida Southern College have the chance to enlist over 70 student organizations and clubs, as well as over 20 intramural athletics. Besides, Greek life is widespread on campus, with over 10 sororities and fraternities for learners to select from.
Due to the invariably warm climate, many college learners spend their time sailing on lakes, kayaking, and water skiing. In addition, first-year learners can own cars, and over 70 percent live on campus during their studies.
This institute is located near many prominent Florida interests. Florida Southern College is not more than one hour away from Sea World, Universal Studios, Busch Gardens, and Walt Disney World. In addition, many Major League Baseball squads take spring training in the region, including the Detroit Tigers.
Florida Southern University campus is home to the single biggest collection of Frank Lloyd Wright-designed buildings in one area. Prominent alumni of the university include golfers Rocco Mediate and Lee Janzen.
Southeastern University | Best Universities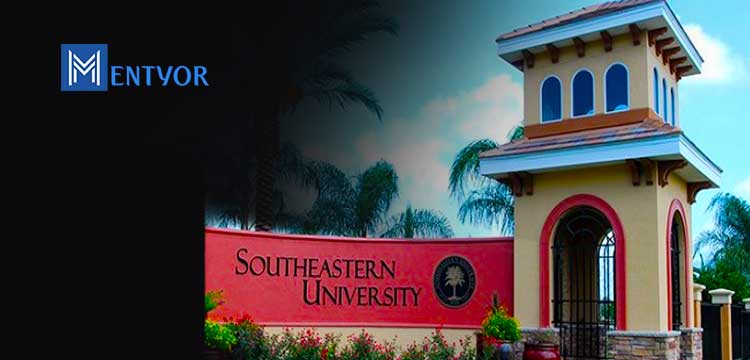 Southeastern University, one of the top universities in the USA, was established in 1935. A Christian and private institute, Southeastern is the biggest of the education institutions connected to the U.S. Pentecostal church group, Assemblies of God. It operates at more than 80 extension sites across America.
With an enrollment of about 7,000 learners, the primary site of this university provides doctorate, graduate, and undergraduate degrees in sections of natural health and sciences, ministry and theology, education, business and entrepreneurial leadership, behavioral and social sciences, and arts and media. Some of the prominent facilities provided by this university include a food court, Rehearsal Hall, a Choral, student housing, faculty offices, and classrooms.
Another significant fact about the campus is that they house the yearly National Leadership Forum. The forum offers leadership training across the church, business, and academic communities. Meanwhile, students can participate in leadership programs, art pursuits, college athletics, intramural sports, spiritual activities, debate programs, and many social events planned to aid both staff and students. [ Universities in Tampa ]
Suggested Read:
Saint Leo University | Best Universities in Tampa
Saint Leo University is one of the best universities in the world. This private institution was formed in 1889. It is a Catholic school located in west-central Florida. Undergraduates at this institute can attain degrees in over 40 fields, and graduate learners may pursue programs in theology, criminal justice, education, and business administration.
It also provides lessons on weekends and weekday evenings for learners who work during daily class hours. In addition, students can get engaged in over 70 clubs, about a dozen sororities and fraternities, and varsity sports outside the class. The properly named Saint Leo Lions athletics teams compete in the NCAA Division II Sunshine State Conference in almost 20 sports.
Saint Leo students can join many campus exhibitions, including comedy shows, professional sports games, and concerts, as well as the yearly Fall Family Festival. Past students of this university include Desi Arnaz, a musician, and Stephen Stills, the first artist to be launched into the Rock and Roll Hall of Fame two times in one night.
Gallen College of Nursing – Tampa Bay
This private for-profit college is located in Saint Petersburg, Florida. The campus is based in a city with an enrollment of 1,303. Also, the college has an open-admission policy and provides credit for life experiences. It offers online classes too.
This institute provides training in 22 capabilities, with the most popular qualifications being Associate's Degree in Nursing, Registered Nurse (RN), and Practical Nurse (LPN) License. The expense to join Galen College of Nursing – Tampa Bay Campus varies from $8,000 to $37,000 depending on the capability, with a median expenditure of $20,000.
The most typically noted advantages of taking admission in Galen College of Nursing – Tampa Bay Campus are good career preparation and top-notch faculty, along with positive environments and hands-on training. The campus of this college has been reviewed 59 times, with a fair grade of 4.51 out of 5. Nearly 97% of reviewers suggest Galen College of Nursing – Tampa Bay Campus. [ Universities in Tampa ]
St. Petersburg College
This public college is situated in Pinellas County, Florida. It provides a vast number of bachelor's degrees than the conventional community colleges concentrated on associate degrees. It is authorized by the Southern Association of Colleges and Schools and enlisted about 29,000 learners in the fall of 2018.
The college was established in 1927 as a private junior college. It later became a public college and expanded to encompass campuses throughout Pinellas County. It has 11 centers and eleven campuses: seven in Tarpon Springs, Clearwater, Largo, Pinellas Park, and Seminole and four in St. Petersburg, Florida.
It has no resident learners. It is mainly because no campus is big enough to guarantee a requirement for on-campus student residence. However, the campus library of this college is home to 200,000 books and offers access to over 720,000 ebooks, 18,000 documentaries and streaming films, and librarians who work in all provided majors. It also houses cultural events, online learning, tech centers, and a collection of resources concentrated on learner success.
For more best colleges and universities in Tempa you can refer : wikipedia.org
Bottom Line
So, these are the top 10 universities and colleges in Tampa, USA. These institutes have been enlisted above based on the strict analysis of student life, financial, admissions, and academic data with millions of reviews from alumni and students. So, are you thinking of pursuing overseas education in Tampa? Then, you may opt for any of the best universities or colleges in Tampa, as mentioned above. [ Top Universities ]