Samsung, one of the most well-known brands in technology today, was founded in 1938 by Lee Byung-Chul. The Samsung Marketing Strategy is one of the best business strategies in the world. When put under the microscope of Samsung SWOT Analysis or PESTLE Analysis, it is one of the most efficient business infrastructures.
The company manufactures a wide range of consumer and industrial electronics like mobile devices, computers, electrical appliances, digital media devices, semiconductors, memory chips, integrated systems, etc.
---
SAMSUNG MARKETING STRATEGY
The Samsung Marketing Strategy examines the company and analyses the Samsung marketing approach. This includes the 4Ps (Product, Price, Place, and Promotion) of the marketing mix in Marketing Strategy. 
A BRIEF OVERVIEW OF THE SAMSUNG MARKETING STRATEGY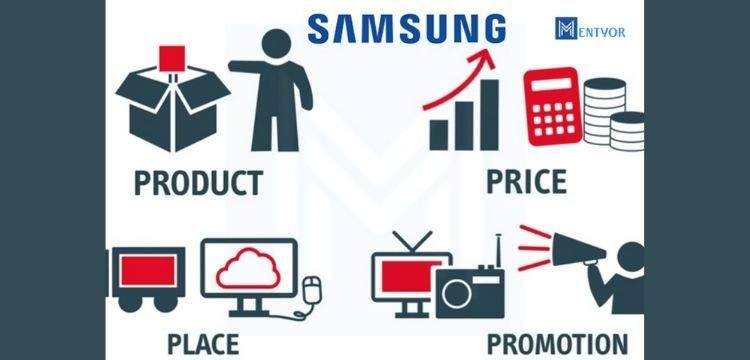 This article delves into Samsung's product, price, promotion and advertising, and also talks about the company's distribution strategy. It also sheds some light on the Samsung SWOT Analysis and PESTLE Analysis.
Let's begin with Samsung marketing strategy and 4Ps of the marketing mix:
PRODUCT PLAN IN THE SAMSUNG MARKETING STRATEGY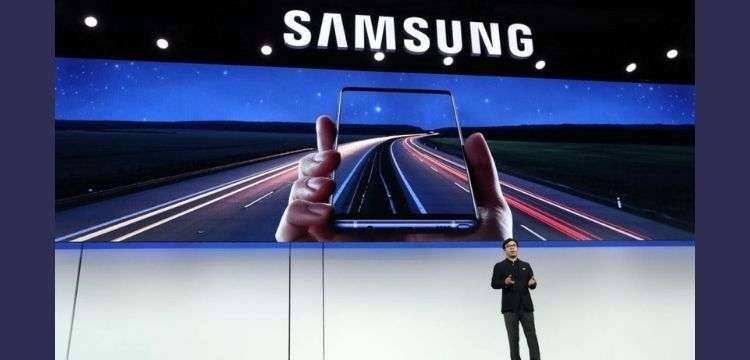 The following points illustrate the product procedure in the Samsung Marketing Strategy:
Samsung spends a lot of money on research and development (R&D) to ensure that its consumers get the best goods and services possible. It provides a diverse selection of products in a variety of categories. Samsung marketing mix also provides a wide range of services. There are five categories in which the products can be classified.
Read our Blog: Guide To Research Paper Writing | Write A Research Paper
Mobile devices- Smartphones like Samsung Galaxy series, Tablets, Samsung smartwatch, and other Accessories.
Samsung Home Appliances- Refrigerators, Vacuum cleaners, Washing Machines, Cooking instruments, Air conditioners, etc.
TV/AV – The series of Samsung Television, Home Theatres, Bluetooth speakers, etc.
Information Technology – Printer, Monitor, Mouse and other such hardware.
Memory/Storage- SSD, USB Flash drives, as well as Memory cards, etc.
These are some of the products in the Samsung Marketing Strategy.
PRICING PLAN IN THE SAMSUNG MARKETING STRATEGY
Samsung, a dominant company in home appliances and electrical devices worldwide, has two main pricing strategies.
COMPETITIVE PRICING STRATEGY
Marketing Strategy includes a competitive pricing strategy. Samsung has not been able to establish itself as the best market leader in other product categories. However, Samsung is a reliable brand and is ready to beat the likes of Apple marketing strategy in terms of technology, finance and economy. Hence, it is critical for Samsung to use competitive pricing to avoid flanking attacks from its market competitors.
Read our Bog on Google AI: Google AI Based System Helps Blind People Run
PRICE SKIMMING STRATEGY

These two pricing structures cover the Samsung Marketing Strategy as a whole.
PLACE & DISTRIBUTION IN THE SAMSUNG MARKETING STRATEGY
To understand the Marketing Strategy, we need to discuss its distribution methodology according to the places as well. The Place and Distribution Strategy of Samsung is described below.
Samsung sells to retailers and service providers directly. Only service dealers are responsible for corporate sales as a result of this strategy. Because Samsung is such a well-known brand, technology retailers almost always have to include it in their selections. Samsung's strength is its distribution. We will also discuss this in the SWOT Analysis.
Samsung also distributes its products through a single distribution business in one location, which then distributes them to other sites.
PROMOTION AND ADVERTISING IN THE SAMSUNG MARKETING STRATEGY
Promotion is an important part of the Marketing Strategy. Thus, Samsung considers advertising to be the most effective type of marketing for engaging new customers and positioning the brand. Samsung uses newspapers and digital media to market new goods. To make use of celebrities' large followings, the brand invites a number of celebrities to serve as brand ambassadors and market their products. At the same time, Samsung advertises its products alongside highways with large placards, hoardings, and posters.
The company also uses a variety of promotional techniques to persuade customers to purchase the goods. Samsung is also well-known for being a major event sponsor. During national festivals, Samsung offers significant discounts and offers, etc.
This sums up the 4Ps of the marketing mix included in the Samsung Marketing Strategy.
---
SAMSUNG SWOT ANALYSIS
The SWOT Analysis is an evaluated management concept that allows a company like Samsung to analyze its business and performance with respect to its competitors in the industry. Samsung is a well-known name in the IT and technology industry. It competes heavily with the Apple marketing strategy when it comes to mobile devices and computers. 
SWOT Analysis will focus on the company's strengths, weaknesses, opportunities & threats. This is a very important mechanism in measuring the company's successes and failures, resulting in overall growth.
STRENGTHS | SAMSUNG SWOT ANALYSIS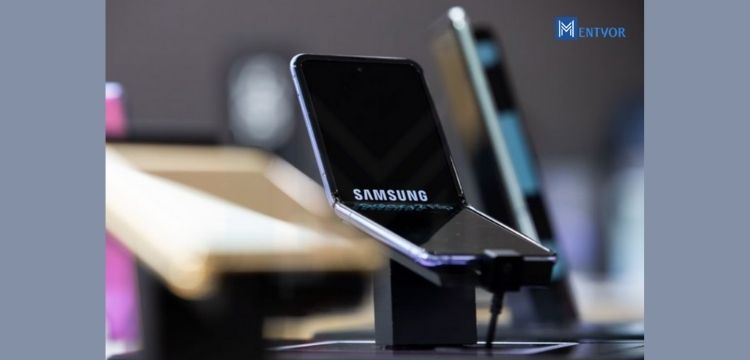 Some of the strengths of this major technology & gadgets firm are listed below in the Samsung SWOT Analysis.
Samsung's brand awareness is almost at the same level as those of the world's most well-known technology corporations.
The Galaxy series is one of the company's most popular product lines and this is one of the most popular products lines of Marketing Strategy. 
Samsung has almost 280000 employees worldwide.
According to the Marketing Strategy, the company offers a variety of models and options for every price range, resulting in increased sales, for example. 
Samsung Galaxy phones are available at practically every price level. It is a major producer of televisions and mobile phones which is a major strength when it comes to the SWOT Analysis.
Every year, the brand is noted for releasing new inventive models to keep the industry moving.
WEAKNESSES | SAMSUNG SWOT ANALYSIS
In spite of being one of the leading tech giants, Samsung has its own share of weaknesses when held under the microscope of Samsung SWOT Analysis. Some of them are:
Samsung, unlike Apple, does not have its own operating system and software, therefore it is significantly reliant on Android, which is run by Google.
Samsung's Samsung Note 7 phone has a number of challenges due to intense competition and a tight timeline.
OPPORTUNITIES | SAMSUNG SWOT ANALYSIS
Samsung has a lot of opportunities for improvement, as seen in the following points of the Samsung SWOT Analysis.
When compared to competitors such as Apple, Samsung has a greater creative ability to innovate. Following which, there will be an increase in their product quality.
Introducing phones and appliances that are specialised in a certain region can help the brand grow.
Bringing a more affordable revolutionary product to markets, such as foldable displays and other novel form factors, can be extremely beneficial to Samsung.
THREATS | SAMSUNG SWOT ANALYSIS
Here are some of the threats as we see in the Samsung SWOT Analysis that this technology giant is facing today.
The mobile market is characterised by fierce pricing competition. Some Chinese brands such as Oppo, Vivo, Xiaomi, Huawei and Oneplus, among others, compete fiercely with Samsung.
The market is constantly dynamic, and some bad products might be a major problem for Samsung's brand image.
The coronavirus pandemic has affected the supply chain of Samsung.
---
WHAT IS SAMSUNG PESTLE ANALYSIS?
Aft Marketing Strategy and SWOT Analysis lets us see the Samsung PESTLE Analysis. Samsung is a multinational corporation that competes in the "White Goods" market or the market for consumer electronics and appliances. Thus, Samsung PESTLE Analysis deals with the political, economic, social, technological, Legal and Environmental factors concerning the conglomerate. 
POLITICAL FACTOR IN SAMSUNG PESTLE ANALYSIS
The political environment in most of the markets where Samsung operates is favourable to its operations, and while there are small irritants in some overseas markets, such as India, Samsung may be said to be operating in regions where political considerations are friendly. The US government is attempting to influence the Eurozone in order to prevent Samsung from having a market in Europe.
ECONOMIC FACTOR IN SAMSUNG PESTLE ANALYSIS
Samsung now has a presence in more than 58 countries. Samsung mostly invests considerably in infrastructure in each of the countries where they do business. It has done a good job of adjusting to the decline in consumer discretionary income. Samsung PESTLE Analysis is showing that especially in the industrialised world, Samsung has achieved this feat by growing into emerging and developing countries.
SOCIAL FACTOR IN SAMSUNG PESTLE ANALYSIS
Samsung finds gaps in the technology in people's lives and fixes them with their products, which bring us to the Samsung PESTLE Analysis. It operates in a market segment that is heavily influenced by customer lifestyle preferences, and because socio-cultural elements vary by region, it has had to reorient itself accordingly in each area.
TECHNOLOGICAL FACTOR IN SAMSUNG PESTLE ANALYSIS
Samsung is regarded as one of the most innovative corporations in the world. This indicates that the company has a competitive advantage in terms of harnessing the potential of technology and driving innovation for long-term economic gain. Taking advantage over the rival companies in this way is very crucial when it comes to the Samsung PESTLE Analysis.
LEGAL FACTOR IN SAMSUNG PESTLE ANALYSIS
Samsung faced harsh penalties for allegedly copying Apple's iPad and iPhone, and as a result, the company's public perception and consumer approval of its tactics have suffered. It is difficult for the corporation to navigate its way out of the legal challenge in which it finds itself in developed markets. This is the only option that Samsung PESTLE Analysis comes up with.
ENVIRONMENTAL FACTOR IN SAMSUNG PESTLE ANALYSIS
View this post on Instagram
Samsung needs to be mindful of the way it develops its products to appease the ethical chic consumer. They always want their brands to source and manufacture items in a socially and environmentally responsible manner. Therefore it implies that under Samsung PESTLE Analysis, it must ensure that the working conditions and wages it provides to its labourers who are involved in the final product are not compromised.
With this, we complete an overview of Samsung SWOT Analysis and Samsung PESTLE Analysis highlighting the advantages and disadvantages of the organisation.
---
CONCLUSION
Samsung Marketing Strategy is absolutely top-notch. So much so, that it can almost beat the Apple marketing strategy. This fact has especially been illustrated in the Samsung SWOT Analysis and the Samsung PESTLE Analysis section of this blog. Samsung's loyal customer base is one of the best assets that the company possesses today. The tech giant has proved that it takes a lot of integrity and hard work to achieve the top spot in any field, be it in the world of finance or the field of technology i.e. the world of computers.
Indeed, the stakes couldn't be higher as the corporation seeks to grow its global reach in the midst of a pandemic economy and a fiercely competitive technical market landscape.