We always travel from one place to another, via car or any other mode of transport. But the quality of the journey depends upon what type of car we drive. Often times it happens that someone can't own a car at the moment. Or they don't have the access to the kind of vehicle they would prefer. This is where Getaround Car Rental comes in. In this blog, we will answer some of the frequently asked questions about Getaround Car Rental, Getaround Promo Code and Getaround Performance. Apart from that, we will also look at what exactly is the Getaround Glassdoor and some of the most popular Getaround Reviews.  
---
A BRIEF HISTORY
It is a peer-to-peer car rental or car-sharing business that allows drivers to borrow vehicles from individual car owners. Similarly, car owners can also choose to rent out their vehicles for a particular price. According to reports, the company has more than five million customers and 20,000 connected cars around the world. The company also boasts a working community of almost 500 employees, more or less. Founded in 2009, the Car Rental service has now spread its branches to almost 800 cities worldwide. 
Mission: "Connect safe, convenient and affordable cars with people who need them to live and work". The primary factors those are taken into consideration are
Empowering People
Improving Mobility
Protecting the Environment
Suggested Blogs :
---
HOW DOES THE GETAROUND CAR RENTAL SERVICE HELP YOU?
The company is on the way to building the best car-sharing marketplace in the world. This Car Rental Service is using exclusive technology for their customers and/or clients. This car rental shows statistics to prove that sharing vehicles is better than owning them. Guests or clients of this company's car use their services for on-demand movement.
There are hosts who partake in contributing cars on this Car Rental platform, including those who run car-sharing businesses, who make up our community. This is a one-of-a-kind peer-to-peer car-sharing business. Thousands of automobile owners make their vehicles available for the members to rent whenever and wherever they choose (limits set by car owners).
Something else that is exciting to know about the company is the GetAround Promo Code that it offers through which you can get exclusive discounts.
---
GETAROUND PROMO CODE – HOW DO YOU AVAIL IT?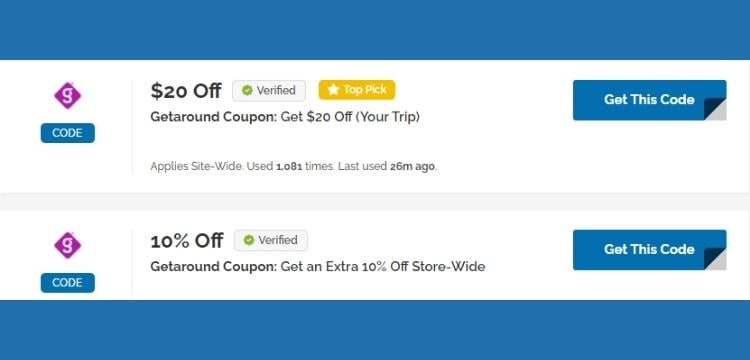 There is something even more exciting about the car rental company, and that is the their Promo Code. The GetAround Promo Code is an interesting way to get discounts and offers on your favorite car rental services you avail through the company. Here is an easy way to understand how the GetAround Promo Code works.
If you want to get a discount with Getaround Promo Code, simply click "Show Code" and the numbers or letters will be copied to your clipboard. After that, you'll go to GetAround. When you check their platform, enter the Promo Code directly in the designated box, and the discount will be applied immediately. 
The Getaround Promo Code is available on a lot of websites like Dealam, Dontpayfull, Retailmenot, Couponchief, Dealscove, etc. Getaround Promo Codes offer these month wise in most cases. For example, on Dealam, you may get 20 Getaround Promo Codes & Coupons for free in July 2021.
With their Promo Codes, you may save up to $50. Dealam also claims to guarantee that you will get the greatest deal there, in respect to other websites offering Promo Codes. We have tried including the majority of their promo codes and discounts, tried and tested. 
---
HIGHLIGHTS OF THE GETAROUND PERFORMANCE
The Car Rental company sells itself under the motto of "improving the quality of life for everyone, even those who cannot afford or obtain the automobiles they require". Customers can use the company's cars to hire and drive beautiful automobiles. People hire and share these cars in their city in real time. Customers rent these cars by the hour or the day. These cars come with a $1 million insurance policy and 24-hour roadside support.
People may avoid the lines and paperwork at typical rental car counters. They can also do away with the inconvenience of buying and maintaining a car, by using this Car Rental app. It delivers an enjoyable and safe car sharing experience without the need to meet the car owner, carries an access card, or coordinate picking up a vehicle key, thanks to the Connect TM, the patented connected car technology.
The company's efficient in-app reservation technique adds to its appeal. It conducts users' transactions in a paperless and convenient manner, similar to other ride-sharing firms. People share everything from a Prius to a Tesla and earn thousands of dollars extra each year, helping to cover the high cost of automobile ownership while also helping the environment.
Another high point for the good GetAround Performance and GetAround reviews is the GetAround Promo Code. In the few points as mentioned in the paragraph below, it becomes clear to us how GetAround Performance has reached the high point that it is at, in today's age.
Take a long drive using the car rental service. Worried about where to stay ? AirBnB is a safe option. Read our blog on AirBnB Marketing Strategy.
---
MAIN REASON BEHIND THE COMPANY'S UNIQUE PERFORMANCE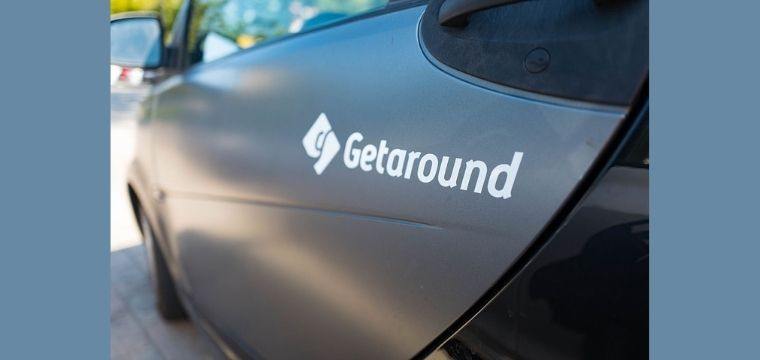 The main idea behind GetAround Car Rentals is the value of 'sharing'. GetAround Performance benefits from the message that the company highlights, that is, when we share more cars, there is less air pollution, lesser congestion on roads due to traffic and lesser accidents.
As per reports and surveys, we don't require as many cars on the road when we share them, which means less parking space. Getaround Car sharing brings versatility into the 21st century. It allows users to connect different modes of easy transportation for any purpose. Get the Getaround Promo Code right now and save a tonne of money.
The Performance is so good that guests can rent a selection of vehicles straight from their app. They do not even need to meet someone in person, carry any sort of access card, wait in line, or coordinate picking up keys. Getaround Promo Code also attracts people with exciting offers and discounts.
People drive less when they receive car sharing facilities which can lower household carbon emissions by up to 40%. Furthermore, shared automobiles are used more frequently and abandoned more quickly. Hence the adoption of newer, more energy-efficient vehicles is accelerated. Getaround Performance gets the green tag of environment conservation as well, in this case by using sustainable energy.
ADVANTAGE
An estimate of nearly 6 million people across 7 nations are using this service. One of the basic reason behind the success of this company is the safety of the host and the convenience offered.
Let us see the other reasons why one should share their car on this platform
Low start up cost
No experience required
Dedicated Account Managers
Launch in Days, not Months
Insurance
THE POWER HOST FEATURE
There is a special program mentioned in Getaround performance and reviews alike. That is the power host feature of the company. The idea behind it is to bring dedicated account managers onboard. It also helps to manage hosts and data insights. For example, demand heat maps to assist hosts optimise their companies, a database of parking locations reserved only for company hosts. There is also a 24/7 customer service for both hosts and guests who are all part of the Power Host programme.
THE SECRET TO GETAROUND POWER HOST SUCCESS
According to the spokesperson of Getaround Car Rental, it's having the idea of being your own manager. It is also about approaching the company with a similar kind of enterprise perspective, thinking of it as their own car sharing business. It doesn't matter whether they have one or many cars. They had the strongest start and perform admirably. The following step is to actively manage the fleet. This is a very small business.
The better you manage your fleet, the more repeat rentals you'll get and the more money you'll make. The third component is their desire to expand – they're seeking for new ways to expand their fleet or new parts of town with more demand where they can park more cars. Successful hosts aren't just interested in getting their car sharing business off the ground; they're also interested in growing it.
---
GETAROUND REVIEWS

In Getaround Glassdoor you get an anonymous review service for current and past employees in the company in the United States. On Getaround Glassdoor reviews, users may anonymously post and view salaries. Getaround Glassdoor also welcomes other actions benefiting the mass as well as search for and apply for jobs.
Recruit Holdings, a Japanese company, bought the company Glassdoor for US$1.2 billion in 2018. Getaround reviews are both positive and negative in nature. This balance is necessary and appreciable because, in one way, it proves the ingenuity of the Getaround reviews. A focus point of the Getaround reviews is the fact that the company advertises itself and its services as a revenue generating machine.
The one burning question that comes to mind when we take into account any company, is that "Is the company good enough for me?". And most of us browse the company reviews for better clarification. Getaround reviews serve a similar purpose. The company has an average of 1.13 star rating based on 52 reviews, showing that the majority of buyers are disappointed with their purchases.
Customer service and credit card issues are the two most common complaints about the company. Even the car company's application is a genuine, high-quality business app that can save customers money and provide extra income for car owners. 
---
GETAROUND REVIEW AND REPORT SYSTEM
To keep all rentals professional, Getaround has an excellent review and report system in place. It has also taken steps to make the rental experience as smooth as possible for both renters and rentees. For example, for travelling through FasTrak toll lanes, all the company vehicles now have automated toll charges.
The car owner is the only one who owns and manages a Getaround car. As a result, maximum usability may differ from one owner to the next. In general, a Getaround car can go 200 miles per day. You'll be charged $.40 per mile if you go over specified miles. The majority of Getaround automobiles are available for rent by the hour, day, or week.
During the rental duration, the company provides comprehensive, damage, and general liability insurance to all members. Additionally, there is a $750 breakage/damage deductible per accident that the renter is responsible for. Getaround also charges a $50/hour late fee. Also, there is a system in Getaround Cars where you have to pay a security deposit.
Read our blog on Google AI : Google AI Based System Helps Blind People Run
This means that a specified amount is blocked in your bank account based on the automobile category and rental data. If no incident is reported by the car owner, the security deposit is automatically released 5 days following the end of your rental. The security deposit is instantly refunded in the event of cancellation. It is an effective system in the car rental system because it provides clarity, security and trustworthiness both on the part of the car owner and the renter.
---
CONCLUSION
This company offers a pretty simple, efficient straightforward and hassle-free form of car sharing and rental facility. It offers comparable convenience and affordability to other options (car rental, ridesharing, etc.) from other companies in the business. This service, in addition to being convenient and cost-effective for customers, helps to reduce the number of vehicles on the road by maximizing the usage of those already on the road. Getaround Performance also gets a boost because of the company motto.
That is to say, minimizing the number of cars on road and maximizing the habit of car sharing and rentals. It offers easy access and mobility of Getaround cars where you can choose from a wide variety of car collections. The bottom line is that you can now enjoy completely hassle-free car rentals and car sharing with Getaround.