Ever since the year 1965 Pepsi Co has been much more than a food and beverage company. Pepsi Co has now become more of an adjective for soft drinks. Starting off merely as a digestive drink, Pepsi Co has come a long way since its inception. The impeccable growth of Pepsi Co is due to the products and takeovers that are under it. There is also the Pepsi marketing strategy to credit for its success. Here we examine the Pepsi performance index, Pepsi SWOT analysis and Pepsi PESTLE analysis.
Read about marketing strategy : COCA COLA MARKETING STRATEGY
---
PEPSI MARKETING STRATEGY
In this section we will look into the Marketing Strategy. Let us read more on this.
PRODUCT POSITION
Pepsi Co is a huge brand. The company has a wide range and number of products under its niche. As of now, it has around 22 brands within its portfolio. Pepsi strategy primarily works on the basis of expert product placement. It primarily indulges in packed food and beverages.
Thus, over the years, Pepsi strategy has helped the company develop and evolve for catering to newer customer requirements. Pepsi Co boldly advertises its products by advocating the youth energy and zest as its brand image. The customers that buy the Pepsi Co products come within the age group of 13 to 35. The quick and easily available packaging which can be carried at all places is the best part about Pepsi marketing strategy. 
MEDIUM OF MARKETING
Pepsi Co has always been in the forefront while advertising and showcasing its product and packaging. The company has always rightly chosen its medium of imparting the information. They produced a variety of television commercials. Therefore, with changing times and the growing popularity of social media, Pepsi Co has switched to digital marketing. As, digital marketing is the future. Pepsi Co has smartly employed this platform for advertising and promoting its interest. The strategy has proven to be a success because of its ability to change and transform with the growing demands of its consumers. 
Using the digital platform as a marketing strategy, the company has been able to conduct live events and connect with the customers on a wider scale. They have also become more customer friendly and service oriented after recieving criticism about it on social media. 
CREATIVITY
Marketing is nothing but selling a story. Pepsi Co has embodied this ideal in its marketing strategy. The company has not only changed the packaging and products but has also leaped in terms of creativity. Pepsi Co sells a range of products, a mix of junk and nutrition. They have updated in terms of designing and creative use of colours and symbols. The company has also made innovations by relating their product to the social movements around us. Pepsi marketing strategy has survived mainly because of its ability to innovate and change.
SPONSORSHIP
Pepsi Co has a reputation of spending greatly on promotions. However, the company also indulges in sponsorships for raising its brand awareness. The brand is predominantly active in sports marketing. It collaborates with the famous sport players to ensure its popularity. One of the most famous example of Pepsi Co collaboration is with National Basketball Association (NBA).
Read our blog on 'Samsung Marketing Strategy' for your knowledge.
---
PEPSI PERFORMANCE INDEX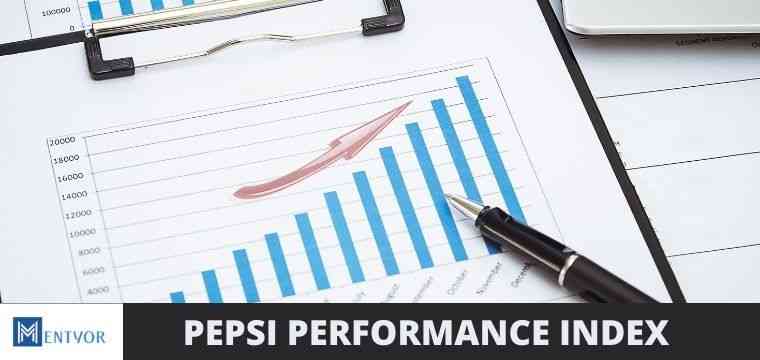 Performance index determines whether or not the efforts of a company are meeting the set goal. Pepsi performance index determines this for the company.
With the introduction of breakfast snacks, including the healthy meals consisting of oats and pancakes, the company has seen a boost in its Pepsi performance index. The consumers increasingly ate at home amidst the pandemic. This led to an overall rise in revenue and cross the $70 Billion mark with a 5% increase as compared to the previous year's Pepsi performance index.
However, the sales of soda and soft drinks sold at restaurants dropped by 2.7%. The company had spent $800 million for Covid-19 related expenditures.
| | |
| --- | --- |
| PEPSI CO FINANCIALS | AMOUNT |
| REVENUE ($M)[PEPSI PERFORMANCE INDEX] | $70,372 |
| PROFITS ($M)[PEPSI PERFORMANCE INDEX] | $7,120 |
| ASSETS ($M)[PEPSI PERFORMANCE INDEX] | $92,918 |
| TOTAL STOCKHOLDER EQUITY ($M)[PEPSI PERFORMANCE INDEX] | $13,454 |
Finance Statements of Pepsi
| | |
| --- | --- |
| PROFIT RATIOS | AMOUNT |
| PROFIT AS % OF REVENUES [PEPSI PERFORMANCE INDEX] | 10.1% |
| PROFIT AS % OF ASSETS [PEPSI PERFORMANCE INDEX] | 7.7% |
| PROFIT AS % OF STOCKHOLDER EQUITY[PEPSI PERFORMANCE INDEX] | 52.9% |
Profit Ratios of Pepsi
---
PEPSI SWOT ANALYSIS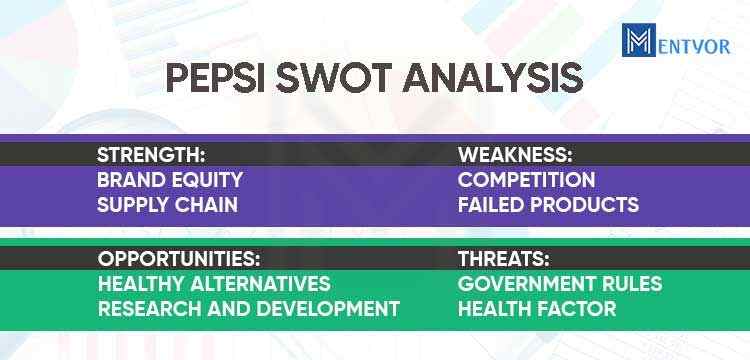 Pepsi SWOT analysis is done in order to analyse the strengths, weaknesses, opportunity and threats. Here is the Pepsi SWOT analysis.
STRENGTH
Let us see the strengths of the company.
BRAND EQUITY
According to SWOT analysis, Pepsi Co is one of the most prominent brands in the market. The recall value of the brand is supreme and is undoubtedly a very valuable company. The brand is often associated to be youth friendly and always has young celebrities as its brand ambassadors. Thus according to SWOT analysis this is a very strong point of the company.
SUPPLY CHAIN
According to Pepsi SWOT analysis, the supply chain of Pepsi Co is very well planned. All the products are available all around the world and in same quality. Therefore, the uniformity of the products and the efficient distribution is a strength according to SWOT analysis. Logistics are well managed. 
Read about supply chain management : What Is Supply Chain Management ? [3 Examples + Advantages]
WEAKNESS
The weakness associated with the company are
COMPETITION
Pepsi Co faces direct competition from Coca-Cola in the soft drinks category. Therefore, according to Pepsi SWOT analysis this is a major downfall for the company. Thus, stiff competition lets the disloyal customers slip away quickly and switch to the next best alternative.
FAILED PRODUCTS
The launch of 'crystal pepsi' led to a lot of backlash. It hurt the brand image by highlighting the negative remarks and also gave space and stimulus to the competitor to grow and flourish. According to Pepsi SWOT analysis, the failed product damage the goodwill created by the brand and also affect the sales. 
OPPORTUNITIES | PEPSI SWOT ANALYSIS
Opportunities that are associated with the company
HEALTHY ALTERNATIVES
Amidst the current health crisis and according to Pepsi SWOT analysis. Pepsi Co should launch healthy products. The company has already overtook Quaker Oats which supply a healthy meal to its customers. Thus, according to Pepsi SWOT analysis, the company needs to work more efficiently towards supplying healthy alternatives.
Healthy initiative by Pepsi Co:
Diet Pepsi
Pepsi Black
7UP – a reduced sugar variant for soft drinks (30% reduced sugar)
Tropicana – With no added sugar + rich with iron and Vitamin A & C.
Tropicana 100%- With no added sugar and no added preservatives.
Quaker Oats – 100% wholegrain nutrition
The company has also declared its intention to progress on the plan for a healthy future. Thus, the company aim to expand their portfolio providing positive nutrition by the year 2025.
RESEARCH AND DEVELOPMENT
Pepsi Co emerged with an idea to create an alternative to sugar for creating healthier soft drinks. Therefore, 7UP consisted of stevia, the alternate to sugar. By investing more on research and development the company can reach to new height. According to Pepsi SWOT analysis, the company can also be a pioneer if it invests more in research and development.
THREATS
Let us see some threat factors for the company
GOVERNMENT RULES
Since Pepsi Co is an international company, there are various rules and regulations imposed by the governments of different countries which can cause hindrances. Therefore according to SWOT analysis, this can be a major threat. 
HEALTH FACTOR
Because of the rising awareness in the health sphere, Pepsi Co can face serious ramifications due to the fall in the sales of its soft drink and chips. Thus, according to Pepsi SWOT analysis, this can be a major threat.
You will surely like our blog on 'Amazon SWOT Analysis'. Give it a read.
---
PEPSI PESTLE ANALYSIS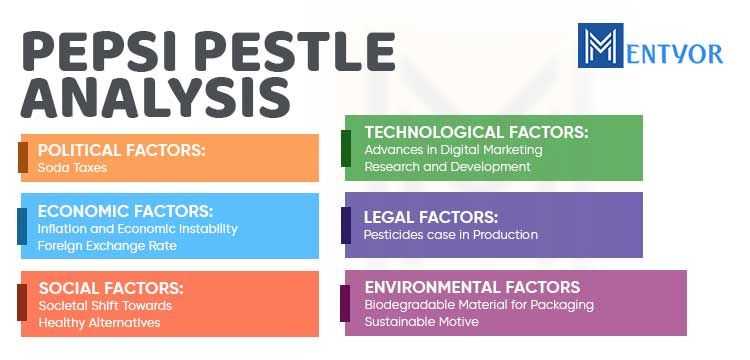 Pepsi PESTLE analysis, examines the political, economic, social, technological, legal and environmental factors. Therefore, here is the Pepsi PESTLE analysis.
POLITICAL FACTORS
According to Pepsi PESTLE analysis, the soda taxes imposed by the American government are acting as serious hindrances. 
ECONOMIC FACTORS
According to Pepsi PESTLE analysis, inflation and economic instability affects the revenue of the company.
According to Pepsi PESTLE analysis, being an international company comes with its own falls. The foreign exchange rate can seriously affect the company revenue.
SOCIAL FACTORS
According to Pepsi PESTLE analysis, the societal shift towards healthy alternatives has affected the sale of its sodas and chips.
According to Pepsi PESTLE analysis, internationally, in some societies the carbonated drinks and other unhealthy food options are looked down upon and viewed as foreign. thus, affecting the sales.
TECHNOLOGICAL FACTORS
According to Pepsi PESTLE analysis, Pepsi Co needs to stay abreast with the advances in digital marketing.
According to Pepsi PESTLE analysis, it can use its funds to invest in Research and Development to stay technically upgraded, eventually easing the supply chain operations.
LEGAL FACTORS
The company has faced legal suits for pesticides in its production. According to Pepsi PESTLE analysis, the company should avoid legal trouble which harms the brand image and also costs a huge amount of money.
Read our blog : What is monetary policy | Difference between Fiscal Vs Monetary Policy
ENVIRONMENTAL FACTORS
According to Pepsi PESTLE analysis, Pepsi Co should shift to bio-degradable material for packaging rather than plastic.
According to Pepsi PESTLE analysis, the company should develop a sustainable motive which facilitates the preservation of the environment.
---
THE FINAL WORD
As a company Pepsi Co has seen it all. They have smoothly  driven through the tough times of recession and left an unmatchable mark in the industry. The business has expanded to a great level, partly due to the marketing strategy. The Pepsi SWOT analysis and the Pepsi PESTLE analysis and Pepsi performance index has further highlighted the nuances of the company.