AirBnB, Inc. is an American firm that runs an online marketplace for housing and tourism activities, principally homestays for vacation rentals. AirBnB, which was started in 2008, is now the world's largest vacation rental service, with over 7 million listings in over 220 countries. Therefore in this blog, we will talk about the successful AirBnB marketing strategy, AirBnB SWOT Analysis, AirBnB PESTLE Analysis and AirBnB Performance Index. Thus the platform, which is based in San Francisco, California, is available via a website and a mobile app. 
AirBnB Marketing Strategy is focused on creating and sustaining a strong community among its users. Therefore, it has the goal of achieving long-term loyalty from both guests and hosts. In this blog we have discussed in detail the marketing strategy of AirBnB first, followed by the AirBnB SWOT Analysis, AirBnB PESTLE Analysis and AirBnB Performance Index. 
---
AIRBNB MARKETING STRATEGY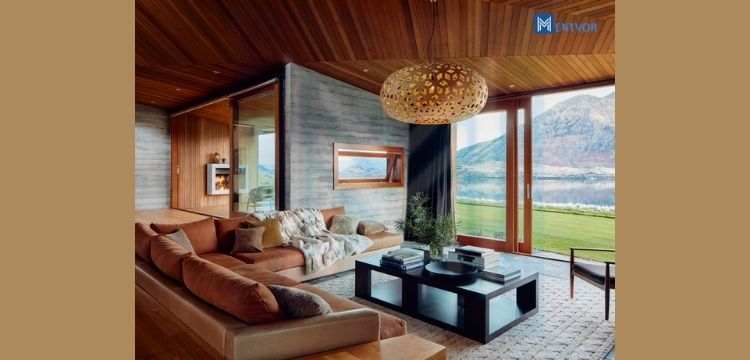 The AirBnB marketing strategy is based on some core values that the company follows to establish and enhance its brand reputation worldwide.
USE OF GOOGLE ADS | AIRBNB MARKETING STRATEGY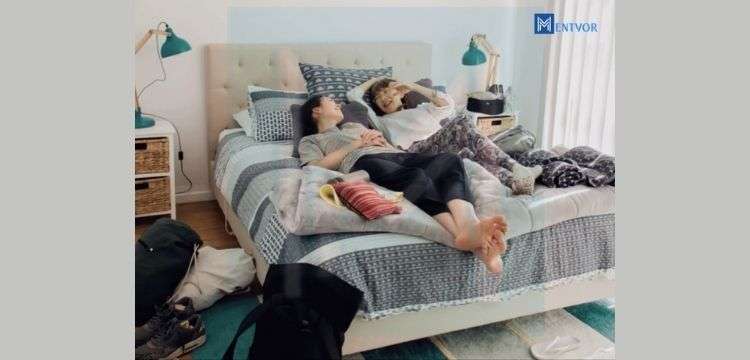 AirBnB Marketing Strategy has partnered AirBnB with Google and invested in Google search ads to improve the aesthetic appeal of its offerings. This aided them on a broader scale because a large number of individuals can now see their adverts on a variety of well-known and popular websites. This also aided them in gaining an international audience, which would otherwise have been difficult.
CLASSIFIED ADS | AIRBNB MARKETING STRATEGY
AirBnB intended to advertise in the classified ads section of the newspapers. Since, people looking for short-term lodging turned to Craigslist, an American classified advertising website. AirBnB marketing strategy also focused on partnering with them to attract customers, and the result was a large number of travellers and hosts.
INFLUENCER MARKETING
This was a crucial step in the AirBnB marketing strategy. That is the heavy utilisation of influencer marketing. AirBnB's amazing expansion has been fueled by its outstanding influencer marketing. Collaborations with high-profile celebrities are used by the disruptive brand to promote its services to new, targeted audiences. Typically, celebrities publish photographs of their luxury AirBnB stays on Instagram, which is sponsored by the firm. With 91 million visitors in January 2020 alone, this is a success in boosting online traffic to the AirBnB website.
SOCIAL MEDIA MARKETING
One of AirBnB's best decisions was to promote themselves on social media, and this marketing plan undoubtedly earned them billions. AirBnB is active on all of the most popular social media platforms. The company has nearly 3 million likes on Facebook. AirBnB shares user-generated content on Instagram, which is contributed by the users themselves. They use the hashtag #AirBnB to share photos from their AirBnB excursion, which also allows followers to book with AirBnB through the feed. Even YouTube helps AirBnB Marketing Strategy to stand out with travel videos of guests and attract potential customers.
MAKING USER EXPERIENCE A PRIORITY | AIRBNB MARKETING STRATEGY
The company began to turn up huge profits when AirBnB Marketing Strategy began focusing on the user experience. AirBnB's revenue improved as soon as it updated its rental listings with professional, attention-getting photos. AirBnB executives now hire thousands of freelancers to take professional images for the website.
Airbnb has worked out numerous strategies to not only survive but also to develop enormously in this environment of fierce competition. It devised numerous digital marketing methods ahead of schedule, allowing AirBnB Marketing Strategy to become one of the most successful marketing strategies in the world.
---
AIRBNB SWOT ANALYSIS
AirBnB SWOT analysis helps us to speculate the strengths, weaknesses, opportunities, and threats affecting the company's prevailing and likely success.
STRENGTHS | AIRBNB SWOT ANALYSIS
The strengths of the AirBnB SWOT Analysis that have helped the company grow sporadically through time have been listed below.
Airbnb is well-known as a less expensive alternative to hotels. Prices are reasonable and vary according to location. You can browse around and choose the ideal location for your budget. When compared to hotel price lists, Airbnb has a wide range of market offerings, making it simple to offer cheap rates.
They use a sophisticated system of identity verification. The same goes for reviews for guests & hosts and therefore, Airbnb has been able to establish itself as a trusted brand around the world. This can be considered as one of the main strengths of the AirBnB SWOT Analysis.
WEAKNESSES | AIRBNB SWOT ANALYSIS
Despite the fact that Airbnb has revolutionised the vacation experience in the global economy, it is not without flaws. We will discuss them in the AirBnB SWOT Analysis. 
Airbnb has a history of difficulties originating from violations of housing rules and regulations. It is illegal to rent an apartment for fewer than 30 days under various housing rules, as this helps to maintain a long-term supply of properties for locals.
Although Airbnb has a great social media presence, however, its YouTube channel might benefit from a more consistent strategic approach to represent the brand. Due to an easy business model, its competitors are constantly copying the brand and hence, according to AirBnB SWOT Analysis, it needs to up its game to stay ahead in the business.
OPPORTUNITIES | AIRBNB SWOT ANALYSIS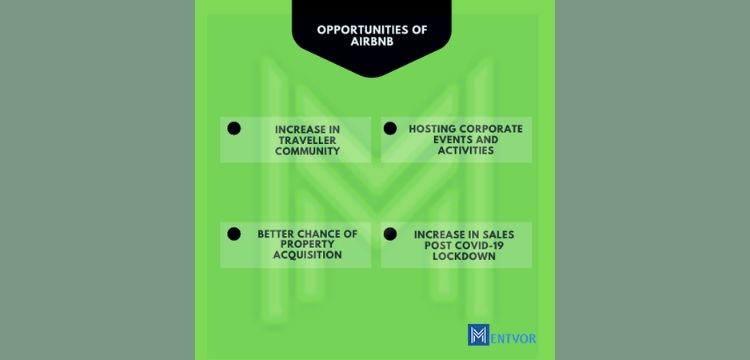 According to the Airbnb SWOT analysis, the company has a number of options that can help it improve its customer experience while also increasing profits.
After the pandemic rules are relaxed, hotels and hotel services around the world will have a sharp increase. Airbnb can take advantage of this circumstance by focusing on corporate events, parties, and holiday holidays. Therefore the company expects an increase in the traveller community over the years.
The international housing and property market is seeing a significant increase in property sales, which provides an opportunity to acquire better houses for Airbnb clients to stay in.
These opportunities can be serious growing points as per the AirBnB SWOT Analysis and become a valuable addition in the AirBnB Marketing Strategy post pandemic.
THREATS | AIRBNB SWOT ANALYSIS
In this Airbnb SWOT analysis, we have identified a few risks that the organisation should focus on in order to avoid a negative impact.
While a few towns are modifying their housing laws to incorporate Airbnb, the company is nonetheless coming under attack from the local governments in other countries.
The development of competition would result in fierce competition and have an impact on the market environment among the big payers currently in place.
---
AIRBNB PESTLE ANALYSIS
We have explained the AirBnB PESTLE Analysis in detail below. It concerns the political, economic, social, technological, legal & environmental factors governing the company's successes or failures. 
POLITICAL FACTORS
Airbnb has been hit with penalties and legal action in Barcelona, New York, and New Orleans because they have disobeyed local tourism laws. Airbnb must ensure that they are adhering to each state's housing regulations. Otherwise, they expose themselves to even more legal entanglements.
ECONOMIC FACTORS | AIRBNB PESTLE ANALYSIS
The term 'shared economy' is very important in the AirBnB PESTLE Analysis. Since, Airbnb has increased in popularity, it is now a significant rival to hotels and motels. Airbnb provides less expensive rental options. Therefore, it has risen at an exponential rate in a short period of time. They now serve over 9 million people all across the world. We talked about this in AirBnB Marketing Strategy.
SOCIAL FACTORS | AIRBNB PESTLE ANALYSIS
Airbnb is a community-based company. In exchange for money, hosts provide their houses to visitors. Visitors will post photos and videos of their visit on social media. Since, stories can spread quickly thanks to social media. Airbnb increases as a result of word-of-mouth. This is one of the crucial factors in the AirBnB PESTLE Analysis.
TECHNOLOGICAL FACTORS
AirBnB PESTLE Analysis focuses on the technology used by the company. If a host fails to react to a guest's message, Airbnb will text the host on their behalf. Guests or hosts can't book rooms without the use of technology. It is impossible to reach the hosts. And Airbnb wouldn't work as well as it does now.
LEGAL FACTORS | AIRBNB PESTLE ANALYSIS
On their website, AirBnB emphasises the importance of hosts adhering to these legal guidelines. Hosts must adhere to Airbnb's rules and conditions, which include following tax, housing, and tourism standards. This protects Airbnb from liability in the event of an incident.
ENVIRONMENTAL FACTORS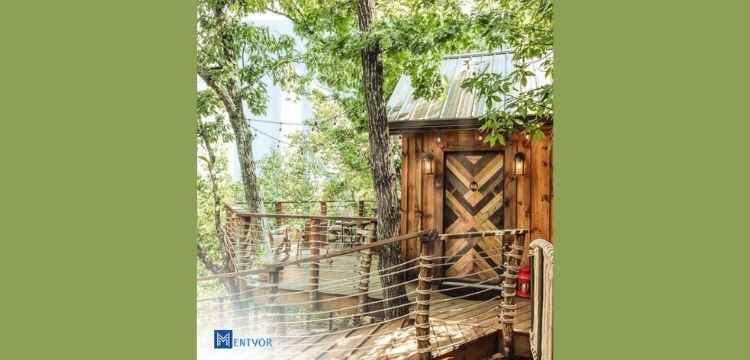 In comparison to other hotels, Airbnb claims to use lesser energy in America and Europe. This involves reducing greenhouse gas emissions, conserving water, reducing waste, and raising environmental awareness. The company is looking forward to reducing travel impact and chemical usage. This is one of the most important factors in the AirBnB PESTLE Analysis. 
---
AIRBNB PERFORMANCE INDEX
There are some components of the AirBnB Performance Index or the KPIs (Key Performance Indicators). We have explained some of them below.
While Airbnb's percentage of total accommodation supply (i.e. Airbnb units and hotel rooms) was increasing, the company's share of market demand and revenues were less. Thus, it remained below 4% and 3%, respectively according to AirBnB Performance Index.
It has a high occupancy rate at all times, as indicated by AirBnB Performance Index.
AirBnB Performance Index also states that Hotel average daily rates were often higher than Airbnb rates. Seven U.S. cities, having $16 higher on average, for instance.
---
WHY IS AIRBNB MARKETING STRATEGY SO USEFUL?
Now that we are discussing the AirBnB SWOT Analysis as well as AirBnB PESTLE Analysis, let's understand why the AirBnB marketing strategy is still considered one of the best marketing strategies in the world.
CAREFULLY CURATED CONTENT | AIRBNB MARKETING STRATEGY
Airbnb treats its listings as part of its carefully managed content. Due to a good algorithm and staff that select and showcase the finest content, AirBnB Marketing strategy has stood out. It has the most appealing rank on Airbnb's website, higher in the website's search results, whereas listings with lower ratings or lower-quality content, in general, are tougher to find.
VISUAL FACTOR IN AIRBNB MARKETING STRATEGY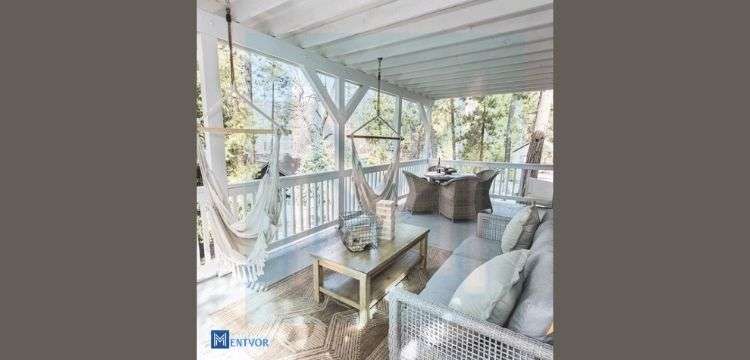 Airbnb provides professional photos of the locations featured on the site, as well as standards for user-generated images, as a mutually beneficial service. This improves the content of the graphics and makes the places more appealing to users looking for a place to stay. 
USING GOOGLE DISPLAY ADS | AIRBNB MARKETING STRATEGY
Airbnb chose to invest in Google display advertising, creating banner ad campaigns that featured photographs from actual Airbnb listings. Airbnb was able to attract foreign traffic and significantly boost their listings as a result of this.
---
CONCLUSION
AirBnB Marketing Strategy has helped the company grow immensely. In the ten years since its launch in 2008, the company has expanded to over 300 million guest check-ins and now features 4.5 million homes in 81,000 cities in 191 countries. As we have seen while discussing AirBnB Marketing Strategy, AirBnB SWOT Analysis and AirBnB PESTLE Analysis, the AirBnB Performance Index is largely based on these other 3 market factors.