Since Data science is a relatively new field, therefore not everyone is familiar with why data science jobs are so popular. One of the major reasons behind its popularity is that – the demand for data science professionals is at an all-time high. But the supply for the same still hasn't caught up. As the demand for data scientists keep increasing, so does the need for supply. Consequently, the need to learn more about this coveted field is only growing in popularity.
What Is Data Science?
To put it simply, Data Science is the scientific technique through which Big Data can be put into patterns and trends that are easily recognizable and implementable. Data Science professionals are often known as Data Scientists.
Read our blog on information literacy: Learn "What is information literacy? " – in 5 easy steps
According to the yearly surveys conducted by Glassdoor, Data scientists have bagged a spot in the top three jobs in America, for simultaneous years since 2016[1]. Known to be one of the most high-paying and sought after jobs in the 21st Century, it's only natural to be curious about the world of Data Science. So, read on as we list 9 reasons why data science jobs are in demand: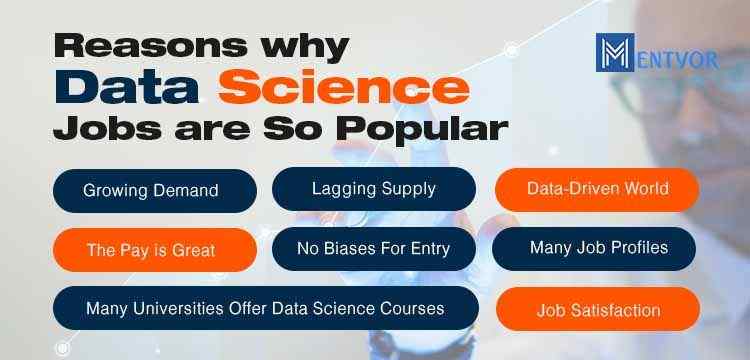 Why data science is in demand ?
Growing Demand
As the world gets more digitized and data becomes the new currency, brands must have a comprehensive idea about using this data. This is where Data Science comes into the picture.
An article on Harvard Business Review [2] chronicles how organized data became a game-changer for LinkedIn and propelled it to its current status. The feature that many social media users may be familiar with is known as "People You May Know". The main feature which helps social media, to be well, social as it connects thousands of people who may or may not know each other yet. If you think it's only by chance that your far relatives ended in your friends' suggestion list, then think again. It's a clever data algorithm trick that makes you want to use these Social sites more and more. And guess who runs the show behind these algorithms? Yep, the data scientists.
Large piles of unorganized data which can be mined into a base full of useful information can easily help to double, or even triple your businesses.
Lagging Supply
In the simplest sense, anything which has an increase in demand should compensate it with an increase in supply. The same logic goes behind the demand and supply chain for Data Science jobs. As businesses shift to an online platform, they are striving to put more effort into their online presence. And the best way to move any service or business forward is by knowing your target audience.

Now, to organize a large amount of Raw Data, companies need individuals who can help them make sense through the Data Chaos. This is where the need for Data Scientists
Read about Supply Chain Management: What Is Supply Chain Management ? [3 Examples + Advantages]
As more and more businesses transition to a digital space, so does the demand for Data Science Jobs increases. But since, it is still an up and coming program, not many Data Science experts are available in the market. This causes a lag in supply. Consequently, the supply for Data Science experts still hasn't caught up to its demand.
Data-Driven World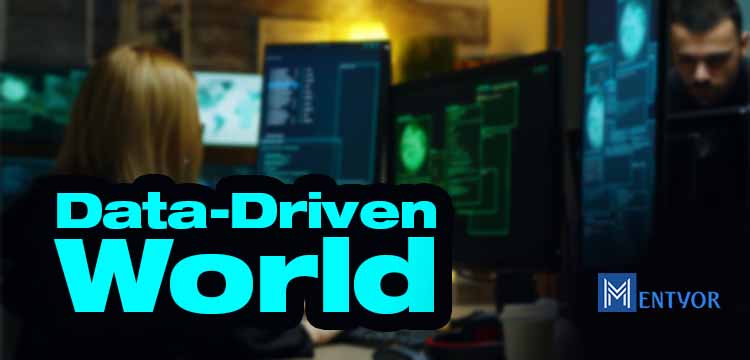 Tech giants like Google, Amazon, Facebook (Now Meta) heavily rely on a data-driven decision-making process. Not only is their entire website optimized by data algorithms and special Coding languages but each webpage needs special tending.
The biggest name in Silicon Valley is Google. You must be living under a rock if you're not familiar with the search engine. Even the auto-correction option that Google showcases is a brainchild of many levels of Data Science professionals. The auto-fill suggestion for searches shows different suggestions in different parts of the world.
Given that Google has a goldmine of user data, it tries to optimize its interface in a way suitable for the users. Even their HR department is using very Data Science methods to find what makes their employees more productive. No wonder Google is dubbed as the most happening workspace.
Read more about Google: Google AI Based System Helps Blind People Run
Another Tech-Giant that heavily relies on personal user data is Facebook. With Targeted marketing and Ads, Facebook knows its users inside out or at least tries to. It's no wonder that people often fall into a social media spiral and keep spending time on these sites.
Amazon suggests products to the customers based on their impressive data science algorithms. Amazon can predict which product you most likely be interested in buying. If that prediction of you buying the product is high enough, then they shift it to a warehouse closer to you. This is how they manage same-day or one-day deliveries. No wonder Data Science is what drives these industries.
But these industries are just the top players. Even small to mid-sized businesses use various data-driven decision-making processes and applications like Google Analytics, etc.
Read our Blog on Amazon Marketing Strategy: WHAT IS AMAZON MARKETING STRATEGY
The Pay is Great
Another great perk or one of the main reasons why data science jobs are so sought after is the great pay scale. The high salary scale makes it a very handsome offer. According to the US Bureau of Labor Statistics, the average salary of a Data scientist is around $100,560[3]. As the supply hasn't still caught up with the demand, even the entry-level salary is quite high.
The 2020 Butch Work's study of Data Scientists salaries and Predictive Analysis Professionals [4] gives a thorough guideline of the general salaries of Data Science Professionals. Even though there has been a rise in the number of Data Science Professionals, the entry-level salary is more than that of average experienced jobs.
The median salary of entry-level Data Science professionals begins at $50,000. For Experienced Data scientists, the salaries can go as high as $170,000.
No Biases For Entry
The main responsibilities of a Data Science professional are to look at the patterns of the raw data and organize it into trends and patterns that could bring substantial gains for that particular organization.
According to statistics, Business Giants like Google, Amazon, PayPal, Apple have Data Science Professionals occupying 70% of their workforce. Many Online Data Science Courses and Bootcamps are available for everyone to learn. Even students from any discipline can learn programming languages like Python.
Many Universities Offer Data Science Courses
Universities around the globe are beginning to introduce more data science-related courses. People with a Bachelors' in Mathematics, Statistics, Economics or Computer Science is necessary to get an MS degree in Data Science.
Education requirements for data science
Data Science Masters' degrees can be attained after a bachelor degree. Leading Universities like Harvard, Stanford, University of Pennsylvania offer MS in Data Science. Harvard offers a specialization known as MS in Health Data Science. While Yale is among the only very few to provide an MA in Data Science as opposed to an MS.
Read our list of Best Universities in Pennsylvania: 50 Best Universities in Pennsylvania
Apart from these University Degrees, there are many online courses to explore. If you do not have a bachelor' Degree in the above-mentioned subjects, you might try exploring these online data science courses. Game-Changing Universities like Harvard offers Professional Certificate in Data Science courses on a platform called EdX. Even other big universities like MIT and John Hopkin's University offers Data Science Courses on Coursera.  [ Education requirements for data science jobs ]
Global Scope Of Jobs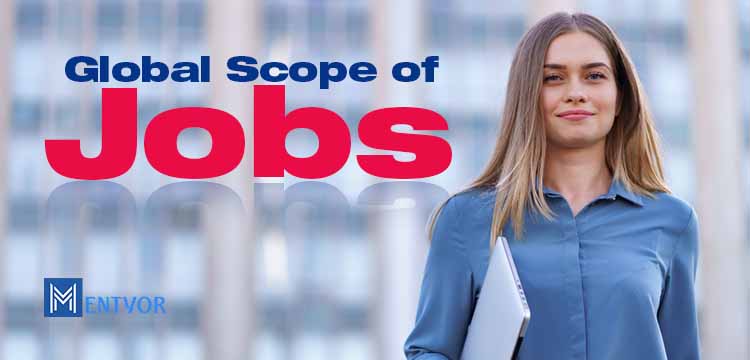 Given that it's the most up and coming Industry, the scope of Data Science jobs is not limited to a particular region. The world can be your oyster as a data science professional. But given that most IT industries are focused in Silicon Valley, the US is the biggest employer.
Following the US is Europe as the second country with the most opportunities for Data Science Professionals. Even the United Kingdom has seen a significant rise in data science jobs.
Not only the big tech giants or Businesses, but small-to-mid-sized businesses also look for Data Professionals. Handling the simplest of Google Analytics is a work of Data Science.
Job Profiles
According to the US Bureau of Labor Statistics, an estimated 11. 5 Billion new jobs will be added by 2026 in the Data Sector. Currently, there are various Data Science Job profiles apart from being a Data Scientist.
These various job profiles range from being Data Analyst, Data Architect, Machine Learning Engineer to Statisticians and Data and Analytics Manager. If you look right, there's a job profile for every data science enthusiast.
Job Satisfaction
Last but not least is Job satisfaction. According to the survey of Best Jobs in 2021 by Glassdoor[1]. Data Scientists have given a job satisfaction rating of 4.1/5. Such a high rating is enough to prove data science jobs as highly satisfying ones.
Read our Blog in Best Certification Courses to get Job: Best Certificate Courses To Get a Job
Conclusion
Data Science is the most buzzworthy word in the IT world for quite accurate reasons. With more and more people migrating to this industry, data science jobs are on a continuous rise.
Becoming a data scientist does not require a special degree, but rather knowing an assortment of skills. Since the curriculum is relatively new, employers do give preference to skills and experience. With a plethora of online courses and degree certificates present, one can learn whenever one wishes to.
Since the demand is only going to grow in the coming years. Hence, it would be a great field to get into or explore.
References
[1] Best Jobs in America. (n.d.). Glassdoor. 50 Best Jobs in America for 2021
[2] Davenport And Patil, T. H. D. J. (2012, October). Data Scientist: The Sexiest Job of the 21st Century. Harvard Business Review. Data Scientist: The Sexiest Job of the 21st Century
[3] Data Scientists and Mathematical Science Occupations, All Other. (2021, September 28). U.S BUREAU OF LABOR STATISTICS. https://www.bls.gov/oes/current/oes152098.htm
[4] Butch Works. (2020, August). The Burtch Works Study Salaries of Data Scientists & Predictive Analytics Professionals. https://www.burtchworks.com/wp-content/uploads/2020/08/Burtch-Works-Study_DS-PAP-2020.pdf