Every year, the month of October is recognized as the mental health month. The start of mental health month ranges for various reasons and inculcation. With lifestyles changing over time, it has severely influenced the adjustment of people. Mental health month events aim mainly to increase positive adaptability for individuals with new changes. Each year, people across the world have been living with various diagnosed and undiagnosed mental illnesses. Most of these illnesses show up from school-level, which makes it important to impart mental health month facts early.
Mental health month has prompted various schools and educational institutions to impart on mental health. Various programs and organizations are lending in efforts to design various mental health activities to understand students' mental stability. Mental health month is celebrated in October around the world. Similarly in the United States, mental health awareness month is celebrated in May. Let us understand the mental health month in detail.
Takeaway
Every year, we observe Mental Health Month in October. The emphasis on mental health has become essential due to changing lifestyles. Early knowledge about mental health promotes stable mental well-being.
Read our blog on Best Metal Health Quotes of 2022: 10 Best Mental Health Quotes of 2022 To Keep You On Track With Bright Life
What Is World World Mental Health Month?
Mental health month or mental health awareness month is observed in October of every year. The mental health month around the world has been determined by the United Nations' World Health Organization. Throughout October, the WHO aims to "address mental health issues in an emphatic way, with a unifying voice, helping everyone to feel hopeful by empowering everyone to take action and to create lasting change".
As per the mental health month facts and surveys, around 21 countries have seen a rise in anxiety and post-traumatic stress disorder [1]. The mental health surveys also revealed that there is a major treatment gap for mental illnesses in these countries. With 51.547 participants in the survey, only 71.3% of responses were registered. 9.8% suffered through an entire year with anxiety. Amongst these, 27.6% had received no treatment for anxiety disorders [1].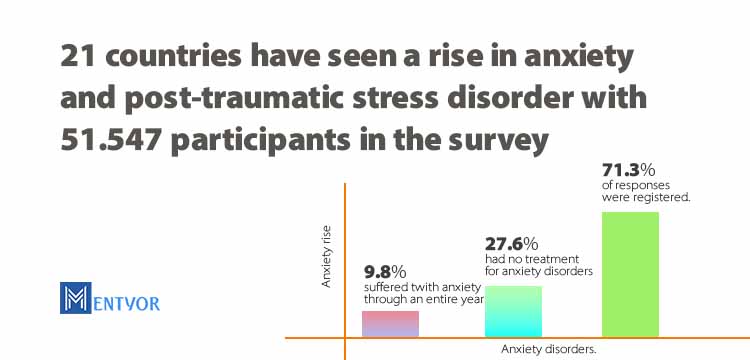 Further, a study of these surveys by the American Psychological Association, reveals that mental disorders are increasing amongst students. Also, the mental health services at schools and institutions lack to meet the demands of students. The WHO Mental Health Month's International College Student Project surveyed 19 colleges of 8 countries. The survey revealed the prevalence of six grave mental health disorders. These are major depression, mania/hypomania, anxiety disorder, panic disorder, alcohol use disorder, and substance use disorder[2]. 35% of the respondents were diagnosed with at least one of these disorders and 31% had it throughout a year [2].
Another survey by the World Health Organization between 2014-2018, revealed that students in their first year of college go through severe challenges. The successful transitions amongst these students become a failure due to life stress and resilience. The respondents' results revealed that 93.7% were at least suffering from mild stress [3]. The stress ranges in academic life, relationships with parents, relationships with loved ones. It also includes adaptability and adjustment at working places. Financial issues also remained to be a prevalent cause of stress amongst the respondents.
Mental health month, every year reveals countries that deal with mental health illness. Almost all the participant countries reveal to have their population suffering through a common mental disorder. This mental health month further helps the nation to devise suitable programs to tackle mental disorders. The mental health month facts give a real insight into how mental health can be stabilized. It also provides an opportunity for people to voice out their concerns. All these mental health month events keep us updated about how grave mental health is turning. It gives a proper dimension to start addressing and treating mental health disorders.
Takeaway
Statistics as per the United Nations reveal how schools have failed to educate upon mental health. This has pushed several students under grave mental health illnesses like depression, anxiety, panic attacks, and others. Imparting the mental health concept is very essential in schools.
Mental Health Month In Schools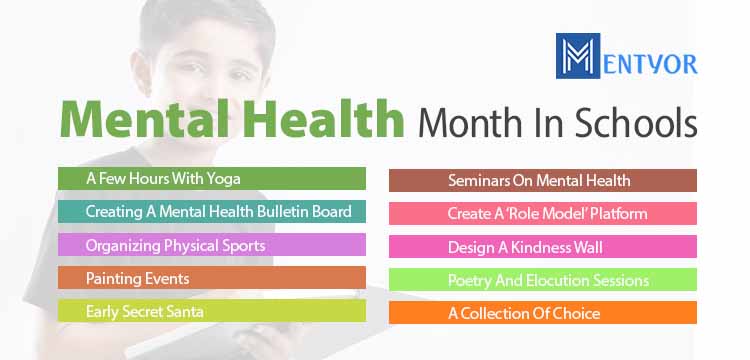 Schools are the growing grounds for students. They become a pivotal space to educate the best and most on mental health month. However, it is also required that the mental health month events engage the students thoroughly. This requires the concerned school authorities to come up with engaging mental health month ideas.
To celebrate mental health month 2022 at schools, here are some engaging activities to educate the best about mental health month.
Read more about Reasons Mental Awareness is must in Educational Institutions: 10 Reasons Why Educational Institutions Must Preach Mental Health Awareness
A Few Hours With Yoga
Yoga can be the best activity during mental health month at schools. Yoga plays a major role in reducing stress and anxiety. Schools having yoga sessions can provide dual benefits. One, it can help the students to calm down. Second, it can give them an idea of how meditation can help them when they are stressed. Further, after the yoga or meditation session, the students can also be enlightened about the benefits of yoga. They could also be encouraged to practice it every morning to be happy and stress-free.
Read our Blog about Importance of yoga in Students Life: Importance of Yoga in Students life
Creating A Mental Health Bulletin Board
Bulletin boards are something all the students look up to. Be it about the school or competition, bulletin boards are focal points for every piece of information. Creating a separate bulletin board devoted to mental health can be a great idea. The board must have abstract painting, tips, and relevant information during mental health month. This will capture the students' attention and they will read about it creatively. Moreover, it will also trigger their quest to know more about mental health. This will also help them to come out if they are facing any kind of mental retardation.
Organizing Physical Sports
The idea of physical health directly or indirectly has an impact on mental health. If you are physically active, it would also indicate healthier mental health. Schools must include physical activities or sports amongst their mental health month events. Badminton, football, volleyball, tennis are some outdoor games to organize. While, chess, squash, snakes, and ladders are some indoor games to play as well. Physical games tend to make mental stability strong, focused, and positive.
Painting Events
Paintings are the best way to understand the human psyche. It gives us an understanding of how the person feels or acts through color. Generally, a dark shade indicates some mental ailments while brighter shades indicate a happier outlook. Having painting events during mental health month can be beneficial for the teachers, counselors, and parents. It will help them understand how students feel mentally and the required help can be given too.
Early Secret Santa
Can Santa come early to earth? The schools can be the Santas or have Santas during mental health month. Gifting stirs positive emotions and gives a sense of friendship. It eliminates the feeling of loneliness. Having secret Santas and gifting the students will send them towards optimism. Giving gifts to students or having them gift each other would make them happy and eliminate the feeling of loneliness.
Seminars On Mental Health
For students who are in higher grades, interactive seminars could work efficiently. Providing knowledge about mental health month through seminars is effective. You need to have it interactive. For this, the students can be asked to share their experiences or speak about some incidents. By doing so, the seminar can be carried forward to help students understand more about their emotions. Also, providing the students with the tip to keep their minds active and clear would work wonders.
Read our Blog about Tips for Students for Mental Health: Mental Health: 10 Tips For Students To Be Mentally Wise
Create A 'Role Model' Platform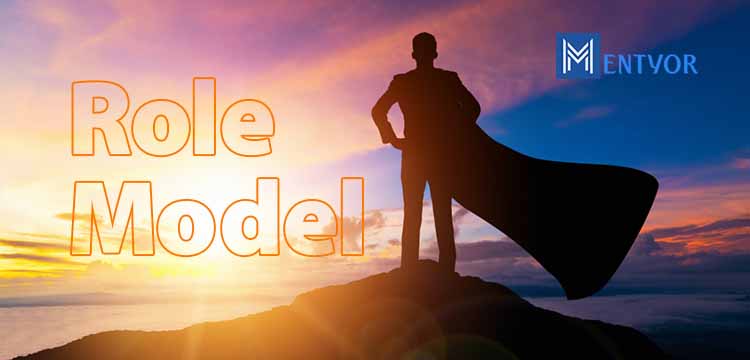 Have you ever thought about the fantasy dream of every student? At school, we wish to be like the celebrities we look up to. This very instinct of the students can be used to promote mental health month. Stories of celebrities with mental health issues can be put up to inspire the students. The entire concept of mental health can be normalized to the students by putting up their role models' stories. Each day of the mental health month can have a new role model's story.
Design A Kindness Wall
People juggling mental health issues require an immeasurable amount of kindness and support. To do this, as a part of mental health month events, the schools can have a kindness wall. On this kindness wall, students, teachers, and other staff can write down motivation words or phrases. This will positively impact all those who read it. It will give them the much-needed support to overcome their hurdles. It will also make the mentally juggling person understand that they have all the support they need.
Poetry And Elocution Sessions
Do you know who the students relate the most with? Students find it comfortable with their classmates to talk and discuss. And what could be better than having poems and speeches given by their peers? Organizing poetry and speech sessions with mental health as a theme could work wonders. It will help the students to relate more to the topic as it would be said by their fellow mates. Also, to the elders, they can understand how the topic of mental health is understood by the students. It will also indicate whether any of them is finding it hard mentally.
A Collection Of Choice
School life brings in new hobbies and preferences. As students, we all have something that we like to keep safe. A collection display is a good idea amongst the mental health month ideas. In this, the students can be encouraged to showcase the collection of anything they like. For instance, some students may love to collect shells, so they can be asked to showcase their collections of shells. This will promote no biases towards any particular hobby. It will also fill in the same enthusiasm amongst the students to showcase their collections and hobbies.
These are the mental health month ideas. Selecting one or having an amalgamation of all these activities throughout the mental health month depends. The school authority may go for some or all the possible mental health month events. Since mental health would be celebrated for an entire month, it is good to have a mix and match of all the events.
Takeaway
Mental health month can be devised with the following events at schools. These are:
A Few Hours With Yoga
Creating a Mental Health Bulletin Board
Painting Events
Organizing Physical Sports
Early Secret Santa
Seminars On Mental Health
Create A 'Role Model' Platform
Design A Kindness Wall
Poetry And Elocution Sessions
A Collection Of Choice
Read our blog about Mental health in Remote Work: Mental Health In Remote Work | 7 Ways To Stay Cool In WFH
Conclusion
Mental health month stemmed out of the need to give importance to mental health. With so many changes occurring altogether, it is hard to adapt well. Hence, the World Health Organization had found the Mental Health Month. This is celebrated in October every year. The importance of this mental health month emphasizes understanding and supporting mental health. There are various kinds of mental health month events that run around the world.
Schools are the fundamentals for an individual's growth. An early familiarization with mental health will help in the early detection of signs and symptoms. Every year in October, the schools must make creative and honest efforts to impart the best knowledge about mental health. Through the mental health month, the students can learn to understand themselves. They will be better in charge of how they feel, act and think.
The schools must devise various activities as mental health month events. These events should be knowledgeable and at the same time unleash students' caliber. It should also inculcate the qualities of empathy, compassion, and a sense of willingness. Exposure to these events will fill in the urge to help themselves and others around them.
No proper understanding of mental health will slip the youth into darkness. As per the statistics, the lack of care has pushed students into depression, anxiety, panic attacks, and eating disorders. If we continue to do the same, there will be a black hole growing in our future. Mental health month is the icing on the top. Making use of it will only ease our task to promote good mental well-being.
Common FAQs
What are some good activities of mental health?
Some good activities to practice for good mental health are:
Early to bed and early to rise
Stirring yourself a cup of tea or coffee
Sitting by the sunset in the evening
Taking a walk through the park
Spending time with pets
Having a heart to heart conversations with families
Maintaining a diary for yourself
What was the theme for Mental Health Day 2021?
The theme for Mental Health Day 2021 was Tools 2 Thrive. This initiative was started to promote mental health tools that people can use to build their resilience in all kinds of situations.
What is mental health promotion in schools?
Mental health promotion in schools refers to organizing a thriving condition that promotes mental well-being for students, faculty, and other staff at school.
References
[1] Karam, E. G., Friedman, M. J., Hill, E. D., Kessler, R. C., McLaughlin, K. A., Petukhova, M., … & Koenen, K. C. (2014). Cumulative traumas and risk thresholds: 12‐month PTSD in the World Mental Health (WMH) surveys. Depression and anxiety, 31(2), 130-142.
[2] Auerbach, R. P., Mortier, P., Bruffaerts, R., Alonso, J., Benjet, C., Cuijpers, P., … & Kessler, R. C. (2018). WHO world mental health surveys international college student project: prevalence and distribution of mental disorders. Journal of abnormal psychology, 127(7), 623.
[3] Karyotaki, E., Cuijpers, P., Albor, Y., Alonso, J., Auerbach, R. P., Bantjes, J., … & Kessler, R. C. (2020). Sources of stress and their associations with mental disorders among college students: results of the world health organization world mental health surveys international college student initiative. Frontiers in psychology, 11, 1759.