The early start of 2020 was to mark the entrance of a new decade. However, it only entered to swirl our lives for every risky and confined purpose. With the pandemic stepping in, we have been pushed to the backseat for our professional and personal lives. In this process, all of our work lives are being carried on amongst the four walls of our homes. This has gravely impacted our mental health in remote work. There is a sharp decrease in mental health in covid-19, which has also left no less of effects on working routines. At some point in time, every employee or CEO has been juggling hard for maintaining mental health in remote work. 
Read our blog on : Mental Health: 10 Tips For Students To Be Mentally Wise
The shift to work from home might have given respite to some people. However, it is sounding more challenging than the workload at the worksite. Remote work mental health is being disturbed and mingled with other mundane affairs of personal lives. This has caused a lot of malfunction from the employees' side as well as its consequence on organizations' performances. The working entity has to entirely change their home spaces into work sites, which is a new change to adapt to. All these have led to adverse effects in maintaining mental health in remote work.
Before knowing the tips to maintain mental health in remote work, we must know what the concept of work from home is. It has benefited but at the same time, affected the work efficiency intensely.
Takeaway
Mental health in remote work has aggravated. Assisting remote workers in a work from home atmosphere is essential to maintain work efficiency. Lack of training and continuous shifts due to the pandemic has recently frustrated the mental health of remote workers. Knowing the work from home concept is essential before providing tips to maintain mental health in remote work.
What Is Remote Work/Work From Home?
Work from home refers to the shift of being at work from home rather than at the worksite. At work from home, the working entity is required to carry out his or her job tasks from their homes. The concept did exist before, however, it only became an essential part of our lives after the pandemic hit us. With the offices, and work sites asked to shut down to contain the spread of the virus, remote work began. The prominent requirement for remote work was stable internet connections and laptops or PCs.
Many countries around the world had been witnessing a huge spike in the number of covid-19 cases [1]. As a result, the only options for public and private entities to work were from home. The remote work concept required additional skills too. However, it happened fast without much time to train the employees. Companies started having their meetings through online mediums such as Zoom and other software. Piles of excel sheets, word documents, and presentations started taking place of the papers and files. 
Work from home invented a way of flexible working. It gave a new methodology for designing, evaluating, and preparing work. It also brought a new side of how technology can be used for work. However, these are some of the boons which probably cannot outshine the plethora of bane it has. While these limitations did not bug us in the beginning, it has become serious issues now. Knowing these limitations is essential for devising tips to maintain mental health in remote work.
Takeaway
Work from home is the concept of shifting from workplace to home space. All the official work is carried out at home. Recently, in the wake of covid-19, a shift to work from home has been made. This is to ensure that work does not get affected by the pandemic. This form of work has become both a boon and a bane for remote workers. It has also caused depleting changes in remote work mental health.
Did Pandemic cause the Recession? Read out to find out more: PANDEMIC NOT THE CAUSE OF RECESSION 5.0
Adverse Impacts Of Remote Work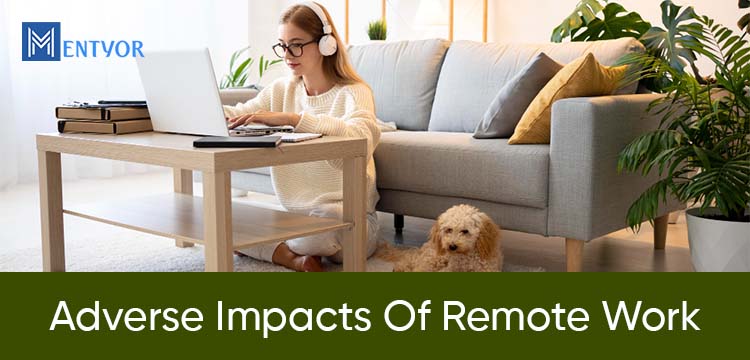 The remote work did give the respite for the workers to work from their home comfortability. However, the long-term of has led to a substantial decrease in mental health in remote work. While the concept may sound all easy, it has gravely disturbed the employees in terms of maintaining mental health in remote work.
First and foremost, maintaining professionalism at home and creating it a workplace is only possible to an extent. Staying at home means that there might be some affairs coming in the entire day. In this situation, the employees would find it hard to be present both mentally and physically at work. Also, working entities have to often share their home spaces with their partners or children.
This makes it very chaotic to focus on work and thus impacts the mental health in remote work. According to the survey by the American Psychiatric Association in 2020- 2021 on 1,000 remote workers [[2] has revealed a dip in the mental health of the workers. The majority of the remote workers have found it hard in maintaining mental health in remote work.
Social isolation has been also witnessed in remote workers through the study of 209 employees through the Qualtrics platform. Further, according to the platform, 41.6% of employees have an emphasis on declined mental health in covid-19 [1]. The socializing aspect at the workplace is only limited to interactions with family members. This has curbed the thought fluidity for the workers, especially those who have to work for content ideation and other ideation fields. Another concern for remote workers is continuous exposure to the screen.
As per the Likert-scale rating results, there has been an increase in physical health decline. This includes headaches, fatigue, blurred vision, and in some cases chest contraction. All these physical declinations have impacted remote work mental health.
The remote working process has gravely led to mental depreciation amongst the working class. Sacrificing sleep hours, juggling between home and work, everything seems to go in mayhem now. Workers have been pushed to work from home without adequate training about the concept. While having a laptop and internet connection would have been told, there is more for the workers to learn. Moreover, the advent of new working software requires companies to impart the required knowledge about it. If we continue to work from home, there must be the provision of mental regeneration sessions for the workers. These sessions would curb the build of frustration that usually impacts mental health in remote work.
Takeaway
Statistics and research have shown a steep decrease in mental health in remote work. The remote workers are experiencing social isolation and finding it hard to juggle between professionalism and personal lives. This has also been caused due to a lack of training and hastiness in shifting to work from home.
Learn to understand Mental science: Psychology: A Behavioral Science
How To Manage Mental Health In Remote Work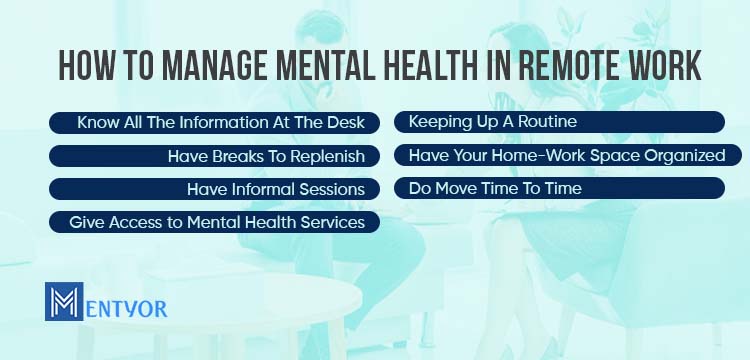 With mental health in remote work seeing a deflation, it is very important to address them well. Maintaining mental health in remote work is a must. It has a major role in keeping the work consistent and achieving the desired productivity for the company. An organization could progress ahead with a team that devotes effort mentally too. Overlooking these mental aspects can only lead to adverse effects on the employees in the future.
The best way to address degrading mental health in remote work is by following simple, easy tips. Workers need to work step-by-step on the tips to maintain mental health in remote work. Here are the tips to keep in check of mental health in remote work.
Know All The Information At The Desk
As a remote worker, it is very essential to understand the company's work policies in virtual mode. Know what procedure the company follows for remote workers. It is also the responsibility of the company to impart all the instructions beforehand. In case of new changes, the employees must be informed at the earliest. This will ensure that there is no confusion regarding the remote working.
Have Breaks To Replenish
Remote workers need to take breaks. Taking breaks will relax the mind and promote stable mental health in remote work. This is where the workload for remote workers should be minimized. Adding too much work as an employer will only strain the mental health of the remote workers. Breaks in between work from home, can relax the worker and ensure that they work efficiently.
Books that will help you Replenish: Best Books That Will Replenish Your Mind
Have Informal Sessions
There should be informal sessions for remote workers apart from the working sessions. Having informal sessions can include the missing factor of social isolation experienced by remote workers. Lack of social interactions can hamper remote work mental health. Information on what's new or what was lunch all about could give a sense of socialization to remote workers.
Give Access to Mental Health Services
Mental health must be talked about in the company. The company should also lend in menthol health services or helpline numbers. This will help the remote workers seek help if they are experiencing mental adversities in working from home. Also, the company can have its mental health team or counseling team for remote workers to maintain confidentiality.
Keeping Up A Routine
Remote workers should have the routine set every night. They must prioritize the time according to their work demands. This will help them in keeping stable mental health in remote work. It will also give them a track of balancing between their work and professional affairs. Everything will move in sync with a proper and intact routine.
Self Motivation you need to Work efficiently, Read more about it: What is Self Motivation | 10 Self motivation quotes
Have Your Home-Work Space Organized
The space where you decide to work should be clean and organized. Since surroundings affect our mental working, it should be in favor of the work you are doing. Having an unorganized space will only contribute to the depletion of mental health in remote work. A clean home will give you the motivation to work well and efficiently.
Do Move Time To Time
Just imagine, how hard it would be to sit all day long? It would leave you with cramps and a feeling of tiredness. Also, you would feel drained after a long time with a laptop and the same sitting position. You must take an ample amount of time to stroll, either in your verandah. Also, a walk in the backyard will do good and help you clear your head.
These are some of the tips to maintain mental health in remote work. Following these, every day could make work from home a really enjoyable experience.
Takeaway
The first step to deplete mental health issues in remote workers is by following these simple tips:
Know All the Information At the Desk
Have Breaks To Replenish
Have Informal Sessions
Have Informal Sessions
Give Access to Mental Health Services
Keeping Up a Routine
Have Your Home-Work Space Organized
Do Move Time To Time
What Do The Experts Say ?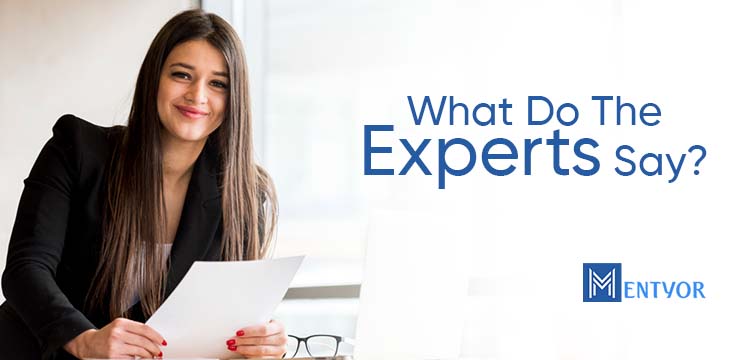 With the virus penetrating deep into our societies, uncertain days will continue to come. So many countries across the world are experiencing various numbers of pandemic waves. In the webinar 'Is Self-Quarantine the Fable Future of Work?'[3], host and director of Better Life Lab, Brigid Schulte said," This virus is calling into the way we work on such a huge level." Companies, ventures, and organizations are continuously revising their work policies due to uncertainty with the pandemic outbreak. Such times will put a hard constraint on mental health in remote work. 
On the other hand, Cali Williams Yost, the founder of Flex+ Strategy Group [3] in Madison, in New Jersey holds a different opinion. According to the expert, "Work is forever changed" and "flexible work was made for times like these." The option to be at home feels safe in times of covid-19. It will charge up the productivity and the employees will be in stable mental health in a remote work atmosphere. 
The debate of mental health in remote work will never end. While most of them will find it more convenient, the other half would not. Working from home for a long period will curb creativity and desire for working amongst the workers. It also creates a ruckus, as a result maintaining mental health in remote work becomes difficult. Though work from home is a safer option, however, no company would like to see their employees with sulking mental health.
Takeaway
When it comes to the debate about mental health in remote work, there are two different opinions. Some experts like Cali William Yost, believe work from home to be a boon to replenish the mental stability of workers. However, experts like Brigid Schulte believe that work-life has completely changed due to working from home.
Conclusion
The commencement of the new decade brought us a fresh challenge with covid-19. In this, the concept of remote working popularized and was considered to be the go-to option. However, this form of working has gravely impacted mental health in covid-19. There is a significant decline in mental health in remote working. As a result, the productivity and progress of an organization are getting hampered.
Maintaining remote work mental health is very crucial. By giving out the importance to mental health in remote work, organizations can ensure consistency in progress. To achieve this, the employer and employee must first begin with tips to maintain mental health in remote work. These tips are easy to ensure and can provide the much-required mental respite. Additionally, it can also introduce mental health services for remote workers. If they feel mentally unstable, approaching these services can be an essential boon.
The quest to understand whether work from home is a boon for mental health or not has varied opinions. Some consider it to be the safest option while some object to it. Nevertheless, mental health in remote work has seen a sharp ride of rising and fall. Addressing the employees' issues at work from home could give the companies a future insight to work optimistically.
Common FAQs
Is remote work bad for mental health?
Remote work can have a very adverse effect on mental health, especially in times of the pandemic. It pushes a working individual into social isolation, work-family conflict, and tiredness. Further, it also leads to feelings of solitude and over-thinking.
Why am I so anxious working from home?
According to the Cebu Institute of Technology in the Philippines, the main reason for depression and anxiety in remote workers is due to limited information. The work from home has suddenly shifted workers from offline sites to online without proper training to operate virtually. All this has led to anxiousness during work from home.
How do you motivate a remote worker?
If you are witnessing a remote worker sulking down, help them in these ways:
Impart them on how to use the technological tools.
Have informal meetings with zoom or other platforms.
Let the remote worker talk about how adaptive the technology is.
Focus on building trust with the remote worker.
Have activities for employees that are not work-related.
Appreciate efforts being done for the work virtually. 
References
[1] Galanti, T., Guidetti, G., Mazzei, E., Zappalà, S., & Toscano, F. (2021). Work from home during the COVID-19 outbreak: The impact on employees' remote work productivity, engagement, and stress. Journal of occupational and environmental medicine, 63(7), e426. "Work From Home During the COVID-19 Outbreak"
[2] American Psychological Association. (2019). Publication Manual of the American Psychological Association, (2020). Xiao, Y., Becerik-Gerber, B., Lucas, G., & Roll, S. C. (2021). Impacts of working from home during COVID-19 pandemic on physical and mental well-being of office workstation users. Journal of Occupational and Environmental Medicine, 63(3), 181.
[3] Is Working From Home The Future Of Work?
(for the expert portion, as it is a podcast)