When it comes to marketing nobody can beat the United States but when it comes to fashion nobody can beat Italians. Gucci, founded by Guccio Gucci in 1921 is an Italian fashion brand that is still going strong. Italian fashion is no stranger to luxury. There is no doubt that Gucci is a premium brand when it comes to fine clothing. With its humble beginning, Gucci has spread all over the world today.
The changes and transformation, the route from leather to high-end fashion was not an easy one. Gucci employed a variety of tricks to ensure that its status remains intact. Moreover, despite the recessions and economic downfall, Gucci is a brand that has managed to survive the tide of times. Here we examine the Gucci Marketing strategy as well as the Gucci Performance Index, Gucci Competitive analysis, Gucci SWOT analysis, and Gucci PESTLE analysis. 
---

GUCCI MARKETING STRATEGY
STP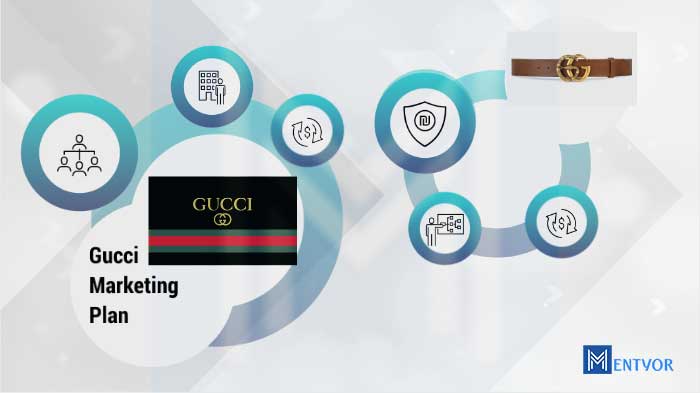 Gucci strategy employs the STP or the Segmentation, Targeting, and Positioning strategies. Under the segmentation category, Gucci uses demographic as well as psychographic criteria. Under the targeting category, restricted consumers have been targeted by Gucci. Furthermore, as far as positioning is concerned, Gucci places its product on the highest pedestal, and rightly so. The premium quality design of the products makes it choose the value-based positioning criteria under the Gucci marketing strategy. 
See our blog about marketing strategy : WHAT IS AMAZON MARKETING STRATEGY
---
MARKETING MIX
The marketing strategy helps the brand attain and maintain its stature. Moreover, the Gucci marketing strategy also helps the brand achieve its business goals and objectives. The 4Ps of the marketing mix are:
PRODUCT | GUCCI MARKETING STRATEGY
The product portfolio of Gucci is huge. It is also breathtaking at the same time. Furthermore, Gucci sells all kinds of luxury fashion products such as handbags, jewellery, watches, and other accessories along with high-quality clothing. Gucci has its expertise in designing handbags. Moreover, the brand designs products for both men and women. With the creation of all these products, the Marketing strategy has firmly associated luxury with all their products. Furthermore, Gucci presents its products in a manner that appears extremely expensive and of superior quality.
HIGHLIGHT
Gucci, in its initial days only produced leather items. However, with change in times and growing awareness against animal cruelty, Gucci switched to other materials.
Suggested blog : MICROSOFT MARKETING STRATEGY
---

PLACE
According to the Gucci Marketing strategy, the company has to set up its stores in a place that provides a very soothing and sumptuous environment. The employees at Gucci stores are extremely welcoming and pleasant. The place of stores and the channel of distribution appeals to high-end and elite customers. Furthermore, under the Gucci Marketing strategy, the company has taken a very active role in market penetration. They have thus, opened their stores at several strategic localities around the world. The company collaborates with popular celebrities to further reach out and its website handles all the online sales.
---
PRICE
Gucci is a well-established fashion brand that has adopted a premium pricing strategy. According to the Gucci Marketing strategy, premium pricing strategy is adopted because Gucci products are the best in terms of quality. Furthermore, its prestigious brand name has a standard precedent that allows the company to command over the prices. Moreover, the customers of Gucci are mostly upper-class people and feel that buying a Gucci product is a status symbol. According to Gucci Marketing strategy, the products are unique and timeless, thus, high prices for Gucci are acceptable.
HIGHLIGHT
The "Genius Jeans" entered the Guinness World Records as the most expensive pair of jeans in the entire world. They were valued at a whopping $3,134 back in 1998.
---
PROMOTION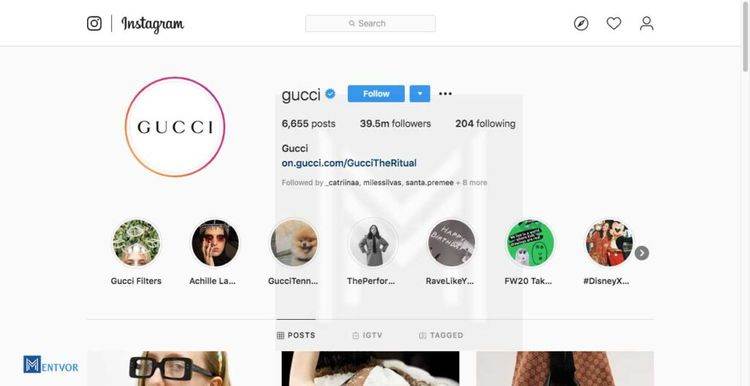 The company has been in existence for 100 years. Under the Marketing strategy, they have nicely maintained the traditional promotional strategies to retain their older clients and maintain the affinity. However, with changing times the company has also adopted new promotional strategies by engaging people on social media and also by investing in advertising. Television ads and other activities are also generating a buzz for the new collection of the brand are used for Gucci marketing strategy.
Furthermore, several celebrities wear Gucci products. Right from the ethereal Audrey Hepburn to the glamorous princess of Monaco; Grace Kelly. One of the most significant moments of promotion was when, Gucci launched a line of handbags called "Jackie O", in honor of Jacqueline Kennedy.
HIGHLIGHT
In recent years, celebrities like Blake Lively, Charlotte Casiraghi, Victoria, and David Beckham have promoted the interests of the brand by simply adorning the Gucci fashion.
---
GUCCI PERFORMANCE INDEX
Gucci has been at the very pinnacle of the fashion industry for decades. Therefore, Gucci Performance Index determines its success this year. The Gucci stores remain shut during the pandemic, it has still managed to maintain its revenue. They hosted an online event called the Gucci fest. Hence this helped in keeping the clientele engaged. The fashion giant collaborated with a very trusted outdoor apparel space known as the North Face.
Furthermore, the brand has managed to reach out to consumers using multiple channels and added to the Gucci Performance Index . The Gucci performance index has been intact as the brand thrives even in unpredictable times. It survived as it changed its style by launching lockdown fashion with puffer coats and oversized jackets according to the Gucci performance index. 
This is the 100th year of Gucci's existence and it wishes to entice customers with new events and new fashion. For the kering Luxury group which is a conglomerate of luxury fashion brands, Gucci accounts for 60% of its revenues and 80% of its profits. Gucci performance index also accounts for comparable revenues which rose by 24.6% this year which is much more than the prediction of analysts for 19%.
---
GUCCI COMPETITIVE ANALYSIS
Being at the top does not come easy. However, Gucci has managed to retain its status and position by surviving through tough competition. Here we examine the Gucci competitive analysis:
LOUIS VUITTON

The brand was established in the year 1984, much later than Gucci. However due to its strong brand value and qualitative approach. The company has become the prime competition to Gucci. Louis Vuitton is more expensive than Gucci when it comes to bags. Gucci is known for being controversial at times, however, on the contrary, Louis Vuitton is viewed as being more timeless and reputable.
Read this : LOUIS VUITTON MARKETING STRATEGY
---
PRADA
Prada is known for being a brand that invests in simplistic and functionality-oriented luxury products. Gucci has always been more trendy and over the top with its style. The product portfolio is similar. furthermore, Prada is viewed as one of the main competitors to Gucci.
---
VERSACE
Versace and Gucci are both Italian fashion brands that have become prominent due to their unbreakable commitment to luxury and fashion. Between the two, Gucci has more expensive products and also generates higher revenue. Gucci also has a greater presence in this Gucci competitive analysis. Versace falls back on several employees, revenue and profits. Elizabeth Hurley, Elton John, Michael Jackson, and Princess Diana adorned Versace.
---
CHANEL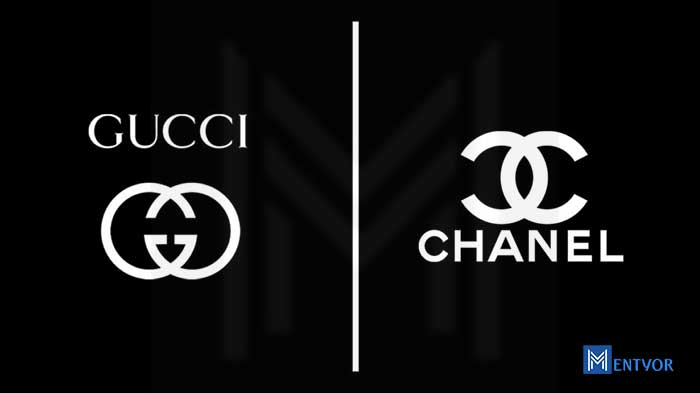 The French brand Chanel is a tough competitor under the Gucci competitive analysis. However, Gucci designs fashion items for men, women, and children whereas Chanel primarily designs its items for women. Thus, Gucci has a larger product portfolio. Chanel also focuses mainly on lace and classic aesthetics. moreover, Gucci primarily focuses on bold florals, faux furs, and chic designs.
---
BALENCIAGA
Balenciaga is another French fashion giant. While Gucci has greater brand recognition as compared to the limited reach of Balenciaga. Gucci is considered to be more durable as compared to Balenciaga.
---
DIOR
Dior is the toughest competitor of Gucci. The product portfolio, reach and quality is equal in almost all aspects. Christian Dior established the r. The company is well maintained. However, Dior still retains a sense of royalty and vintage vibe in its products while using the modern frame of cuts and designs. Furthermore, Gucci is more chic and evolutionary in its fashion. With this point we end Gucci Competitive Analysis.
---
GUCCI SWOT ANALYSIS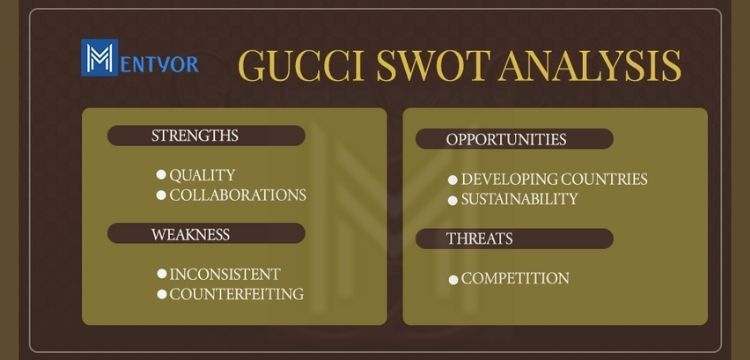 After Gucci Competitive Analysis, you will come to know about the SWOT Analysis. The SWOT analysis is done to examine the strengths, weaknesses, opportunities, and threats. Here is the Gucci SWOT analysis.
STRENGTHS
QUALITY
Gucci products are admired all over the world for their high quality. These are the most luxurious items of fashion according to Gucci SWOT analysis. There are very few alternatives to Gucci products.
COLLABORATIONS
According to Gucci SWOT analysis, the company stays in touch with its potential clientele through various collaborations. This is a major strength according to Gucci SWOT analysis. It collaborates with a range of companies right from fashion to the automobile industry.
Related blog : AMAZON SWOT ANALYSIS
---
WEAKNESSES
INCONSISTENCY
Gucci delivers quite an inconsistent performance. Some years it does well in terms of revenue generation and creative ideas. However, according to Gucci SWOT analysis, it lags when it comes to updating its creativity every year.
COUNTERFEITING
Gucci faces trouble as a lot of other smaller companies across the world uses the iconic GG symbol of Gucci. Furthermore, according to Gucci SWOT analysis, there have been some trademark issues faced by the company over the years.
---
OPPORTUNITIES
DEVELOPING COUNTRIES
According to Gucci's SWOT analysis, developing countries such as India, Brazil, and South Africa are the crucial hotspots for a company like Gucci to expand its sphere of influence. Furthermore, according to Gucci SWOT analysis, in India especially with huge film industry, Gucci has a golden opportunity to promote its interest and develop its clientele.
SUSTAINABILITY
According to Gucci SWOT analysis, attaining fashion sustainability is of prime concern for most luxurious brands. Gucci is one of the pioneers in the high-end fashion industry. It is responsible for the creation of some of the finest works of fashion. Moreover, according to Gucci SWOT analysis, Gucci with its vast amount of resources can easily attain fashion sustainability.
---
THREATS
COMPETITION
According to Gucci SWOT analysis, the greatest threat faced by Gucci is the threat of competition. The company has already determined its niche and the limits of its operation through its pricing strategy. However, brands such as Louis Vuitton, Armani, Bulgari, Dior and Versace are all within that niche. According to Gucci SWOT analysis, these companies have a similar pricing strategy and thus, give tough competition to one another.
---
GUCCI PESTLE ANALYSIS | GUCCI MARKETING ANALYSIS
After completion of Gucci Marketing Strategy and Gucci SWOT Analysis we have come to Gucci PESTLE Analysis. The Gucci PESTLE analysis is a method examine the Political, Economic, Social, Technological, Legal, and Environmental factors affecting Gucci.
POLITICAL
According to Gucci PESTLE Analysis, the brand has earlier faced consequences due to the import and export cost operations.
According to Gucci PESTLE Analysis, the unrestrained red-tapism in certain least developed countries leads to unfavorable trading situations which prevent the growth of the brand in those countries.
---
ECONOMIC
According to Gucci PESTLE Analysis, the purchasing power of the consumers affects the sales of the company. For example, in India, the majority of the middle-class won't buy high-end products whereas in America due to a higher purchasing power even the middle-class can buy some of the Gucci products.
---
SOCIAL
According to Gucci PESTLE Analysis, the company contributes to the social movements which support Women's rights, protection of art and heritage, and the health of children. Furthermore, they do this by launching inclusive designs and fashion shows.
---
TECHNOLOGY
According to Gucci PESTLE Analysis, technological changes would affect the company positively. The cost of distribution and promotion can reduce massively.
According to Gucci PESTLE Analysis, the company has installed an incubator that creates a very artistic vibe and gives the designers the creative space at the atelier.
---
LEGAL
According to Gucci PESTLE Analysis, Gucci is highly affected by legal matters concerning product infringement and trademark issues.
It has been involved in a lawsuit against Forever 21 and Guess relating to intellectual property rights.
---
ENVIRONMENTAL
According to Gucci PESTLE Analysis, Gucci has adopted environmentally friendly methods not only to protect the planet but also to stay relevant amidst the competition.
The company aims to set a standard of being a cruelty-free model for other companies in the industry. This also increasing ensures public fondness towards Gucci, according to Gucci PESTLE Analysis.
---
THE FINAL WORD
Fashion has become extremely competitive with the emergence of small players in the market. Amidst all this Gucci has managed to stay relevant and fashionable. Change is difficult, it never comes as naturally as breathing. However, Gucci has changed and transformed to become one of the greatest fashion brands. It will thus, continue to remain a luxurious favorite.