What is that one invention that not just impacted millions but became an inseparable part of you and me? Computers! Think about a computer, there is only one name that constitutes the market monopoly and that is Microsoft. We are going to look into detail about the consistent growth of this mammoth business and Microsoft Marketing strategy in this growing & challenging industry.
Introduction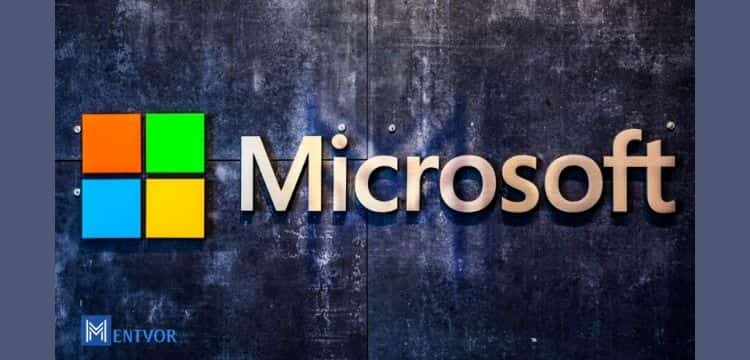 Microsoft Corporation is an American multinational technology giant. The founders of this giant business today, are Bill Gates and Paul Allen. The company is located in Redmond, Washington. Microsoft reported a massive $39 billion profit in 2020. As a result, Microsoft got ranked No. 21 in the Fortune 500 ranking last year. The company's evolution under the current CEO Satya Nadella since 2014 has been outstanding. Wall Street's enthusiasm for this technology giant is understood when Microsoft's shares hit an all-time high of $ 263 this year.
---
Microsoft's Ambition
Microsoft focuses on empowering every individual and every business to achieve more. Every employee in Microsoft is dedicated to advance human and business achievements. The leadership at Microsoft is defined by three principles: creating clarity, generate energy, and delivering moments of success.
Microsoft's research and development team focus on three interconnected visions:
Reinvent productivity and business processes.
Build intelligent cloud and edge platform.
Create more personal computing.
Revenue Growth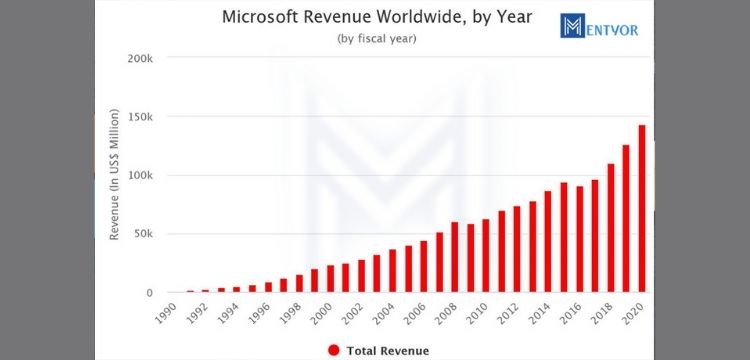 Comparison of the financial ratios of the fiscal year 2019 vs 2020
Commercial cloud: revenue increased 36% to $51.7 billion.
Office Commercial products and cloud services: revenue growth increased 12%.
Office Consumer products and cloud services: revenue increased 11%.
LinkedIn: revenue increased 20%.
Dynamics products and cloud services: revenue increased 14%.
Server products and cloud services: revenue increased 27%, driven by Azure growth of 56%.
Enterprise Services: revenue increased 5%.
Windows Commercial products and cloud services: revenue increased 18%.
Windows original equipment manufacturer licensing ("Windows OEM"): revenue increased 9%.
Surface: revenue increased 8%.
Xbox: revenue increased 11%.
Search advertising revenue, excluding traffic acquisition costs, was relatively unchanged.
---
Microsoft Sales and Marketing Expenses
The expenses are associated with sales and marketing personnel, and the costs of advertising, promotions, trade shows, seminars, and other programs.
Fiscal Year 2020 vs Fiscal Year 2019
Expenses increased by $1.4 billion (8%). Major investments were made towards LinkedIn and commercial sales. The company also reported an increase in bad debt expense.
Fiscal Year 2019 vs Fiscal Year 2018
Expenses increased by $744 million (4%). The increase was due to investments in commercial sales capacity, LinkedIn, and GitHub.
---
Stock Performance
Microsoft has given outstanding profits to the shareholders. The stocks stands well ahead of the index while comparing the last 5 year cumulative total return.
$100 invested in Microsoft on June 2015 has grown up to $509.27 on June 2020.
$100 invested in S&P 500 (Index) on June 2015 has grown up to $166.45 on June 2020.
$100 invested in NASDAQ Computer Index on June 2015 has grown up to $509.27 on June 2020.
*The final figures include reinvestment of dividends.
---
Microsoft Marketing Strategy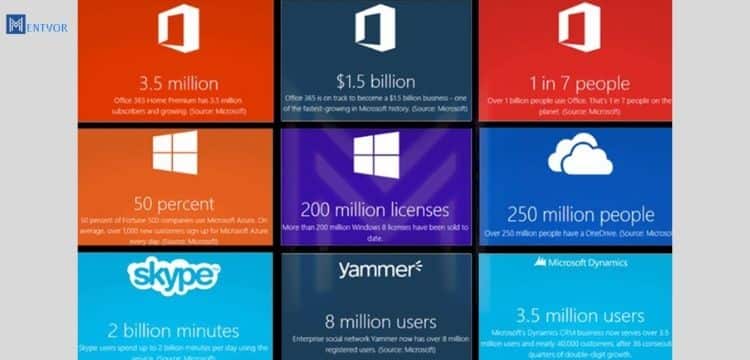 Since taking the hot seat at the company, Satya Nadella has been focusing on giving a human character to the brand. As a result, taking a customer-centric approach on the marketing strategy has worked out for good. Microsoft aims stand in the forefront of its competitors. They are focused to expand their existing services so that their products and services will reach every individual, and business.
Let us take a deeper look into various aspects that play a key role in Microsoft marketing strategy.
Brand Equity
Microsoft has a large product lineup & services which gives it an edge over other companies in the world. From a brand perspective, it has high top-of-mind awareness (TOMA) because of the global acceptability of its Windows operating system. Being the longest-present company in the technology sector, they have constantly evolved with the change in the business environment
Product Mix
Microsoft offers an array of services and products globally to help people and businesses scale up and realize their full potential. Their products aim to deliver state-of-the-art technologies that add value for customers.
The brand has done a great job in focusing on the product element, which has favored the marketing strategies. The high level of user convenience of their products and services serve as the unique selling proposition of the brand.
Microsoft's product lineup includes operating systems, cross-device productivity applications, server applications and business solution applications, desktop and server management tools, software development tools, and video games.
They design, manufacture, and sell devices. This includes PCs, tablets, gaming and entertainment consoles, intelligent devices, and related accessories. Apart from which they provide solution support and consulting services, Consumer licensing and Commercial Licensing, and renewal add to the offering.
The company also offers cloud-based solutions that provide customers with software, services, platforms, and content.
Let us look into this trending product Microsoft Azure. This cloud solution is the strongest competition to Amazon's AWS and Google Cloud. Azure was a late entrant to the cloud computing scene in 2010. Since then, Azure has advanced significantly surpassing the competitors.
Microsoft Distribution, Sales, and Marketing | Microsoft Marketing Strategy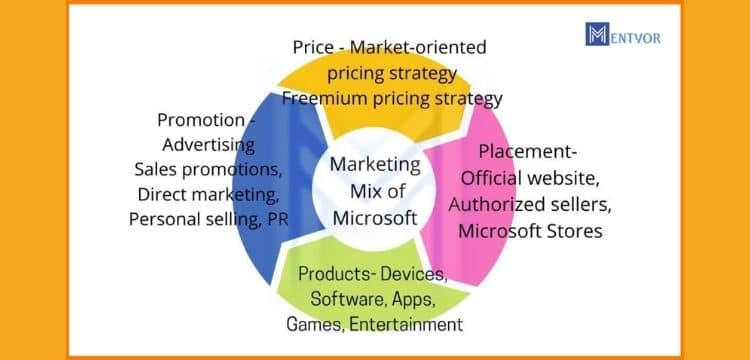 Microsoft markets and distributes its products and services through widespread distribution channels. This multi-channel strategy has helped the company in increasing its visibility globally. The channels through which the company operates are the following: OEMs, direct, and distributors and resellers.
The sales team performs a variety of functions. They work directly with commercial enterprises and public-sector organizations worldwide. Therefore, helping to identify and meet customer's technology and digital transformation requirements.
The salesforce manages OEM relationships, independent software vendors, and other partners who engage directly with the customers. These partners and vendors perform sales, consulting, and fulfillment functions for Microsoft's products and services.
OEMs (Original Equipment Manufacturer)
OEMs pre-install Microsoft's software on new devices and servers they sell. The Windows operating system pre-installed on devices is the largest module of the OEM business. There are Microsoft products and services that OEMs sell devices pre-installed with. It also includes applications such as Office and the capability to subscribe to Office 365.
There are two broad categories of OEMs.
The largest category is direct OEMs. Here, Microsoft and the OEM have a direct agreement. This distribution agreement is made with various multinational OEMs for one or more of Microsoft's products. The MNC's include Acer, ASUS, Dell, Hewlett-Packard, Lenovo, Samsung, Sharp, Toshiba, and many regional and local OEMs.
The second category is system builders comprising of lower-volume PC manufacturers. They source Microsoft software for pre-installation and local redistribution. This is done primarily through the company distributor channel and not through a direct agreement or relationship with Microsoft.
Direct
Organizations license the Microsoft products and services directly through the ESA (Enterprise Agreement Software Advisors). The Enterprise Agreements and Enterprise Services contracts are designed for the sales made through ESAs.
Microsoft has a large network of partner advisors who support direct sales. The direct sales programs target to reach small, medium, and corporate customers, in addition to those offered through the reseller channel.
They also sell commercial and consumer products and services such as Cloud services, search, and gaming directly to customers. These are sold through digital marketplaces and online stores. Last year Microsoft declared a strategic change in their retail operations. As a result, the physical Microsoft Store locations were closed.
Distributors and Resellers
Many organizations license Microsoft's products and services indirectly. This is primarily through LSP (Licensing Solution Partners), VAR (Value-added Resellers), distributors, and retailers. The main partner program for reselling cloud services is Microsoft Cloud Solution Provider.
Here, every reselling partner reaches out to organizations of various sizes. However, LSPs engage mainly with large organizations. Similarly, ESAs are also authorized as LSPs to operate as resellers for other volume licensing programs. Distributors focus on reselling to the VARs. VARs engage with small and medium businesses. Microsoft's Dynamics business solutions reach out globally through a global network of channel partners providing vertical solutions and specialized services.
Microsoft sells its retail packaged products through various channels. Namely, retail outlets, non-exclusive distributors, resellers, and authorized replicators. Additionally, there is a network of sales representatives and support personnel. They take orders from distributors and resellers and provide product training and sales support.
Pricing
Microsoft with its monopolistic pricing power has conquered a major market share in the technology space.
The sales performance of the company has a relation with the pricing strategy. Hence, the product and service pricing should offer tangible benefits to attract target customers.
---
Pricing Strategies of Microsoft
Market-oriented pricing strategy
In this strategy, product pricing is done based on market factors. For example, competitor pricing, market demand, etc. The company evaluates the price and demand for similar products sold in the market. Afterward, the pricing of the products is fixed competitively and published.
The company sets the price of their product (higher/lower) post evaluating the prices & demand of similar products being offered in the market.
Premium pricing strategy
Under this pricing strategy, the products with a basic set of features are offered for free. However, additional functionality or enhanced feature is to be paid for.
This strategy also allows trial offers for customers before making a purchase decision. This enables the company to show the capabilities of the products that can convince the customer.
For example, Office 365 can be used for free on devices with screen sizes up to 10 inches. On the other hand, licenses have to be purchased for devices with larger screens.
Likewise, the company has premium-priced its popular Operating System as its use is continuously increasing.
Buy only what you use pricing strategy
The unique pricing strategy is used for providing cloud services. This has made a huge buzz among the customers who use multiple devices.
This pricing plan does not charge a fixed amount to the customer. Instead, they pay only for the usage. The value of this strategy is its ability to attract customers concerned about extra charges in using multiple computing devices.
Promotion and Advertising
The role of promotional and advertising strategy is a backbone to the marketing strategy of all businesses.
Marketing communication is done in an integrated way to communicate its marketing message to its target audience. Effective communication along with other tactics satisfies customers and stakeholders.
Major promotion expense is incurred for its premium and competitive products. These products have a large market share. Digital marketing and advertising is used for the online product range.
• Advertising over the internet and television is done to enhance the brand's image. The advertisements focus on product enhancements and upgrades. The end-users of the software are targeted.
• Sales promotions provide discounts and incentives to attract customers. For example, Students are offered MS Office Suite at a discounted price. This helps to increase sales volume, brand loyalty and prevent new entrants to capture the market.
• Direct marketing focus on sales deals with institutions like schools, colleges, etc. The company also sells its products through OEMs.
• Personal selling is the face to face sales at physical stores. Microsoft has sales representatives who educate customers on the product features and entice potential buyers.
• Public relations mainly focus on fulfilling Microsoft's philanthropic ideology. They look after donations and related CSR activities of the organization. For example, computer hardware and software products are donated to nonprofit organizations.
Segmentation in Microsoft Marketing Strategy
The technology giant uses market segmentation strategies. It is a combination of demographic and behavioral segmentation to segment the market.
Demographic segmentation is for products like Operating Systems and Office 365 which are suitable for everyone. Behavioral segmentation is for products like Windows server operating system or Windows mobile phones that cater to specific set of users and businesses.
Targeting in marketing strategy | Microsoft Marketing Strategy
Due to the large product portfolio, the company uses a target-based strategy. Considering Office 365 and Windows 10, the users are homogenous. The target for these products is any user with a computer. However, in the case of video games or developer tools, they will have to formulate specific strategies catering to the target users to tackle the market competition.
Positioning in marketing strategy | Microsoft Marketing Strategy
Talking about the positioning of Microsoft's products and services, they remain at the top of the mind. Considering the brand reputation, any product launched by them gets attention and position. The recent rebranding of products to logos has repositioned the value-based technology leader. However, sometimes things don't go as planned. Microsoft's mobile phone couldn't get positioned along with Apple and Samsung.
---
Competitive advantages of Microsoft
Mergers and Acquisitions
Firstly, the most important competitive advantage of Microsoft is its acquisition strategy. Since 1987, it has acquired over 225 companies. Of these companies, 107 were based in the US. The corporation has also purchased stakes in 64 companies.
The first acquisition in 1987 was Forethought. They developed the presentation program which is now known as Microsoft PowerPoint. Some of the prominent acquisitions worth over $1 billion is Skype, Nokia, aQuantive, Fast Search & Transfer, Visio Corporation, Yammer, Mojang, LinkedIn, GitHub, ZeniMax Media, and Nuance Communication.
In 2016, the company decided to abandon the mobile business. As a result, the Nokia feature phone line was sold. The latest acquisition was Nuance in April 2021. Nuance focuses on speech synthesis and recognition, and artificial intelligence. This deal throws light on the future plans of the technology giant.
Product Line
Secondly, its operating system is free of hardware binding. The OS is installable on any PC or laptop unlike its competitor Apple. But this also means that there is a huge loss due to piracy.
Windows is the world's leading operating system dominating that industry when we compare worldwide figures. Their marketing strategy of a free upgrade to Windows 10 for Windows 7 owners helped to retain and increase market share. The company ensures to keep the total cost of ownership at a minimum to make the software easily & economically available to the customers.
---
SWOT analysis of Microsoft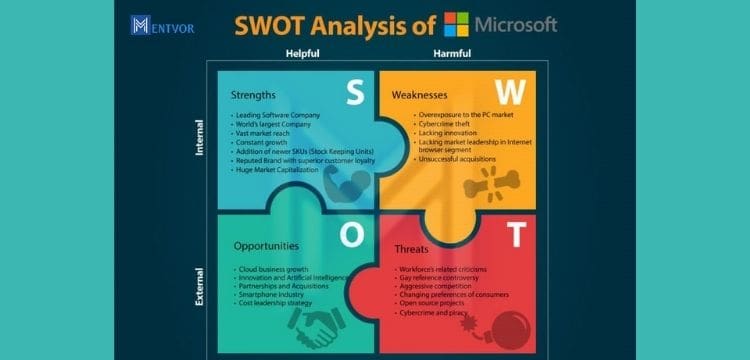 SWOT analysis helps the business to build on what they do well, to address what they lack, to minimize risks, and to take the greatest possible advantage of chances for success.
The strengths and weaknesses of an organization are called internal strategic factors. The Opportunities and Threats are called the external strategic factors.
In the case of Microsoft, this analysis will help to understand the priority of innovation, cyber security, and business diversification. As a result, the brand can stay in the long-term growth trajectory in the IT product and services business.
Let us start the SWOT analysis of the company.
Strengths – This internal factor identifies the strength of the business to contribute towards growth and resilience.
Microsoft is a dominant industry player consistently posting strong financial numbers.
They have proven marketing dominating products like Windows OS and Office tools.
The company's growing market share, diverse product lineup, and global reach are visible to all.
The brand has a solid R&D team creating a competitive edge for their products and services over other competitors.
The cloud computing line of business is gaining traction over the competitors, AWS and Google cloud.
Microsoft's focus on strategic acquisitions continues to drive growth.
The brand's strong alliance with other companies can bring the market in favor of them.
The company has laid down a solid foundation to compete with global players.
Weakness -This internal factor identifies the weakness of the business that slows down or reduces business.
Some products are vulnerable to imitation and cyber-attacks. The Windows OS is a target of most cyber-attacks globally. As a result, customers prefer a solace in Mac or Linux.
The failure in the phone segment took the giant out of the competition with Samsung and Apple.
There is a lack of computer hardware products in Microsoft's product line. This makes the company rely on third parties for selling their OS.
The dwindling market position of IE (Internet Explorer) and Bing (Search Engine) has taken a hit. Chrome and Google from the Google stable continue to be strong competitors.
Opportunities – This external factor identifies the opportunities that can support business growth.
This is primarily a software business. They majorly rely on the popular Windows OS. In this regard, Microsoft has to focus on the opportunity to diversify its line of business through mergers & acquisitions.
The brand should consider venturing into intensifying hardware development utilizing the cash reserve. As a result, increase revenue from hardware sales.
The increasing data penetration can unhide the needs of a wider global audience to act upon. The data integration between LinkedIn and Dynamics CRM will be a game-changer.
Artificial Intelligence (AI) is the next growth driver for the corporation.
They can create enterprise solutions for online security and smartphone solutions. The world is looking for safer and secure cyberspace.
Threats – This external factor identifies the threats that compromise the business.
Established and emerging competitors create tough competition. The Azure cloud services face a tough ride along with Amazon AWS and Google cloud.
There is a risk of confidential information of users getting compromised. Cyber-attacks remain the biggest threat for the computer technology business.
The next biggest threat is Piracy. In fact, due to lenient policies in developing countries, piracy has gone out of control.
The anti-monopoly movements from the side of competitors and rivals are a pain point in the business.
Lawsuits filed against businesses have turned out to be a common scene.
SWOT Analysis Recommendation
In a global survey that the corporation conducted, 85% of the consumers say they'll consider a brand if they trust a brand. The strong trustworthy brand image of this technology mammoth keeps them in the leading market position. Thus, a recommendation is to continue augmenting its brand image. Specifically, the company must build business relationships with other companies to enhance positive externalities.
The weaknesses and threats in the business highlight the need for strategic reform in Microsoft. Without second thoughts, the company must develop products that are rarely vulnerable to cyber threats. Another recommendation is to diversify its business portfolio to boost potential growth. One suggestion is to develop its computer hardware business. This segment can bring a significant increase in its revenue growth.
---
Billion dollar Bagged deals
US Army
Microsoft announced that it has received a $21.88 billion 10-year contract from the US army. The requirement is to outfit the United States Army with augmented reality headsets based on the IVAS (Integrated Visual Augmentation System) design. Microsoft's HoloLens technology will be used to manufacture the headsets.
JEDI, Pentagon
Last autumn, the software behemoth was awarded a $10 billion Joint Enterprise Defense Infrastructure (JEDI) contract from the Pentagon. As a result, Microsoft placed itself in the lead as a prominent player as a cloud vendor. The 10-year contract will primarily focus on transforming the military cloud computing systems.
Although Amazon challenged the award at the Court of Federal Claims, it was in vain. The Department of Defense (DoD) confirmed that the proposal from Microsoft holds the best value for the government.
Amazon was the forerunner in the bidding process for this deal. However, the decision from the DoD hit them as a surprise because they built the cloud services for the CIA. The political favoritism behind this JEDI deal had caught the attention of the public. The Washington Post owned by Jeff Bezos (CEO, Amazon) was accused by Donald Trump (Former US President) of spreading fake news. Mr. Trump became publicly hostile to Jeff Bezos.
AT&T
AT&T is a longtime customer of Microsoft. They have significant data storage and computing needs for more than 250,000 staff. They are now moving their technology to the cloud computing solution. The position of the technology giant in the enterprise market has an edge over the close competitor, AWS.
AT&T will use the Microsoft Azure infrastructure from now. The employees will begin to use Microsoft 365 package of productivity apps and security services.
Coca-Cola Co
Microsoft signed a five-year deal with Coca-Cola Co. They will supply business software's including Microsoft Teams chat application. The deal also has Microsoft Dynamics 365 to be implemented in the organization. The direct competitor for Dynamics 365 is Salesforce.com.
---
Conclusion
We are living a lifestyle and hi-tech culture embraced by technology. Every day innovative products and tailored services are hitting the market. Today there is a high acceptance of unique technological products. These products are sold like hotcakes.
IT companies all over the world are fighting for their unique space. However, the fight never ends. Google is the biggest rival of Microsoft, followed by Amazon, Apple, and so on.
The company optimizes both the businesses they partner with and the lives of the customers, they are collectively striving to serve together. The company is strategically reforming its strategies to address changes in this cyber era, especially amid competitive rivalry with other technology firms.
The brand has products & services for every age group and different types of customer groups whether it is an individual customer or an enterprise. Along with which, the company should focus on developing hardware's and products less vulnerable to cyber crimes. Most recently the launch of Microsoft Mesh is an addition to its product.
Microsoft's Advertising and Marketing has been consistently sharing strategies to ignite a trusted relationship with people whom brands are trying to better reach, resonate with, and serve with their products, services, or experiences.