Mechanical engineering is one of the oldest and broadest departments in engineering. Mechanical engineers design, develop, build and test power-producing machines. Their popular machines are Air-conditioning and refrigerators, generators, Internal combustion engines, and many more. Here in this blog, you will be able to get complete knowledge about mechanical engineering diploma, courses, subjects and companies.
---
WHAT IS MECHANICAL ENGINEERING ?
Mechanical engineering is the study of objects and systems in motion. As such, this subject covers everything from simple nuts and bolts to complex human bodies. Mechanical engineering has diplomas, B.tech, M.tech, and PhD degrees programs in colleges.
---
MECHANICAL ENGINEERING SUBJECTS
Now let us see the subjects that are important in this course. Let us begin.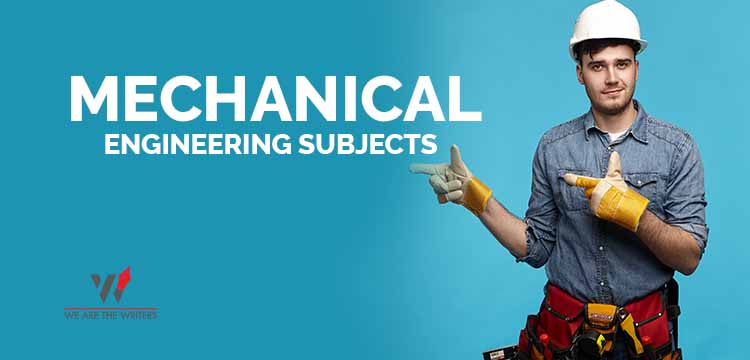 THERMODYNAMICS 1 & 2
The study of basic concepts and Laws of thermodynamics applicable to all types of systems. Thermodynamic 1 offered in Fall Semester. Thermodynamic 2: The application of thermodynamic principles to study gas and steam power cycle, refrigeration cycle, mixtures, compressible flow, combustion and Chemical reaction. Introduction of advanced thermodynamics. Offered in Spring semester.
INTERNAL COMBUSTION ENGINES
The application of thermodynamics, fluid mechanics, Heat transfer, and other engineering principles to design, perform and economics internal combustion engines and gas turbines.
POWER PLANT – MECHANICAL ENGINEERING SUBJECTS
The application of thermodynamics, fluid mechanics, heat transfer and other engineering principles to design and operations of the power plant.
AIR CONDITIONING AND REFRIGERATION
The application of thermodynamics, fluid mechanics, heat transfer and other principles to design and build ACs and refrigeration systems.
FLUID MECHANICS
The basic Law of physics and thermodynamics are applied to study the phenomena of fluid.
MANUFACTURING ENGINEERING AND DESIGN
This course introduces the techniques of computer-aided design(CAD) and the process involved in manufacturing. Laboratory work involved the work of drawing and construction of a pre-designed mechanical system.
KINETICS AND DYNAMICS OF MOTION
This course explores the particles and rigid body's kinetics and kinematics: Work, Energy, power, Linear impulse, momentum, Linear momentum, angular impulse, and Impact. Including MATLAB programming and Numerical modelling. offered in Spring Semester.
HEAT TRANSFER
A study of the basic phenomenon of Heat transfer includes treatment of the steady and non-steady conduction of heat in one dimensional and 2 dimensional, Natural and forced convection and thermal radiation offered in the fall semester.
MATHEMATICS
Calculus, Linear algebra, and differential algebra
BASIC PHYSICAL SCIENCES
Physics and Chemistry
FUNDAMENTAL OF FINITE ELEMENT THEORY
This course deals with the theory and computational implementation of finite element analysis. Students will learn about finite element formulation and the application of the formula in the area of engineering. They will learn to develop computational tools and use them to solve engineering problems.
INSTRUMENTATION AND DATA ACQUISITIONS
Here you will be able to learn about measurement error, calibration, statistical and uncertainty analysis, signal conditioning, and computer-based data acquisitions. Focus on learning about measurement techniques of particular important quantities like temperature, power, pressure, flow rate, strain, torque and speed.
Suggested Reads:
---
MECHANICAL ENGINEERING DIPLOMA | WHAT IS Mechanical Engineering
A diploma in mechanical engineering is a 3-years polytechnic course. One can do this course just after passing class 10th. This is the best part because if one does not like mechanical engineering, one can stop moving to B.tech or higher degree in this subject.
Diploma in mechanical engineering deals with the design, manufacturing, and maintenance of mechanical machines. Machines such as Engines, generators, Air-conditioner, refrigerators, power plants, and many more modern machines.
WHY SHOULD WE DO A DIPLOMA IN MECHANICAL ENGINEERING ?
Students can join in the 2nd year of B.Tech, directly.
Students get practical knowledge.
Can start their maintenance shop.
Will be able to design mechanical parts.
One can set up a research lab.
There are job opportunities in the public and private sectors. [ Mechanical Engineering Courses]
---
BEST INSTITUTES OFFERING MECHANICAL ENGINEERING DEGREE | WHAT IS Mechanical Engineering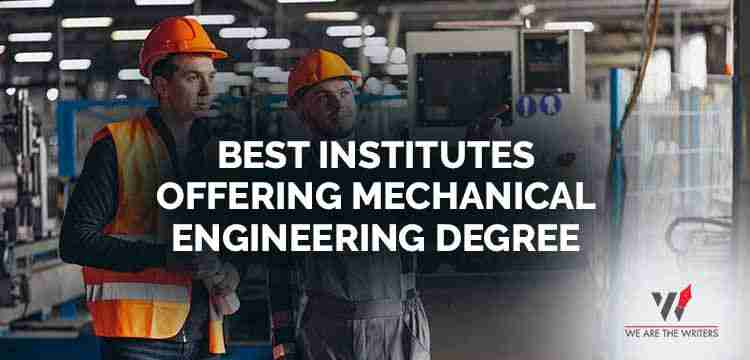 Let us see the important institutes offering Programs in this stream of engineering. Here are the important institutions.
MASSACHUSETTS INSTITUTE OF TECHNOLOGY
It is the No.1 school in this field of engineering. MIT is also the best engineering school. Application fees are $75 both for US residents as well as international residents. Its tuition fees are for full-time: $53, 450.
STANFORD UNIVERSITY
Stanford University is one of best mechanical engineering school and also the No. 2 best in Engineering school. December 1 is the deadline for the application at Stanford university. The application fees are $125 for both US residents as well as International. Tuition fees are for full-time: $57,861 per year.
CALIFORNIA INSTITUTE OF TECHNOLOGY
It is The No.3(tie) best ME school and the No. 4 (tie) best engineering school. December 1 is the deadline for application. The application fees are $100 for US residents as well as International. Total faculty on campus: 104. The residential campus is in Pasadena, California. It is about 10 miles away from Los Angeles and Students can live in University-owned housing.
UNIVERSITY OF CALIFORNIA, BERKELEY
University of California, Berkeley is the No. 3(tie) best Mechanical Engineering school and No. 3 Best Engineering School. The application deadline is Dec 1. The application fees are $120 for US residents and $140 for International. Its Tuition fees are full-time: $11, 442 per-year(in-State) and $26,544 per-year(Out-state). There are a total of 260 full-time faculty. A graduate student can live on campus. They can go around San Francisco, can take Rapid transit, Which stops one block from campus.
GEORGIA INSTITUTE OF TECHNOLOGY
GIT is the No. 5(tie) best Mechanical Engineering School and No. 8 Best Engineering School. The application fee is $75 for a US resident and $85 for an International. Its Tuition is full-time: $14,064 per year (In-State); $29,140 per year (Out-State). For the part-Time: $586 per credit(In-State); $1,215 per credit(Out-State). The total number of full-time faculty is 573. Back in Atlanta, Students can live on Campus.
Students and faculty are highly involved in research projects. Students can complete co-ops and Volunteer work in Atlanta and Beyond. Some of the notable Alumni of the Georgia Institute of Technology are Major General Chuck Swannack(Ret.), president and CEO of US Logistic Inc. and Nagesh Kukumoor, an environmentalist turned Bollywood Director.
Suggested Reads:
---
MECHANICAL ENGINEERING CERTIFICATE PROGRAMS | WHAT IS Mechanical Engineering
Autodesk CAD/CAM/CAE
Embedding Sensors and Motors.
Robotics: Aerials Robotics
Introduction of Thermodynamics
Digital Manufacturing and Design Technology.
Wind Energy.
Power Electronics.
Fundamentals of engineering exam review.
---
MECHANICAL ENGINEERING JOBS | WHAT IS Mechanical Engineering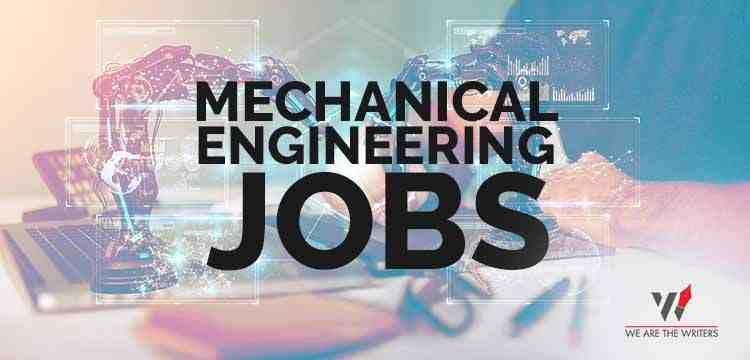 Mechanical engineering is called the evergreen department in the engineering field. Practically every company that designs and produces products needs a mechanical engineer. But mechanical engineers are also found in research labs, governments, the military and other professions like medicine, law or teaching.
Most mechanical engineers are required for design jobs. Whenever new or innovative design ideas are needed, a mechanical engineer gets the job. The second area of employment is in manufacturing. Manufacturing is a complete circle from selecting material to actual fully finished product. Industries like clothing, petroleum, chemical, utilities, rubber, 3D printing, all need mechanical engineers.
MECHANICAL ENGINEERING JOB TITLES
In this section, you will have a better understanding regarding the various job openings or job titles for an engineer.
AUTOMOTIVE ENGINEER
Mechanical engineers are involved in car, bike, or commercial vehicles design and manufacturing. Mechanical engineers solve the transportation problem.
BIOMEDICAL ENGINEER
Mechanical engineer works in the prosthetic leg, arm and artificial organ.
CONSULTING
Once a mechanical engineer achieves significant experience and builds high expertise, he may choose to work independently. Now you have the freedom to choose a client to work with. Big and small firms both need consulting employees.
ROBOTICS ENGINEER
Robots are a hot topic nowadays. Robotic companies need mechanical engineers. Engineers are concerned with robot structure, bearing, movement and cooling of robots.
NUCLEAR ENGINEER
Nuclear power plants need the service of a mechanical engineer. A mechanical engineer provides his fundamental concept of design, heating and cooling technique and environmental safety.
TEACHING
This is a default profession because without teachers no profession will survive lifelong. They also write books and publish a paper on mechanical engineering.
OTHER MECHANICAL ENGINEERING JOB TITLES
Design engineer
Acoustic Engineer
Energy Conservation Engineer
Power Generation Engineer
Fluid Mechanics Engineer
Tool Engineer
3D printing Engineer
Piping Engineer
Suggested reads:
---
MECHANICAL ENGINEER's SALARY
The average base salary of a mechanical engineer in the US is $ 89,526. And after 10 years of experience, it becomes $123,459. The salaries mentioned here are just an approximation.
---
MECHANICAL ENGINEERING COMPANIES
Below are mentioned some of the best Mechanical Engineering Companies that provide Mechanical Engineering Jobs to the deserving candidates.
Sandia National Laboratories
Boeing
BD
Coffman Engineers
Intel
Applied Materials
EASi
Intralox
Middough
Magna International Inc
---
BEST CITIES FOR MECHANICAL ENGINEERS IN USA
Best Cities to live for Mechanical Engineering Graduate and Diploma holders are listed as below:
Irvine CA: $105, 902
Denver CO: $98, 121
San Diego CA: $97, 792
Los Angeles, CA $97, 154
Houston, TX $93, 034
Salt Lake City, UT $ 88, 795
San Jose, CA $ 87, 033
Dallas, TX $ 85, 778
---
MECHANICAL ENGINEER BENEFITS
Here we have listed some benefits of Mechanical Engineering provided by various companies, these benefits may vary from company to company.
401(k) matching
Disability Insurance
Life Insurance
Paid time off
Flexible spending account
Vision Insurance
Tuition Reimbursement
Dental Insurance
Relocation Assistance
---
MECHANICAL ENGINEERING SKILLS
The skills as needed for a Mechanical Engineer are listed below:
Six Sigma Certification
Engineering Design
Project Management
Computer Aided Design (CAD) / AutoCAD
Computer Aided Manufacturing (CAM)
SolidWorks
System Design
Product Design
HVAC etc.
---
CONCLUSION
Our blog has provided you with the detailed information regarding this branch of engineering. From the various companies that hire mechanical engineers to the various colleges and Institutes where you can pursue your education is mentioned in the blog. Hope you like the blog.