Metaverse is a term that seems to be on every big company's mind these days. Whether it is the social media giant Facebook (now, renamed as Meta) or even the software pioneer Microsoft. The amount of companies investing in metaverse keeps growing by the day.
Heralded as the next big wave of the internet, it promises to change how we experience a digital presence.
As such, the social media and news channels are brimming with curiosity about this new future entity. If you too are curious about Metaverse, then this is just the right place to be.
In this article, we shall let you know what is the metaverse is all about and what are the biggest companies in Metaverse right now. We also give an overview of the events that are taking place in the nascent stage of the metaverse. So read on to find out!
Artificial World, Interesting Application of AI You Should Know: Artificial World : 11 Interesting Applications Of AI across Industries
What is the Metaverse?
Before we get on to the top companies in metaverse right now, let us understand what is metaverse first.
It is essentially an online platform that aims to change the digital space. Its primary goal is to create a hyper-real world that mimics the technicalities of the real physical world. It can become the perfect mirror to the real world, where all activities that take place in the physical world shall take place in an online space. For example, these activities range from concerts, fan-meets, movie premieres to something as intimate as a wedding.
As the world becomes more digitally inclined, all corporations wish to leverage the power of the internet even more. As such companies in metaverse right now are envisioning a world that may be "the next big thing" of the future.
The metaverse makes use of technologies like Virtual Reality (VR), Augmented Reality (AR), Three Dimensional Characters (3D), and different modes of communication.
It does mark as a fresh new stage of the internet. Here People can create their 3D Avatars and customize them according to their liking. Imagine if you could create a mini version of yourself on different social media, and then actually get to hang out with your friends in a virtual café. Sounds pretty interesting, if you may ask. It aims to make this a reality.
Just as if we would buy a new T-shirt from a store and wear it to a party, in the same way in this we could buy things for our Avatar on one platform and also carry it forward towards the other platforms.
It was defined to be the fourth wave to computers following mainframe computers, personal computers and Mobile computers, by the famous venture capitalist Matthew Ball. [1].
Matthew Ball also known as the expert when it comes to the metaverse, says that it's about moving people into "Ambient Computing". He further goes on to say it's no more about just accessing the internet to interact, but rather staying online always. Similarly, it's not about accessing the computer anymore, but rather is living within the computer. [2]
Know Complete Overview About Artificial Intelligence To Understand Metaverse: What Is Artificial Intelligence? : A Complete Overview Of AI In 2022
Top Companies in Metaverse Right Now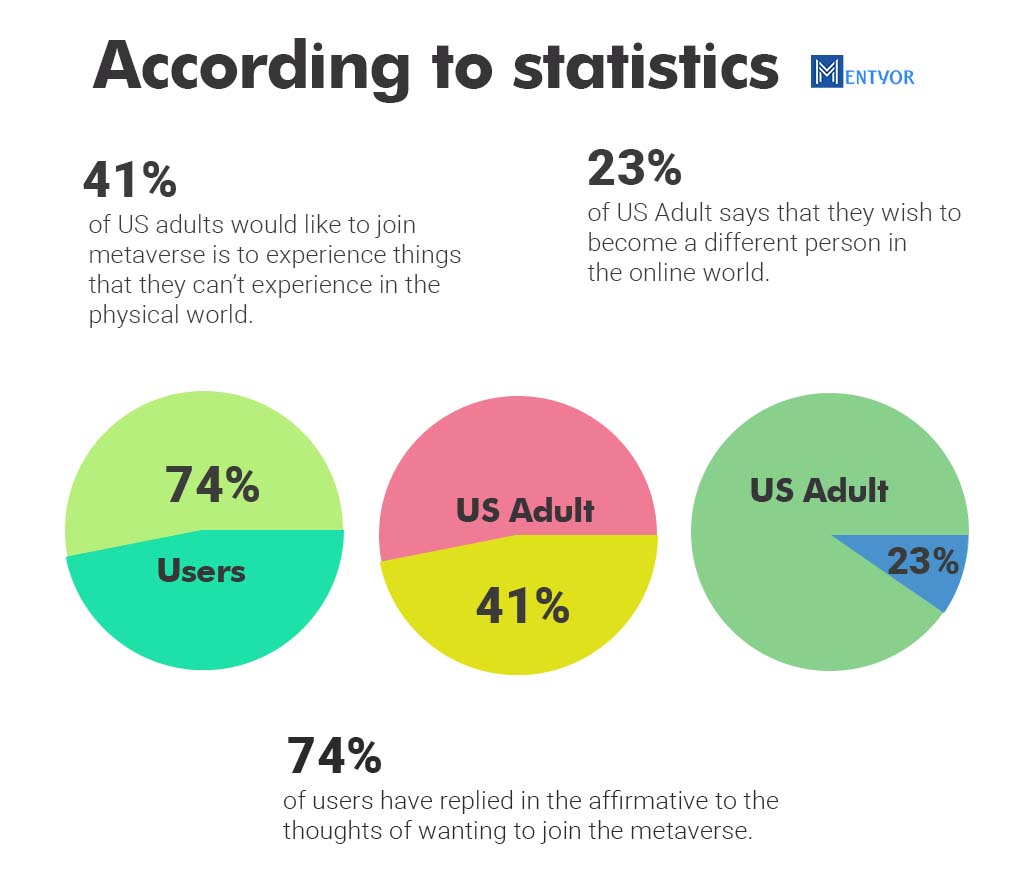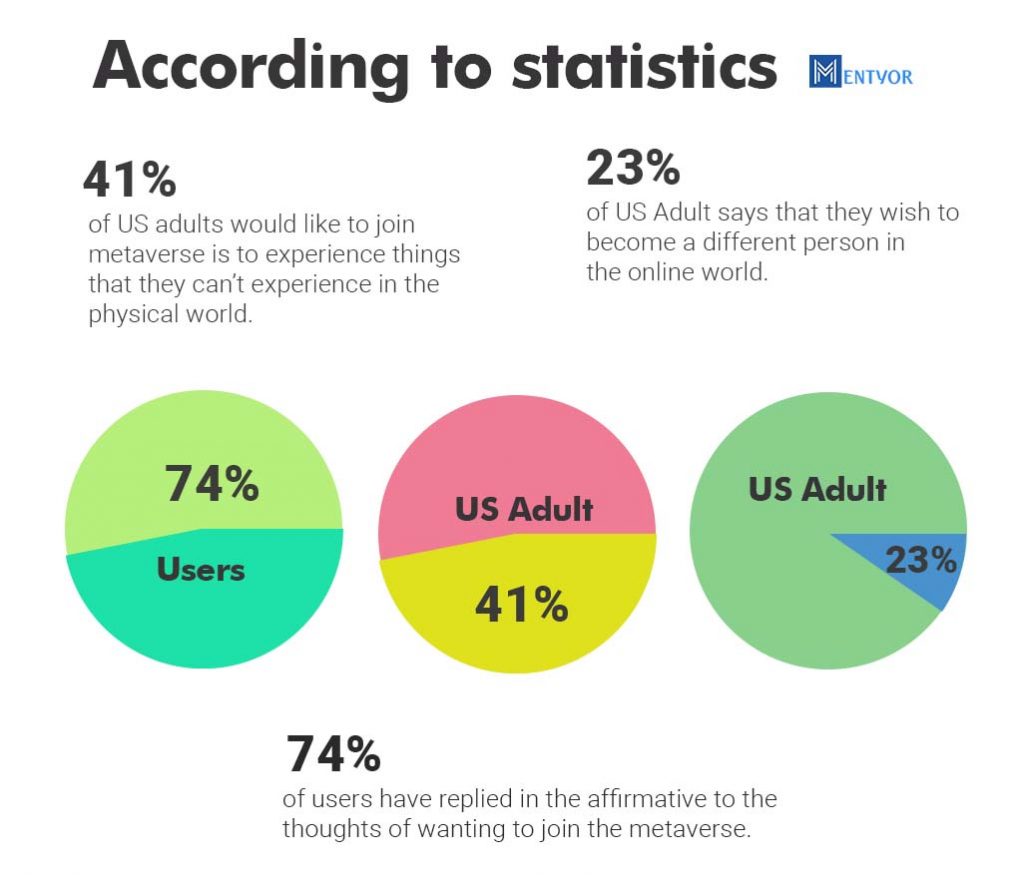 It will define how the future sees the internet. According to statistics, the main reason why 41% of US adults would like to join metaverse is to experience things that they can't experience in the physical world. [3] In addition to that, 23% of US Adult says that they wish to become a different person in the online world. But majorly, 74% of users have replied in the affirmative to the thoughts of wanting to join this. [3]
With such high statistics, it is obvious that it is the next big thing. The technology needed for this consists of Augmented Reality (AR), Virtual Reality (VR), AI, etc.
Companies investing in the metaverse are also investing in such technologies. This is evident through Facebook's acquisition of a VR company in 2014 and Microsoft also acquiring an interactive gaming company.
Not only are they investing in these technologies, but the futurist companies in metaverse, are introducing products and services that incorporate such technologies. Interactive AR filters on Instagram that changes your entire present surroundings, VR games that could be played on Xbox or Playstation, and even VR headsets.
By introducing such technologies in the more popular apps like Instagram or Xbox, the companies in metaverse wish to make a smoother transition of the normal population into the meta. Increasing the familiarity with such technologies would help them to groom the audience into understanding Metaverse a bit better.
Apart from just technology, companies investing in metaverse also need to build an infrastructure around the technology. Connectivity technologies like 5G, wi-fi, cloud technology, etc contribute towards creating an informed audience.
Now that we are all caught up with the requirements for a meta world, let's get onto to the companies in metaverse right now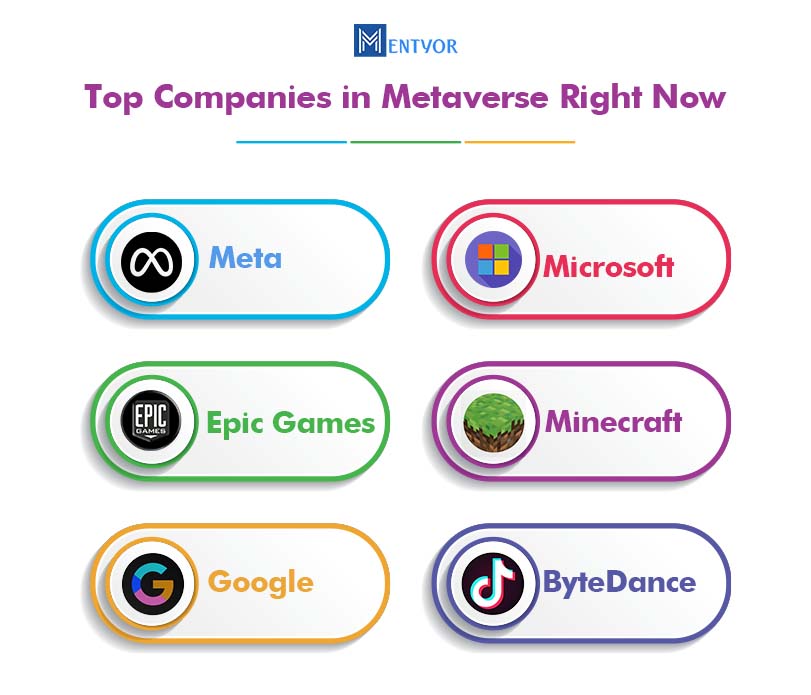 Meta (Formerly known as Facebook)
Meta (Formerly known as Facebook) is definitely the market leader when it comes to companies in metaverse. Facebook has completely remarketed itself to package itself as a company.
Meta has to be the biggest player in the race of companies investing in the Metaverse. Tech Giant CEO Mark Zuckerberg also said, " "From now on, we're going to be the meta first, not Facebook first," [4]
In October 2021, Facebook renamed itself as Meta. The historic name change was announced at the Facebook Connect AR/VR Conference. It shows the company's ambitions and future wishes to become a company that is not just limited to social media. The company even invested almost 10 billion dollars into its AR/VR hardware, software and content. No wonder it is one of the best companies in metaverse right now.
The VR Service Horizons workroom was launched in August 2021. It is like a sneak-peak to what it can be. Wearing VR headsets, one can sit inside the horizons lab similar to how you would behave in a conference room.
Although Zuckerberg said that the technology will still need five to ten years to actually become as mainstream as the internet today. But some features of meta do exist currently. Examples of such features are super-fast broadband speeds, virtual reality headsets and sensors, and always online digital worlds.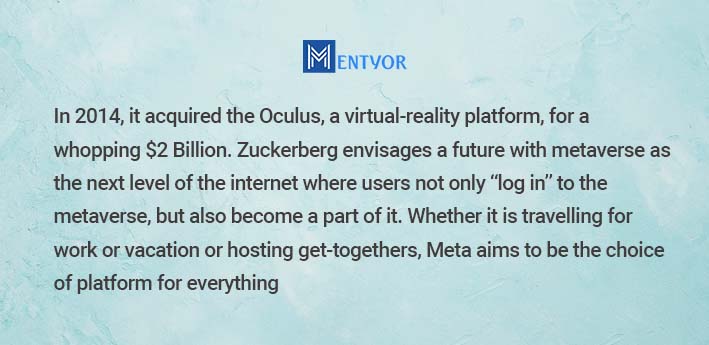 Meta has made significant investments in virtual reality platforms. In 2014, it acquired the Oculus, a virtual-reality platform, for a whopping $2 Billion. Zuckerberg envisages a future of it as the next level of the internet where users not only "log in" to the metaverse, but also become a part of it. Whether it is travelling for work or vacation or hosting get-togethers, Meta aims to be the choice of platform for everything.
Due to the controversies regarding data handling by Facebook, Critics are sceptical about allowing Zuckerberg to build the future of the internet.
Microsoft
Another one of the big companies investing in the metaverse is Microsoft. A pioneer in its own accord, it acquired a game-developing company called Activision Blizzard for the humongous price of $68.7 billion. It cited the reason for this purchase as a future investment for the metaverse.
The company Activision Blizzard is apparently going to form the "building blocks" of the metaverse.
Apart from this, Microsoft also is in the hologram business and has developed "Hololens" which is priced at $3500. It is also in the process of developing mixed and extended reality (EX) applications with the Microsoft Mesh Platform. This would help it to combine the real world with technologies of virtual reality and augmented reality.
It also plans on bringing mixed reality applications and virtual avatars to the communication application, Microsoft Teams. Apart from this, Microsoft in collaboration with the US Army is also developing Hololens 2. This can be used by soldiers for practising their combat skills in a simulated real-life environment. Down the line, Microsoft is definitely going to turn into one of the biggest companies in metaverse.
Microsoft is also the founder of Xbox, the second biggest gaming console after Sony's Playstation.
Epic Games
When it comes to companies in metaverse focusing on developing games, Epic Games is undoubtedly a market leader. Fortnite is a game that already has a few features of it. From having 3D avatars that are customizable to virtual events, Fortnite has dealt in it all. Thus, even the CEO Tim Sweeney of Epic Games that developed Fortnite, has said that it's not a huge secret that Fortnite is one of the companies investing in the metaverse.
World-famous celebrities like Ariana Grande and Travis Scott have held their virtual concerts in Fortnite. Fortnite even has an immersive re-imagining of Martin Luther King Jr's historic 1964 speech "I Have a Dream"
Roblox
Roblox is a platform that contains numerous user-generated games, including role-playing games like Bloxburg and Brookhaven where users can build homes, work out or play out different scenarios.
Founded in 2004, the company is worth more than $45 billion now. On the day of its IPO, the CEO of the company thanked its users for helping him bring the company one step closer to fulfilling his dream of becoming a metaverse.
Skateboarding shoes brand Vans collaborated with Roblox to create virtual skating parks where users could sport the new Vans collection.
It also opened a virtual limited Gucci Garden where users could try and buy clothes and accessories for their virtual selves. Thus, Roblox is also one of the companies in metaverse right now.
Minecraft
This platform helmed by Microsoft is hugely popular among kids. It's like a virtual lego world where you can build your own buildings and different things. They can also build their own virtual characters however they like.
It boasts a monthly user base of 140 million people. Its popularity exploded even further during the pandemic.
Google
It might not come as a surprise to see this name in the list, as Metaverse is the next big thing. Google joined the race of companies investing in metaverse in January 2022. Although Google had a prior failure in the AR sector through its AR glasses back in 2011, it is not going to back out from joining companies in metaverse.
Google has a special interest in AR and wishes to integrate its leading applications of YouTube and Maps with interactive AR interface.
Sundar Pichai, CEO of Google, also invested almost $40 million in private equity funds for projects. With all these preparations, Google is gearing up to become one of the companies in metaverse.
Read about Google AI System for Blind People: Google AI Based System Helps Blind People Run
ByteDance
Parent Company of TikTok, ByteDance is another big companies investing in metaverse right now. Not just limited to investing but rather it is on its way to become one of the companies in metaverse through its new app called "Party Island" that is still in making.
Although the company has denied actually calling it a "metaverse", it has functions similar to that of the meta world. It allows users to create human-like avatars, a mini version of themselves on the app. The app also consists of a virtual world where real-life events can be scheduled.
ByteDance also spent $1.4 billion on VR headset makers. Much like Facebook investing in Oculus, investing in VR ensures a better understanding of metaverse.
Conclusion
With many companies investing in metaverse, it's no surprise that it is the most sought after thing of the future. According to statistics, the meta industry is worth around $59 Billion. [5]
But with even so many things, not everyone is convinced with a meta world. Around 29% of US adults still do not understand the concept of metaverse. And one of the biggest concerns surrounding it is also the privacy issue. Given that Facebook is one of the major companies in metaverse right now, all with their previous privacy concerns, that does seem like a legit concern.
But like every future invention, this too comes with its share of pros and cons. On one hand, people may be confused about metaverse, but you cannot deny the changes that it would herald.
Dangerous Risk of AI, Read more: Artificial World: 10 Dangerous Risks Of Artificial Intelligence
FAQs
Which company owns the metaverse?
It is not owned by any company individually, but it is rather a concept. With many companies in metaverse right now, Facebook is helmed as a leader.
What is metaverse Roblox?
Roblox is a platform that contains numerous user-generated games, where users can build homes, work out or play out different scenarios. It is also one of the companies in metaverse right now.
What is the origin?
The word "metaverse" has been taken from a novel called "Snow Crash", published in 1992. The book was written by an author named Neal Stephenson.
Reference
[1] Ball, M. (2021, December 15). Framework for the Metaverse. MatthewBall.Vc.
[2] Chen, B. X. (2022, January 18). What's All the Hype About the Metaverse? The New York Times.
[3]Statista. (2022, February 7). U.S. adults reasons for joining the metaverse 2021.
[4]Guynn, B. U. M. A. J. T. (2021, October 29). Facebook changes name to Meta: Mark Zuckerberg announces company to rebrand as it moves to the metaverse. USA TODAY.
[5]Johnson, J. (2022, February 14). Metaverse – statistics & facts. Statista.