With the changing pace in different sectors, companies and organizations have opted more for project management. The importance of project management lies in assembling, organizing, and analyzing the projects curated by the organizations. This also requires a dedicated team, which looks after only the project management and successful incubation of it. With all these advances, the need for project management tools has increased too. Today, several companies are an option for a single or variety of project management tools. This is to ensure that they receive all the technical resources to accomplish the successful implementation of the project. Further, these tools help use project management in simple steps.
These project management tools are also a boon for freshers in the project management field. Since it remains to be the first experience, these project management tools provide guidance on how to start with project management. The significance of project management tools also lies in following the appropriate implementation of the project for the long term. All that the com[pany has to do is, select the appropriate tool from the project management tools list. This again brings in the criteria of choosing the project management tools based on the organization's pre-set objectives.
Before we dive into knowing the names of all the best project management tools, let us know them and their significance.
Know what is Supply Chain Management?: What Is Supply Chain Management ? [3 Examples + Advantages]
Project Management Tools- Know Them And Their Significance
In the crudest sense, project management tools are the tools that assist an organization to organize, analyze and manage projects. Right from the technicalities handling to different options for project curation, they assist project management in simple steps. Before the application of any project management tools, the project manager has to look into certain purviews before beginning. This means that the manager has to look for the level of usage, tool satisfaction, and the multiple uses of project management tools [1]. Based on these criteria, the project manager has to decide on the tool from the project management tools list. 
The impact of project management tools is enormous in any sector. It has eased out projection across different fields, including IT sectors and education. With project management tools, the organization can ensure no cost overruns or schedule slippage [2]. Further, adopting the tools from the project management tools list will increase productivity. It will help the organization to stem the project and find the profits in a minimal time period. It also helps in scheduling each project step systematically, so that there is no overrun or cut out in the entire process [2].
Read to know Importance of Artificial Intelligence: What Is The Importance Of Artificial Intelligence?
As per the study by Emerald Sight, the presence of both the project manager and project management contributes to project success [3]. This also involves an effective usage of the project management tools, which are usually projected by managers. With this, the significance of project management tools also implies a better structure to the project. The organization can select from the wide options and choose the appropriate layouts, listings for their projects. Further, it also helps in highlighting and amplifying the goals of the organization through the projects.
In a nutshell, project management tools are a boon for any organization to aptly execute project management. It makes sure to be friends and guide every sector to understand and implement project management to see new heights of growth.
11 Best Project Management Tools To Begin With
Now that we know what project management tools and their significance are, it's time to know them closely. While there are a plethora of project management tools to use, some of them are common and very easy too. Selecting amongst the project management tools list also includes some criteria as well. These are: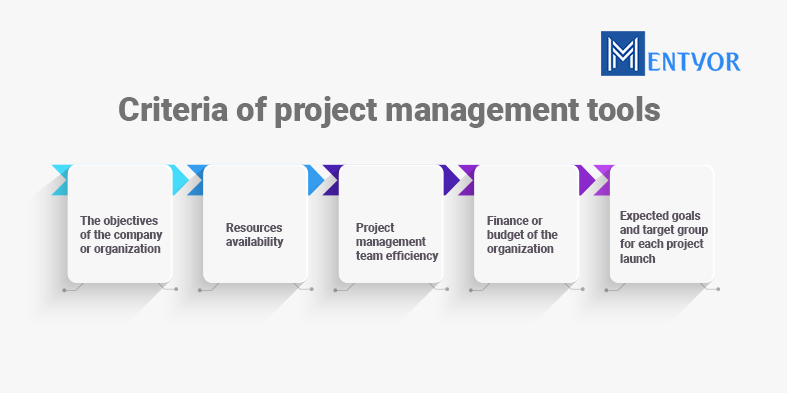 The objectives of the company or organization
Resources availability
Project management team efficiency
Finance or budget of the organization
Expected goals and target group for each project launch
Based on these criteria, an organization needs to choose the desirable project management tools. Below are the 11 best project management tools that can meet all the above needs:
Trello
This management tool helps you to design, schedule, and keep in check with your projects. For every different project, you can create different project boards with Trello. You have the drag and drop functionality and user-friendly interface. As additional functionality, it also has a power-ups facility.
Wrike
This project management tool has been award-winning amongst all the management tools. Wrike is prominently useful for established companies and is also a collaboration tool. It also has the facility to assist large teams with project management. It has key features such as a three-pane view, analytics, and forms. This tool gives you detailed reports and quick file-sharing options.
Asana
Asana is a project management tool that is contradictory to its name. Rather than being relaxed, this project management tool is a dynamic one amongst the project management tools list. It is prominent for all the companies around the globe. Asana's key features include a user interface, visual project timeline, and loads of integrations such as dropbox, slack, etc. The benefit of this project management tool is that it ensures a simple workflow of project management.
Citrix Podio
Citrix Podio is ideal amongst the project management tools as it provides many options for app integrations. This tool is prominently known for its two features, customizability and adaptability. It also has other features such as the app market, custom API, and a simple interface. This tool is user-friendly and has a lot of add-ons for app stores. It can also handle the need for custom integrations.
Teamwork
This project management tool helps you to keep track of your recent projects. That is, you can keep a look at your recent projects and dispose of the ones which are already over. Also, it would help you to avoid misplacements with so many projects. This tool comes with intuitive dashboards, email integration, and invoicing capabilities. It also comes with the option of customizability and ideal mobile applications.
ClickUp
One of the highest-rated management tools, ClickUp comes with a plethora of features. It has got you the custom views for your projects. Also, it provides you with the board view and list view, box view, and my view. It also provides you with Gantt charts that will help you to track and keep the procurement in check. ClickUp comes with features such as automatic adjustability, project process percentage, and many other versatile ones.
Know Application of AI across Industries: Artificial World : 11 Interesting Applications Of AI across Industries
Workzone
One of the oldest project management tools, Workzone has been in use since 2000. It enables simple project management and easy team collaboration. With this, it also provides progress on the projects as well the team's performance. It also has features such as project lists, time management reports, and easy projecting capabilities. This is one of the simplest working management tools.
ProofHub
ProofHub is your ideal project management tool for advancing team collaboration for projects. It comes with a user interface that helps in assembling tasks, teams, and projects. It also gives the option for access rights, so that the project is only handled by the designated team or manager. Along with this, ProofHub also has features like customization, security features, etc. This project management tool also works well on Androids and iOS.
Smartsheet
Smartsheet enables team collaboration for project management as it is one of the essential steps too. It provides the features of looking at the teammates performance and who is occupied with what task. With this, the manager can also provide differences in accessibility for the project. The smartest feature of Smartsheet is that it provides automatic updating instructions so that no part of the project is lagging.
Instagantt
Instagantt is one of the closest project management tools attached with the Asana tool. It eases your task by helping you enter the generic information only once. This way, you do not have to put in the same information with every new project, rather you can view them all the time. This tool also helps in time management for the tasks. Additional features include monitoring and controlling the workload. With this, there can also be an evaluation of every project that is completed within the deadlines set early.
Monday
Monday is a dynamic project management tool and it works on all the days of the week regardless of its name. These project management tools help you garner your project support on social media. It provides you with features like Twitter threads, LinkedIn threads. However, one of the best parts of this tool is the open-source framework. With this feature, you can create your integration and additional features for your project, based on its needs.
These are some of the best project management tools to be used by every fresh manager. This project management tools list has all the simple tools that are easy to operate and use. Lastly, they do not complicate the project management but ease it out well.
Read about Dangerous Risks of AI: Artificial World: 10 Dangerous Risks Of Artificial Intelligence
Parting Note
Project management has overtaken different sectors around the globe. Be it education or the IT sector, project management is being used rapidly in every field. The advent and advancement of project management tools have increased too. Every company is looking to have an appropriate project management tool to layout and successfully implement its projects. With these tools, any organization can achieve project management in simple steps. These project management tools also ensure that the projects not only start but also remain constant in the long term.
Before choosing amongst the project management tools list, the companies and the organization must have a view on the generic criteria as well. These criteria are important so that the goal for the project does not become vague. These criteria include an understanding of the company's objectives, team allocation, and finance and resource availability. Also, it requires an early study of the team efficiency and the targeted group for every project that is to be laid out.
Some of the easiest and most useful project management tools are mentioned above with their key features. These project management tools are most handy for new or fresh managers. These also come with the latest additions that only enhance the project management in simple steps.
In a nutshell, project management tools are the light amidst various tunnels of technology. They come as the helping hand for every sector that wishes to implement project management with success.
Common FAQs
What are examples of management tools?
The examples of management tools are: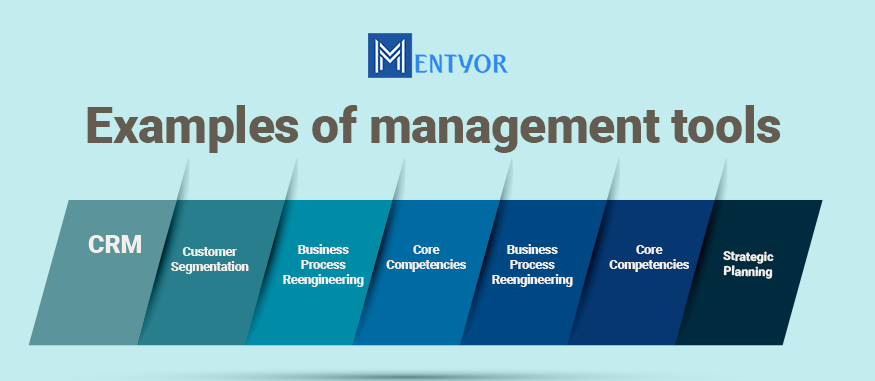 CRM
Customer Segmentation
Benchmarking
Outsourcing
Business Process Reengineering
Core Competencies
Strategic Planning
What is project management exactly?
Project management is the application of processes, methods, skills, expertise, and revel in to reap precise assignment goals consistent with the assignment popularity standards inside agreed parameters.
References
[1] Fox, T. L., & Spence, J. W. (1998). Tools of the trade: A survey of project management tools. Project Management Journal, 29(3), 20-27.
[2] Frame, J. D. (2002). The new project management: tools for an age of rapid change, complexity, and other business realities. John Wiley & Sons.
[3] Murphy, A., & Ledwith, A. (2007). Project management tools and techniques in high‐technology SMEs. Management research news.