Have you ever imagined yourself to be a project manager? With the need for project management expanding to different fields, the positions for project managers have also increased. But, with every new and advanced addition, the need for requisite qualifications also sores high. So, if you are planning to apply as a project manager, you must have a very apt project management resume. Your project management resume framework must only and only have what is required to be a project manager. The construction of a project management resume should consist of different factors, right from consciousness to various appealing factors. Applying as a project manager also requires you to meet certain general criteria.
Details in a project management resume also require you to be proficient in other fields as well. These fields are directly or indirectly related to project management. Proficiency to be a project manager is very heavily dependent on your project management resume. It must have all the relevant project management skills in the resume. If you look through project management resume examples, you will find them to be containing skills that are relevant and appealing as well. But, before we dive into all of these factors and curation, we must know who exactly is a project manager.
Let's begin knowing who is a project manager and then dive into framing an ideal project management resume.
Read our blog about Supply Chain Management: What Is Supply Chain Management ? [3 Examples + Advantages]
Who Is A Project Manager?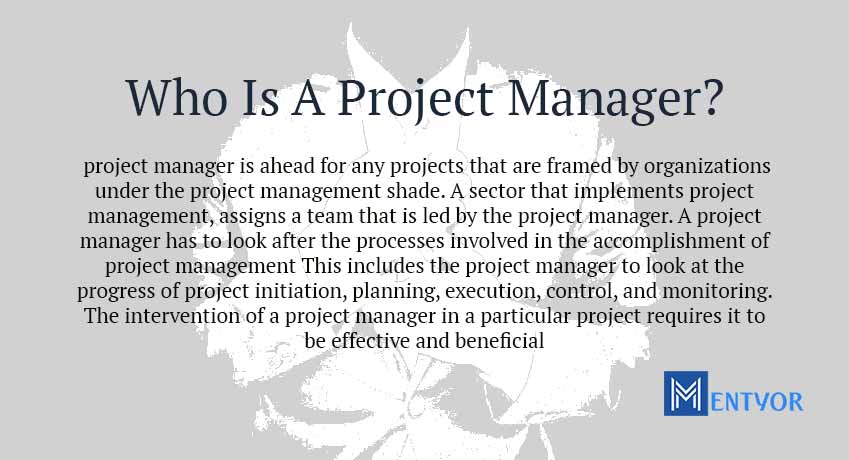 A project manager is ahead for any projects that are framed by organizations under the project management shade. A sector that implements project management, assigns a team that is led by the project manager. A project manager has to look after the processes involved in the accomplishment of project management [1]. This includes the project manager to look at the progress of project initiation, planning, execution, control, and monitoring. The intervention of a project manager in a particular project requires it to be effective and beneficial [1].
A project manager must be efficient enough to lead face-to-face meetings, interviews, and focused group meetings. The project manager must ensure that the objective of the expected outcome, comes out with every meeting or interview [2]. A project manager should avoid being aloof and must demand reports regarding every cycle of the project management. Before positioning as project management, there is a certain set of skills and behaviors that the managers need to adapt or develop [2].
Competitive Strategy Management Techniques you should know: PORTER'S FIVE FORCES
Another aspect of a project manager's requirement is scheduling and budget. The project manager looks after the project is completed within the deadline. Also, the finance part is a crucial part of any project. It is the duty of the project manager to look after the resources used under the pre-determined budget. There should be the usage of any resources within the framework of the budget provided for it.
At the end of any project closure, a project manager is held accountable, either for the success or the failure. The project manager makes sure that the scope of the project thrives and is carried out on the objectives of the organization. In all, the role of a project manager is very essential for any company that looks for accomplishing its project goals. A project manager is a core for the entire team to accomplish various projects for an organization.
What Should Your Project Management Resume Have?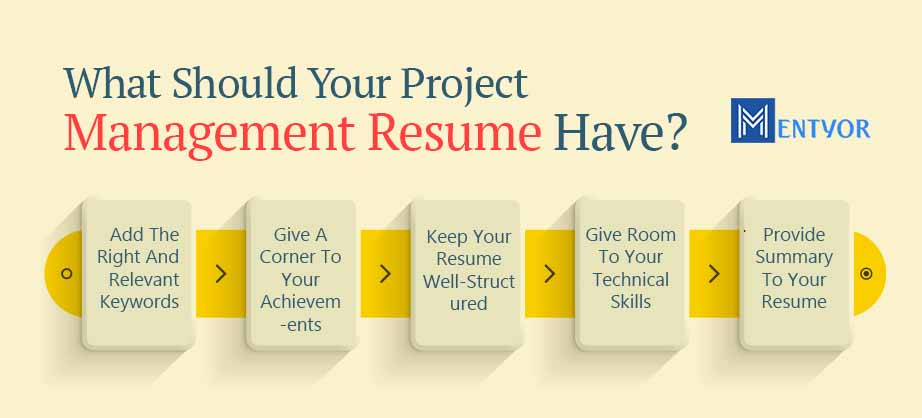 Now that we know who are project managers and what role is executed, we must know how to create the resume accordingly. While the construction of a project management resume, you must keep yourself inclined with the criteria and guidelines. It should reflect your experience, and all the relevant project management skills.
Below are in-depth guidelines for all the freshers to create a better project management resume. Following it will help you create an appeal to the organization you are seeking a project manager job at.
Add The Right And Relevant Keywords
Choose your keywords appropriately to give the management resume a formal touch. You must keep in mind that the project management resume framework and tone should not be a friendly note. In here, you have to decide which words are best to describe your abilities, skills, and experiences. It should also match your previous fields of work and must also demonstrate what you expect to do in the future. With this, you also need to understand the role, company, and position you are applying for. This will help you to decide on the most appropriate keywords, for your clearance and for the company's too.
Give A Corner To Your Achievements
Make sure you have a section to describe your achievements, preferably at the end or in the relevant section. For the freshers, their experiences or achievements such as internships, volunteering, etc can be added. Achievements help to accentuate your qualities and courses that you have added on completion. Most of the organizations try to understand how you operate the learnings practically. These achievements can play a major role to convey the same. You can also put in information about what the project was, and what you learned from it.
Keep Your Resume Well-Structured
The most important thing about the project management resume framework is that it should have a well-maintained structure. All the information has to be added appropriately. Generally, your name and qualifications come in the beginning. It is then followed by your work experiences, soft skills, hobbies (if required), and other secondary personal details such as phone numbers. A structured project management resume will appeal more to any organization. It will also be an indirect messenger about your personality.
Give Room To Your Technical Skills
Since project management largely deals with the technicalities of the project, you must make sure to maintain all of them you have acquired. These technical skills include management, software development, data handling, and others. This will promote your selection as the organization can know whether your skills match their requirements. Also, technical skills are directly related to practical knowledge. Adding them will give the organization a clear hint that you are well-versed in certain field/fields.
Provide Summary To Your Resume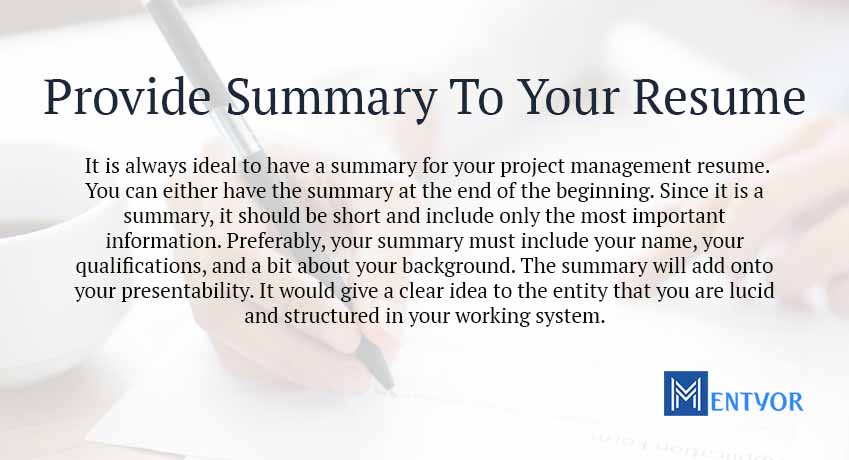 It is always ideal to have a summary for your project management resume. You can either have the summary at the end of the beginning. Since it is a summary, it should be short and include only the most important information. Preferably, your summary must include your name, your qualifications, and a bit about your background. The summary will add onto your presentability. It would give a clear idea to the entity that you are lucid and structured in your working system.
These are some of the points you need to know and lead to the construction of a project management resume framework. There are also a plethora of project management resume examples that you can look for to create your project management resume.
Data Science is trending nowadays, know to become one: How To Become A Data Scientist In 2022: A Complete Guide To Data Science
Parting Note
Just like how every country's constitution has a preamble, your project management resume is the preamble too. It is your preface to the organization for the desired post of project manager that you apply for. Framing an apt project management resume requires some rigid instructions to keep in mind. Without this, the entire construction of the project manager's resume would go all loose and messy.
A project manager is someone who is assigned the role to govern the proper organization, planning, and execution of the project. He or she is responsible to ensure that there is a smooth run in the project execution. Further, a project manager has to look after the lifecycle of project management. This includes project initiation, project planning, project execution, project monitoring, and project closure. Apart from this, a project manager has to also look after the deadline and finances for the project.
To initiate the construction of a project management resume, there must be a few points to maintain. These points are the foundation to create your project management resume, especially if you are a fresher. These points are:
Add The Right And Relevant Keywords
Give A Corner To Your Achievements
Keep Your Resume Well-Structured
Give Room To Your Technical Skills
Provide Summary To Your Resume
Creating a project management resume requires you to be precise about your personal and professional experiences. It should be understood that through the project management resume framework, the organization will look out for your practical experiences. It takes both an intelligent and diligent effort to create your ideal project management resume.
Common FAQs
What is the role of a project manager?
The project manager is accountable for daily control of the assignment and has to be ready in coping with the six factors of an assignment, i.e. scope, schedule, finance, risk, first-rate, and resources.
What qualifications do you need to be a project manager?
Essentially, an undertaking supervisor who is certified has the temperament, skills, and revel in wanted for the position. Typical necessities usually consist of as a minimum of 3 years of experience in an associated role, the potential to communicate, formal training, and a PMP certification.
References
[1] Globerson, S., & Zwikael, O. (2002). The impact of the project manager on project management planning processes. Project management journal, 33(3), 58-64.
[2] Fisher, E. (2011). What practitioners consider to be the skills and behaviours of an effective people project manager. International journal of project management, 29(8), 994-1002.