A criminal psychology degree opens doors to various professions. According to the Bureau of Labor Statistics, it is expected to increase a lot in the upcoming decade. This includes all the fields surrounding criminal psychology as well as forensics. A degree in criminal psychology joins psychology with the legal system of the law. Know what are the Criminal Psychology Jobs.
The popularity of criminal psychology has increased a lot in recent years. All thanks to web series like CSI and Criminal Minds. This fact has been quoted by The Guardian as well. The web series and television programs have shoed the dramatic strifes which revolved around the mind of a criminal. So this has attracted a lot of attention from the youngsters of the country.
If you're attracted to what reasons drive normal people to commit crimes, criminal psychology career might be the one for you.
What is Psychology? Read more about it: Psychology: A Behavioral Science
What is Criminal Psychology?
Criminal Psychology is basically the understanding of the criminal's mentality about the crime he or she has committed. It can be reasoning as to what drove the criminal to commit the crime as well as his state of mental health while doing so.
It also involves a good understanding of the judiciary system as the criminal psychologists are required to work with the law enforcement and the police departments as well.
Criminal Psychologists Salary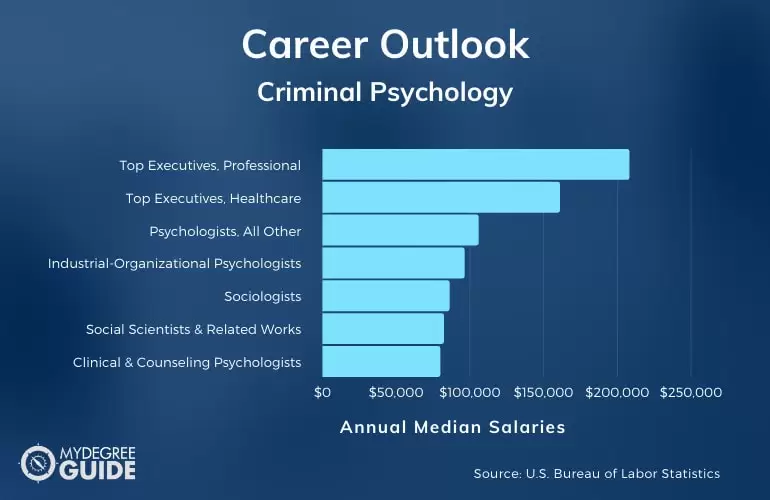 According to Payscale, the roughly annual income of a Criminal Psychologist is 200K-3M. And the estimated growth rate which is projected is roughly 8% according to the Bureau of Labor Statistics.
What are a few graduate programs in criminal psychology?
Bachelor's and Master's programs are all available in various universities in the country which puts great emphasis on clinical psychology, criminal profiling, corrections, and criminal justice. A few of the deeply involved parts in these fields are listed below –
Crime, characteristics, and type. For example, a murder or theft.
The mental health of criminals and their psychological reasoning
Law and criminal justice procedures
Criminology
Juveline justice
Handling of the pathopsychology of criminals.
Read a Guide for Criminal Psychology Degree: Criminal Psychology Degree : Guide 101
What are some criminal psychology jobs?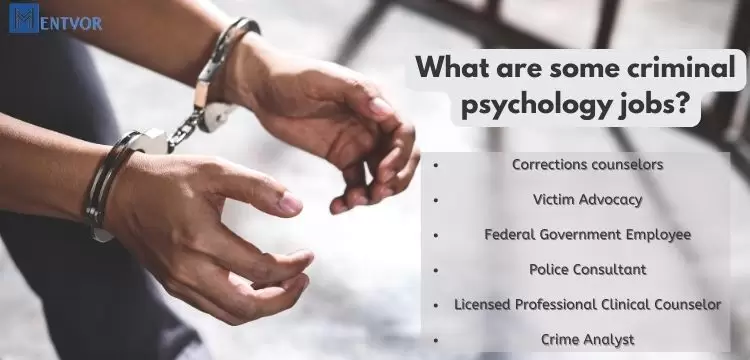 Corrections counselors
Doctorate programs in criminal psychology can give you a career in the correctional facility. Their understanding of the crime, punishment, and the legal system surrounding them. It can involve giving counseling sessions to criminals or ex-convicts. It involves
Counseling sessions
Therapy sessions
Working with lawyers and police officers at the correctional facility you're working in.
Victim Advocacy
A victim advocate directly works with the victims of crime or trauma in the events of sexual assaults, rape, or domestic violence. They provide them with assistance through legal proceedings and trials.
They are with the victim to provide professional support, resources, and also therapy sessions for the victims. They can be working with the federal government agencies or state-owned agencies along with the lawyers and police forces.
Federal Government Employee
People with a forensic psychology degree, as well as a criminal psychology degree, can be found to be well established and are attractive to federal government organizations. This may include working with the CIA, FBI, DEA, VA hospitals, and other state-owned organizations or local ones.
Police Consultant
While the majority of the criminal psychologists work with the judiciary system, others might try with the police departments. Police officers and detectives take the help of criminal and forensic psychologists to solve a case which can include murder for example.
They help in educating the police officers as to how to promote community policing planning and make known the interpersonal competition in the department itself. This includes –
Suicide prevention training
Anger management courses
Post Traumatic Stress Disorder counseling and therapy
How to handle cases that involve specially-abled people as well as mentally challenged people.
Licensed Professional Clinical Counselor
Criminal Psychology graduates often work as counselors in various agencies and organizations. Of course, many of the agencies require you to have a license. If you're attracted to one of those programs for becoming a licensed clinical counselor (LPCC, LPC, LCPC, etc.) be sure to be on a watch out for psychology courses that come along with licensure certifications.
This includes giving exams so that you can give a better performance to those who are in need.
Crime Analyst
Professionals working with law firms are sorting out crime profiles and detecting criminals. Collection and sampling data and then analyzing the witnesses as well the pieces of evidence found are some of the daily chores of those people who work with the legal systems.
Crime analysts can be working in any demographic, with various kinds of people, living in various places which differ on the basis of the types of crimes committed and also its frequency. Usage of tactical methods, research, and analysis are implemented as tools here.
This requires a higher study of criminal psychology knowledge along with experience to master the art of decoding criminals.
Other careers in the field of criminal psychology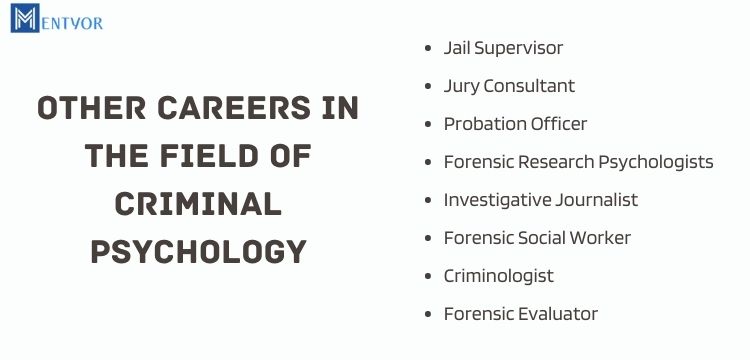 Here is a list of other jobs and careers if you have a degree in the criminal psychology as well as forensic psychology –
Jail Supervisor
Jury Consultant
Probation Officer
Forensic Research Psychologists
Investigative Journalist
Forensic Social Worker
Criminologist
Forensic Evaluator
How to become a criminal psychologist?
Gaining a bachelor's degree in clinical psychology forms a strong foundation for this career or profession. A few schools and colleges also offer programs in forensic psychology which are also favorable.
Following the bachelor's course, you have to complete your master's degree in clinical psychology or forensic psychology, or psychology with a specialization or concentration such as criminology. This is mandatory before you go for a doctorate program in criminal psychology. Also, most of the courses expect you to have a designated GRE score before you can apply.
Thus you can boost yourself by facing the doctoral course, increasing your GPA, and gaining as much the experience you want.
Read and Know How Criminal Psychology can be Interesting Career Choice: Criminal Psychology – A interesting Career Choice
License
You don't need any special program to get your license done. It comes equipped with your course at a time and you basically need to give exams are get the desirable score to get your license done.
Board Certification
American Board of Professional Psychology gets you your board certification. While this is not required by many employers but a board certification puts you in a better position in the race in the long run.
To get yourself board certified, you must meet the eligibility criteria given by the American Board of Professional Psychology. It takes three hours long oral examinations as well as a written theory test.
From 2019 to 2030, it is expected that the number of criminal psychologists is like to be increased. This is according to the Bureau of Labor Statistics. This field is growing just like other professions these days. Developing good relationships with law enforcement or helping as an expert can help you to get a good role in this field.
Read a Blog about Child Psychology: Child Psychology | Understanding and Helping Them
FAQs
What is the working place of a criminal psychologist?
Criminal Psychologists often find themselves working in police departments, state-owned government organizations as well federal agencies depending on their profession. They can also work as consultants in consultancy firms and also therapy and mental health counseling agencies.
How long does it take to become a criminal psychologist?
It takes roughly 10 years to establish yourself as a criminal psychologist. Four or three years of bachelor's degree program, two or three years in master's degree course and then doctorate course of another four years.
Is a doctoral degree important for a criminal psychologist?
Earning a doctoral degree is a plus point in the long run. Well, it can be seen that most psychologists do not hold a doctoral degree, but it is kind of difficult to establish yourself as a criminal psychologist when your profession holds so much credibility.
Is criminal psychology a good field to choose?
According to the Bureau of Labour Statistics, it is estimated that the number of criminal psychologists is bound to increase by 8% from the years 2019 to 2030. So, therefore, it can be said that criminal psychology is a career with a bright future and a good prospect.
What is the difference between criminal psychology and forensic psychology?
Criminal psychology basically concentrates on criminal behavior and the mental state of a criminal about the crime he or she has committed. On the other hand, a forensic psychologist tests various kinds of people like the victims, lawyers, law enforcement as well as witnesses.
References