There are various federal and government agencies that look for graduates in the field of psychology with their Ph.D. done in criminal psychology. The degree graduates from those fields often get into work in various divisions of the criminal justice system, law enforcement, court work, and corrections.
Aspiring criminal psychology has to first complete his bachelor's degree in psychology and then complete his or her master's in psychology. The aspirer then goes for a Ph.D. in criminal psychology degree.
After completing your bachelor's degree, according to Payscale, your annual income would come to around $56,000.
But careers as administrator, forensic or criminal psychologist or an academic do indeed require a high course degree after a master's. Your average annual income thus will come to be $80,370 according to the National Bureau of Labour Statistics.
Why get a degree in criminal psychology?
The programs offered in this field are loaded with fascinating interdisciplinary curricula which help the student to understand the society or the law system in their countries and the behavior of the criminals as well. The following list can shortlist various perks of getting a degree in criminal psychology –
The subject is very interesting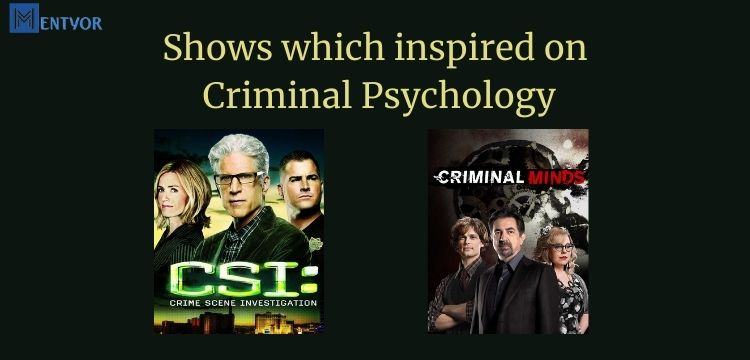 The popularity of crime shows and their investigation has already highlighted these fields in pop culture. Shows such as Criminal Minds and CSI have heavily made criminal psychology a very thrilling and popular career choice to pursue. Though often, real-life and reel life does have their differences, the thrill of going after a criminal is always there.
It gives you an insight into how a person's mind work and what is the past, present, and future of it.
The careers in this field are very exciting
The people who are greatly interested in law justice or the law enforcement system and also have an interest in psychology are very much welcomed in this field. Social justice, crime prevention, and offender rehabilitation and treatment often find criminal psychology careers worth it and exciting.
Salary
If you're working under the federal or state government agencies your salary in a year would come to around $345,285. Otherwise, if it's in a private sector it can come around to $13,167. Also, there's always growth. The more experience you gain, the more income you have.
Growth for Criminal Psychology graduates
Criminal psychologist primarily gets their jobs under three branches of the system – law enforcement, law courts, and corrections. Some even pursue their career as FBI agents. Ranges of salaries in the field are from $47,000-$65,000 annually, according to PayScale.
Other criminal psychology degree graduates can also find themselves working as a forensic psychologist or a victim advocate.
Also, they can continue studying to get a higher education degree.
What are the options for a criminal psychology degree?
A degree in criminal psychology will help you work with private or government agencies for investigation, the law as well as forensics.
Here, we are giving the list of 5 good colleges to get a criminal psychology degree done!
University of Maryland
Arizona State University
John Jay College of Criminal Justice
What are the requirements to get a criminal psychology degree?
If you want to get a degree in criminal psychology done, then in your high school years you are expected to take psychology and sociology as subjects. Aspirers can also take an advanced course on criminal behavior and abnormal psychology.
For admission to a bachelor's degree program, you are expected to complete high school or a GED diploma. Students must show high analytical and critical thinking and communicative skills.
A few colleges require a GPA of 2.5 minimum and also a few of them require your SAT or ACT scores.
Criminal Psychology concentrations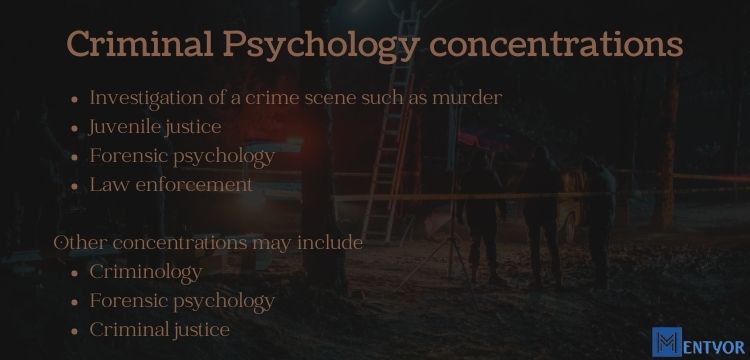 Students who want to get hold of the law enforcement and counseling of the criminals, as well as victim advocations, can have the following set of concentrations –
Investigation of a crime scene such as murder
Juvenile justice
Forensic psychology
Law enforcement
Other concentrations may include
Criminology
Forensic psychology
Criminal justice
What are the few certifications available?
You can go to any college that you want to go to. But keep in mind, the college must be certified by the following university or associations –
American Board of Forensic Psychology
American Board of Professional Psychology
Society for Police and Criminal Psychology
American Psychology Association
What are the popular criminal psychology courses?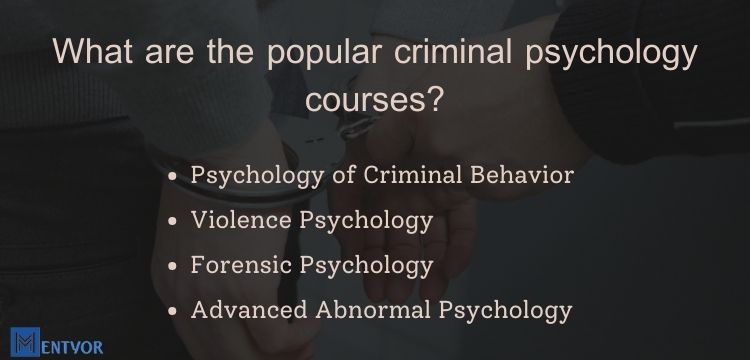 Popular criminal psychology degrees or courses have degree courses, masters, concentration programs, etc. A few of them are listed below –
Psychology of Criminal Behavior
Violence Psychology
Advanced Abnormal Psychology
How to select the best criminal psychology for yourself?
The degree which suits you perfectly should have the following perks –
Specializations or Concentrations
Length of the program
Online or in-person
Certification by associations
University Resources
Extracurriculars
Accreditation
Help yourself to get the most out of your own educational experience.
Frequently Asked Questions
How to become a criminal psychologist?
Taking a bachelor's degree from a reputed institute and then taking a master's degree in the field of psychology. Then you have to go for high studies such as a Ph.D. program in criminal psychology which will be your specialization.
Is criminal psychology a good career choice?
Yes, it is. Both forensic psychology and criminal psychology give a good experience about society and the law justice system so definitely it is indeed worth it.
Are criminal psychologists in demand?
According to the Bureau of Labour Statistics, demand for criminal psychologists is expected to increase by 8% more or less by 2030.
Do criminal psychologists go to the crime scene?
A criminal psychologist spends his or her entire day running through the evidence, crime scene photos, eyewitnesses, victims, and the law enforcement system. Hence it can be said that the criminal psychologist does at a time visit the crime scenes.
References