As the world gets digitised and data becoming the new fuel of the world, the amount of data being amassed in the world is reaching new heights everyday, As such many companies are opting for services that can allow them to store tonnes of raw, unstructured as well as structured data. This is where cloud computing technology comes in.
It aims to solve IT related issues for Big as well as small companies. Whether it is storage-related or network -related, the advantages of cloud computing technologies are many. It offers better network speed along with IT resources in a pay-as-you-go model. So even if there is an investment at the beginning, but it ensures that their is a higher ROI at the long run.
One of the biggest advantages of Cloud computing is that it also eliminates the cost of having a separate eam of IT experts to only tend towards issues related to hardware or storage.
In this article, we shall explore many more such advantages of Cloud Computing Technologies. So read on to find out.
Cloud Computing and Data Science is reputed internationally, Know How to become Data Science: How To Become A Data Scientist In 2022
What Is Cloud Computing?
Cloud computing services provide a better resolution to companies without them having to make hefty and expensive changes to their entire IT infrastructure. It offers IT services like storage, network, and some newer services even provide softwares like natural language processing and artifiical intelligence. It is remote and companies do not even need stacks of in-house data servers and a huge team to maintain these said servers.
Cloud technology has a pay-as-you-go model so you need not pay for services that you do not even need. It has a monthly subscription amount and an alternative which only bills you according to your usage.
Its the same as having a Netflix or Hulu subscription instead of spending money in renting movies or buying DVDs. In fact, Netflix itself makes use of cloud services to store its mammoth film library.
Importance of Cloud Computing Technology
The cloud services are managed by a cloud service provider. As data analytics becomes increasingly important for any organisation, Big Data is needed for these analytics to glean valuable insights. In such cases, Cloud Computing turns out to be a great alternative for taking data remotely and performing analytics on them and storing in a remote site as well.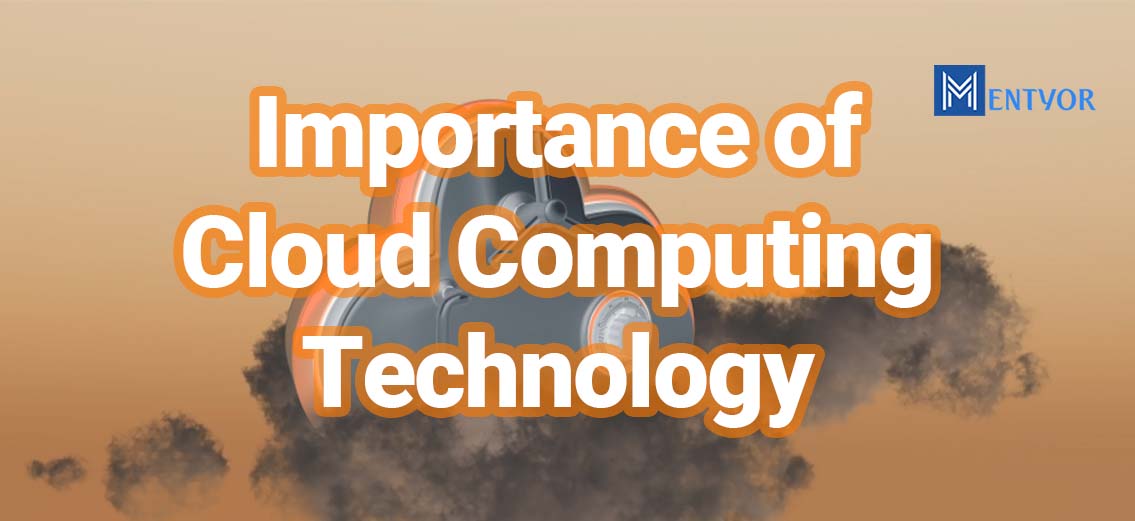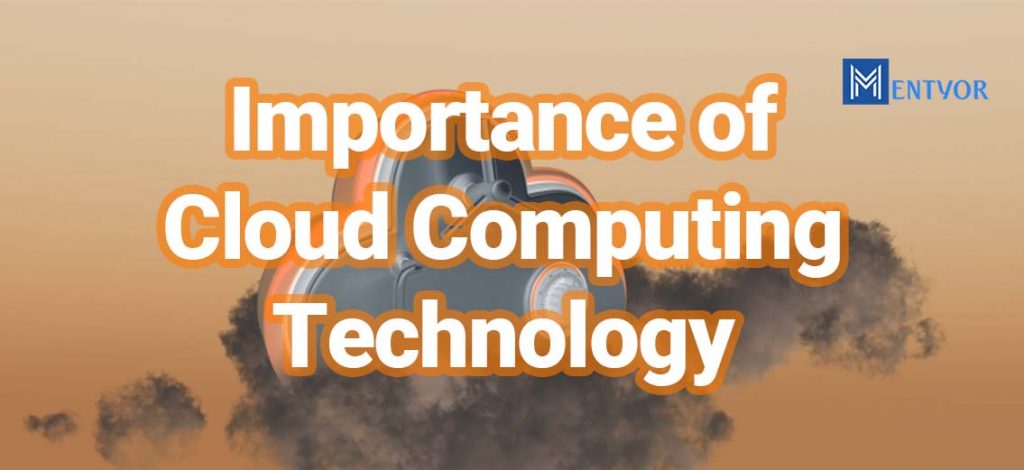 As such, around $125 billion were spent in availing cloud infrastructure services by different companies. While around 89 billion US Dollars were used in maintaining the hardware and software aspects of places that keep the "cloud" or the data centres. [1]
Application of Data Science in Digital World: A Digital World: 12 Amazing Data Science Applications
Advantages of Cloud Computing
Cloud Computing is the next big thing in technology innovations in the near future. With many corporations opting to move their businesses into the more secure cloud technology, it is no shock that is only growing in demand. Cloud technologies offer majorly three different types of services ranging from SaaS (Software as a service), IaaS (Infrastructure as a service) and PaaS (platform as a service).
The covid-19 pandemic catalyzed the process of digitization and came as a reality check for both small and big companies. As such, even cloud services saw a huge rise in usage. In fact the value of the global cloud market is forecasted to grow to a staggering value of $832.1 Billion by 2025. It was $371.4 Billion in 2020. [2]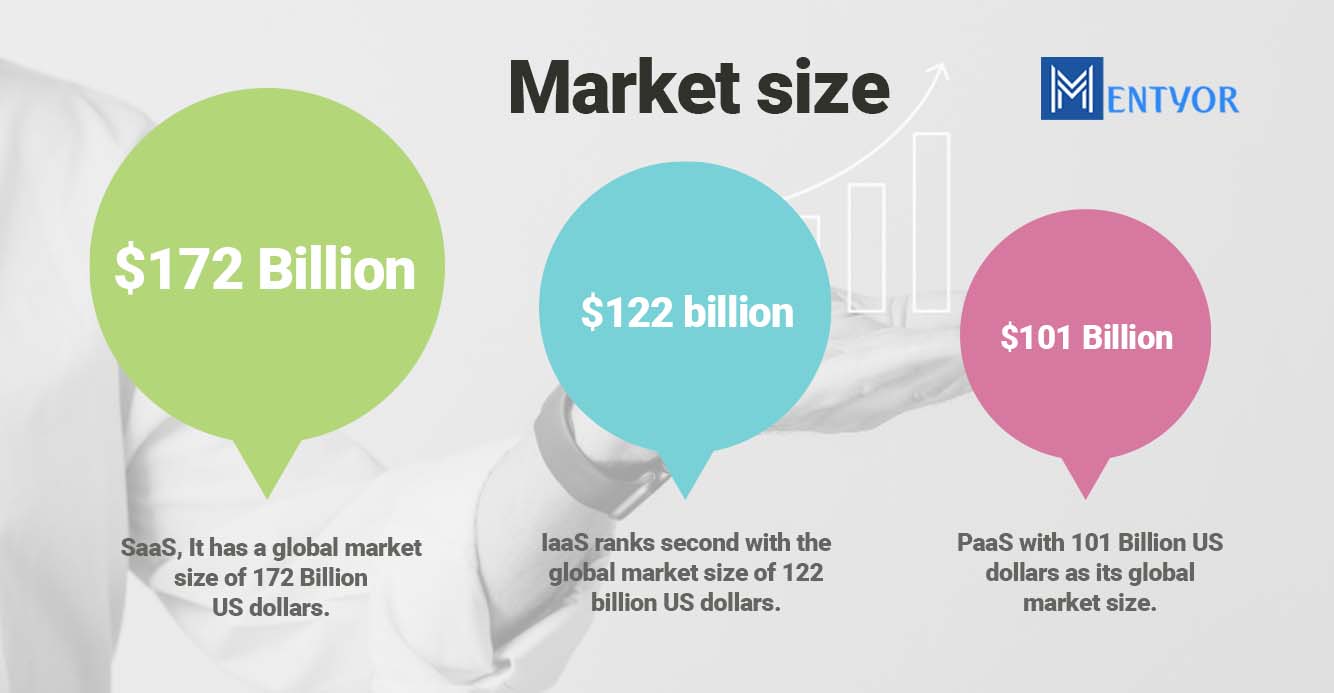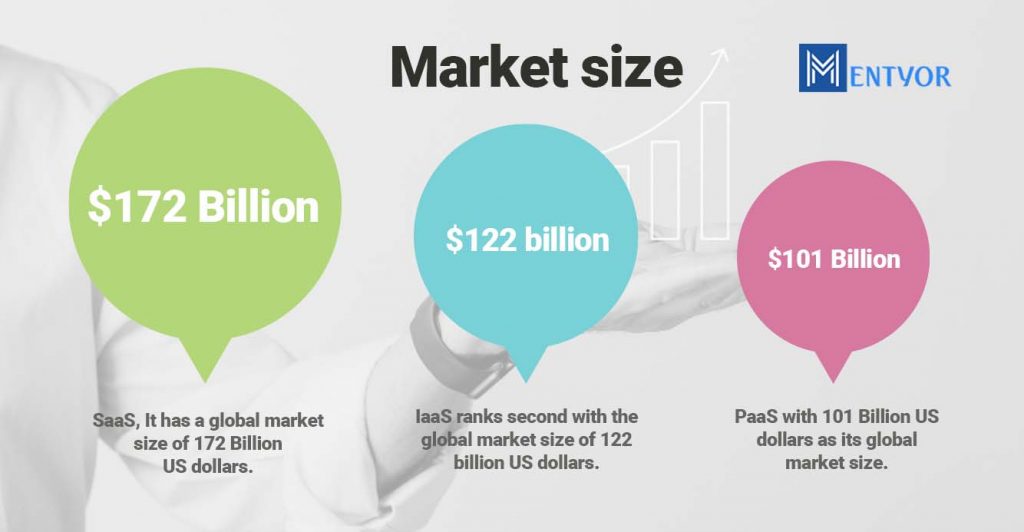 SaaS is the most preferred and commonly used among the three major cloud services. It has the global market size of 172 Billion US dollars [3]. IaaS ranks second with the global market size of 122 billion US dollars, followed by PaaS with 101 Billion US dollars as its global market size.
These statistics are enough of a testament of the exponentially growing value of cloud services. The advantages of cloud services are many and the major reason behind its rapid growth.
We shall list down a few advantages of cloud computing in the list below.
Top 8 Advantages Of Cloud Computing Technology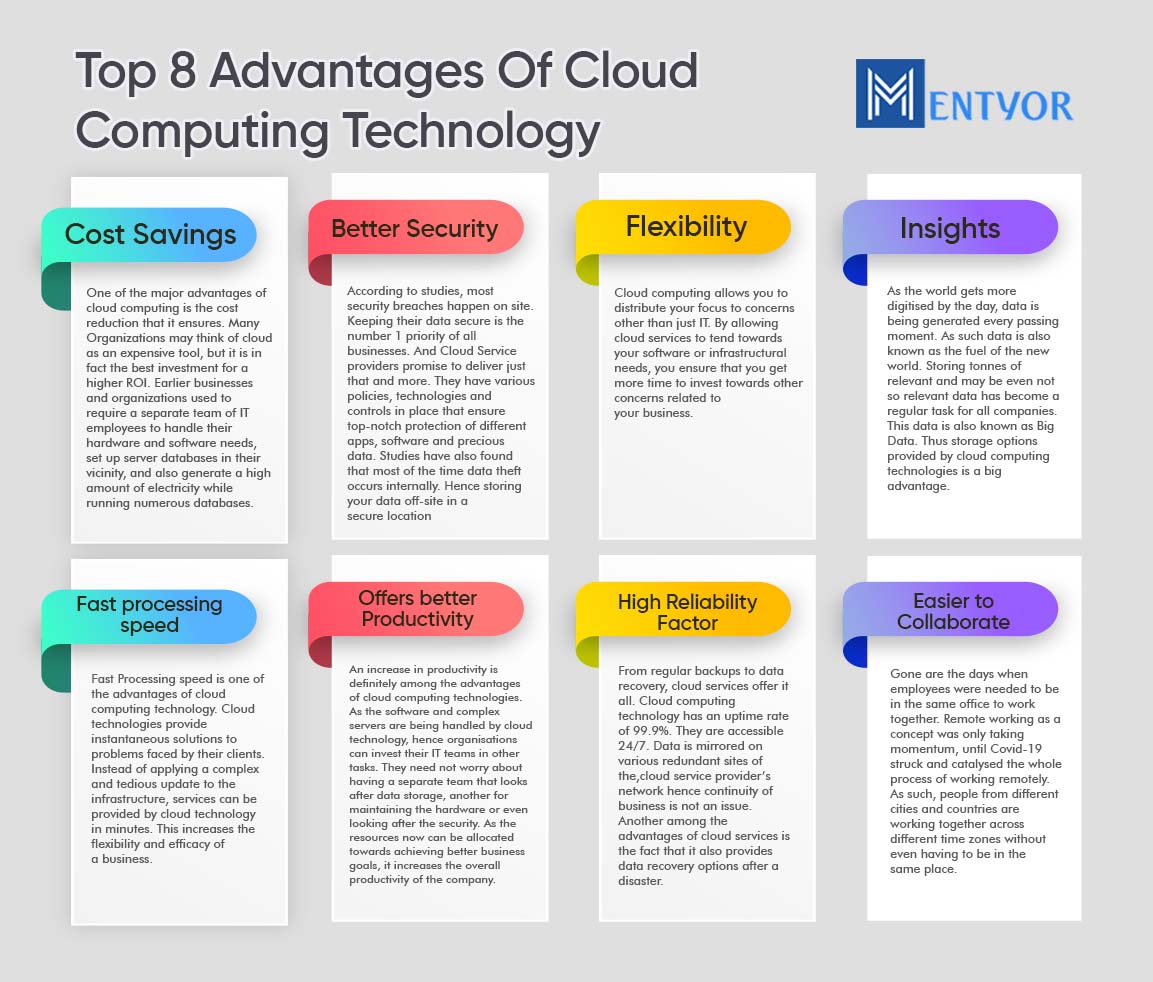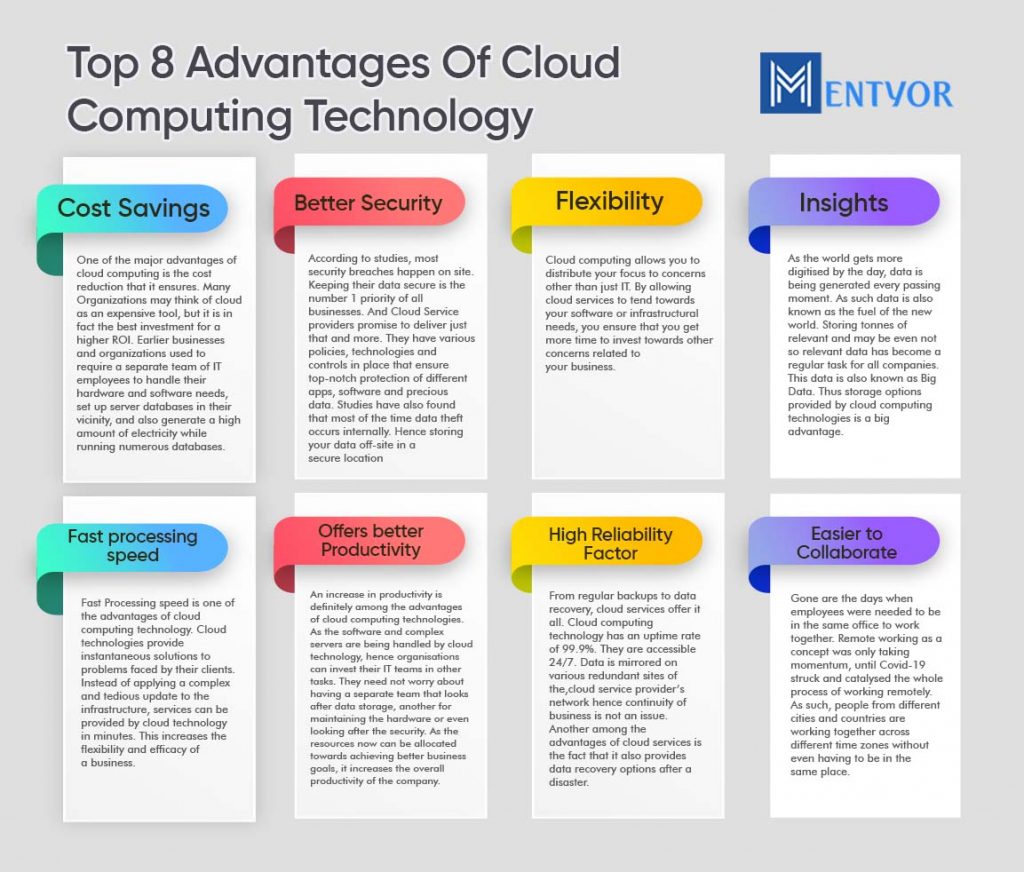 Cost Savings
One of the major advantages of cloud computing is the cost reduction that is ensures. Many Organizations may think of cloud as an expensive tool, but it is in fact the best investment for a higher ROI. Earlier businesses and organizations used to require a separate team of IT employees to handle their hardware and software needs, set up server databases in their vicinity, and also generate a high amount of electricity while running numerous databases.
But now, cloud services providers are offering these technologies on a pay-as-you-go model. This means that you are only charged for the amount that you use, similar to the electricity bills that we get which charge according to the amount of electricity that we've consumed.[4]
You need not pay for resources that you do not use or need. Instead of buying your own hardware, you can pay to use your host's hardware. This can also be replaced if it doesn't suit your needs or even upgrade to a better configuration. The only indispensable thing in regards to cloud technology is the internet. As the whole framework is accessible through the internet, hence is of utter importance. [5]
Better Security
Security concerts definitely ranks at the top of the list when it comes to cloud technologies, but one of the biggest advantages of cloud computing is in fact its security.
Acording to studies, most security breaches happen on site. Keeping their data secure is the number 1 priority of all businesses. And Cloud Service providers promise to deliver just that and more. They have various policies, technologies and controls in place that ensures top-notch protection of different apps, software and precious data. Studies have also found that most of the time data theft occurs internally. Hence storing your data off-site in a secure location could also be a clever alternative.
Read about Data Governance for Data Security: What Is Data Governance | Importance Implementation and 5 Principles
Flexibility
Cloud computing allows you to distribute your focus to concerns other than just IT. By allowing cloud services to tend towards your software or infrastructural needs, you ensure that you get more time to invest towards other concerns related to your business.
Apart from this, another flexible aspect that is among the advantages of cloud computing is that you can access this data from almost anywhere. You need not always have to be near your servers in order to access this data.
With many cloud computing technologies like public cloud, private cloud, hybrid cloud – you are spoiled for choices. You can regulate and choose the kind of cloud technology you wish to avail on the basis of your workload. In case your work load is more concerned with sensitive information then you can go for a private cloud. And for workload that could be regulated and stored in a pubic fomat can use the public cloud. This is the flexibility that cloud provides in terms of choices.
Insights
As the world gets more digitised by the day, data is being generated every passing moment. As such data is also known as the fuel of the new world. Storing tonnes of relevant and may be even not so relevant data has become a regular task for all companies. This data is also known as Big Data. Thus storage options provided by cloud computing technologies is a big advantage.
In addition to storage, some cloud service providers also offer data-analytics as one of the services. Thus this is another among the advantages of cloud computing technologies. Through such analytics, one can glean important insights from the raw, unstructured "big data". These insights can help companies reach a higher level in their business endeveaours.
Fast processing speed
Fast Processing speed is one of the advantages of cloud computing technology. Cloud technologies provide instantaneous solutions to problems faced by their clients. Instead of applying a complex and tedious update to the infrastructure, services can be provided by cloud technology in minutes. This increases the flexibility and efficacy of a business.
Even upgrades provided by the cloud service providers are reflected within minutes in the software. Thus no new heavy separate hardware upgrade is needed.
Offers better Productivity
An increase in productivity is definitely among the advantages of cloud computing technologies. As the software and complex servers are being handled by cloud technology, hence organisations can invest their IT teams in other tasks. They need not worry about having a separate team that looks after data storage, another for maintaining the hardware or even looking after the security. As the resources now can be allocated towards achieving better business goals, it increases the overall productivity of the company. [4]
High Reliability Factor
From regular backups to data recovery, cloud services offer it all. Cloud computing technology has an uptime rate of 99.9%. They are accessible 24/7. Data is mirrored on various redundant sites of the cloud service provider's network hence continuity of business is not an issue. Another among the advantages of cloud services is the fact that also provides data recovery options after a disaster. [4]
Easier to Collaborate
Gone are the days when employees were needed to be in the same office to work together. Remote working as a concept was only taking momentum, until Covid-19 struck and catalysed the whole process of working remotely. As such, people from different cities and countries are working together across different time zones without even having to be in the same place.
Cloud Technology has also contributed significantly towards this development. One of the biggest advantages of cloud computing is the fact that is done remotely. Cloud environment encourages companies and their employee to work remotely.
It is easiest to share files with different people and also maintain records of edits and changes made. One of the biggest examples of cloud computing software is Google Drive Microsoft Office 365.
Read about Data Governance in Health Sector: Data Governance: Its Pivotal Role and Challenges In Healthcare Sector
Conclusion
It is an inevitable fact that cloud technologies are dominating the market wihout any stops being visible anytime soon. The major reason why being the range of advantages of cloud computing technologies over the traditional methods. But jas every coin has two sides, Cloud too has its own fair shares of advantages and Disadvantages.
One of the disadvantages of cloud computing is the fact that it also undergoes downtime for server maintenance or technical issues on the part of the cloud service providers. Another very common issues is related to internet connectivity.
As the entire framework of cloud is dependant on Internet, hence it forms an indispensable part of the whole process. Having poor internet connectivity will not allow you to access your data.
Thus even though cloud computing is gaining more traction by the day, it also has its own set of difficulties.
Frequently Asked Questions
What is the main purpose of cloud computing?
The main purpose of cloud computing is to provide secure, scalable and flexible IT resources to their customers. It aims to solve the storage-issues related to servers and make away with heavy unnecessary upgrades to software or hardware.
What are the types of cloud services?
Cloud services are of the three types:
Software-as-a-service (SaaS)
Platform-as-a-service (PaaS)
Infrastructure-as- a-service (IaaS)
Based on cloud computing deployment method, the different types of cloud are:
Public cloud
Private cloud
Hybrid cloud
Dropbox is one of the leading types of Cloud Services.
References
[1] Statista. (2022, February 7). Big data – Statistics & Facts.
[2] Sumina, V. (2022, February 14). 26 Cloud Computing Statistics, Facts & Trends for 2022. Cloudwards.
[3] Vailshery, L. S. (2022, February 3). Cloud computing – Statistics & Facts. Statista.
[4] What Is Cloud Computing? A Beginner's Guide. (n.d.). Microsoft Azure.
[5] S. (2022, February 14). What is Cloud Computing and Who Uses Cloud Services? Simplilearn.Com.